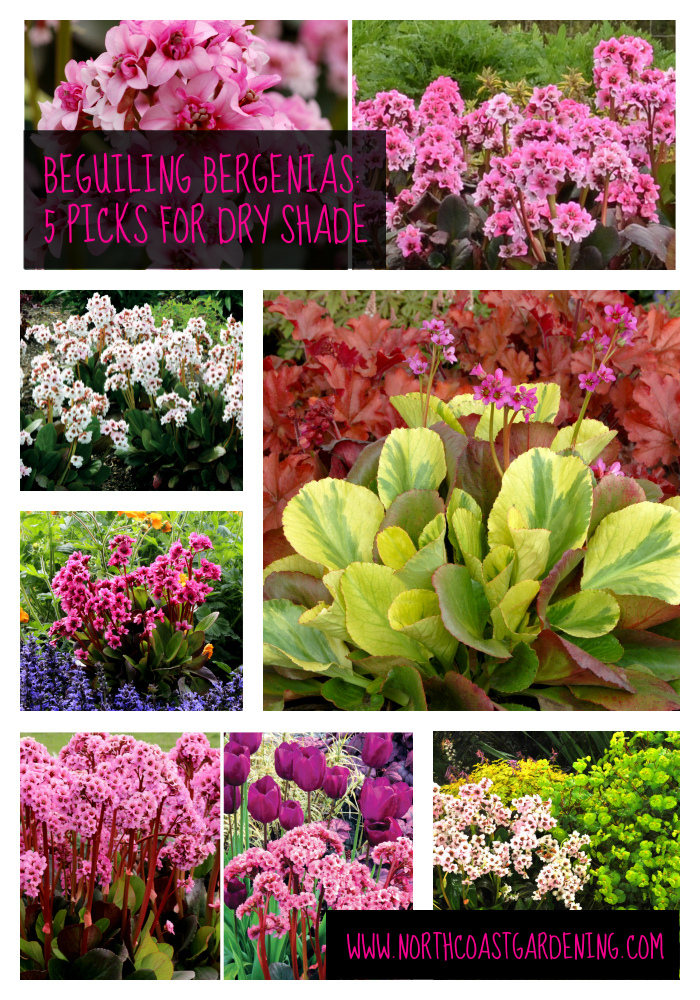 While many gardeners find shade challenging enough, add in dry soil and deer, and the list of plants which will perform gets shorter and shorter. Yet Bergenia, an unassuming perennial with leathery evergreen leaves, does admirably under all of these conditions. Though you may have grown Bergenia in the past and been unimpressed by its tendency to sprawl, new varieties are smaller and form petite clumps which stay full and attractive year-round.
One of the things I particularly love about Bergenia is that the large, rounded leaves are a strong textural contrast to so many of the finer-leaved plants which grow in shade, yet it isn't attractive to snails like Hostas are. The leaves stay a glossy green color most of the year, except in cooler climates, where the color may change to bronze or red in winter. The flowers arise gracefully on stems which resemble rhubarb stalks; the flowers range from fuchsia to bubblegum, to pinkish white, and they are said to attract hummingbirds, which isn't surprising given the color and shape of the blooms. Bergenia is commonly called "pigsqueak" because of the sound it makes when two leaves are rubbed together.
Bergenia are incredibly sturdy plants, and some varieties will grow in temperatures from -35F to 115F. They are unfussy about soil and will tolerate nearly any soil condition as long as it has decent drainage. Though many people say they can be grown in full sun or full shade, I find they look best somewhere in between the two extremes, and seem most at home in a woodland setting where they get at least a few hours of direct sun per day and some bright dappled light. Once established, they can tolerate dry soil in shaded locations, but lack of water may stunt their growth. On the bright side, mild drought stress actually enhances the winter display of red and bronze foliage color.
Five varieties of Bergenia to try
In recent years, many new varieties have emerged from breeders who've attempted to create different colors of bloom, more petite sizes which fit more easily between shrubs, and plants with a clumping habit which are less likely to flop or become leggy. There is even a variegated one! Below are a few of the new varieties I've been keeping an eye on – all of them grow in USDA zones 4-9, attract hummingbirds, and are both deer and rabbit resistant.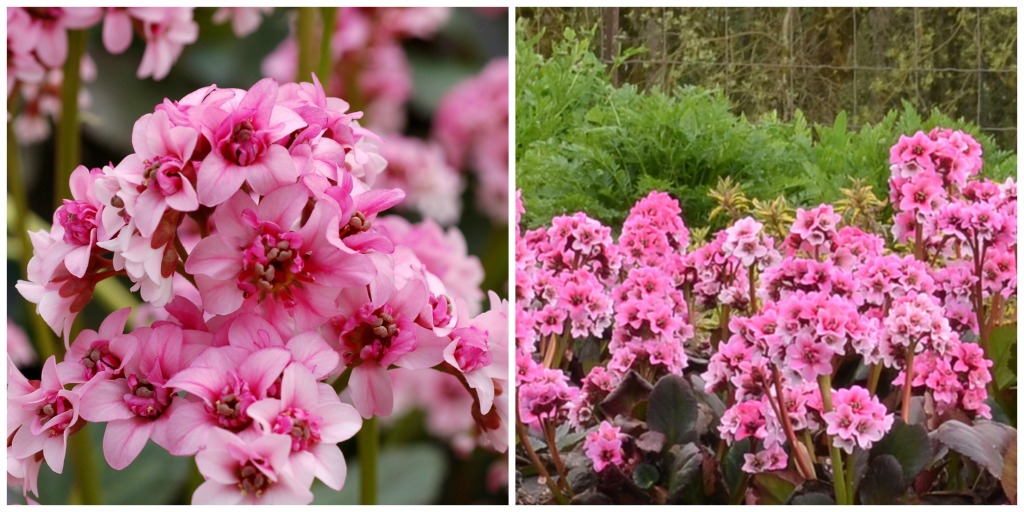 Bergenia Dragonfly 'Sakura': When Terra Nova Nurseries of Oregon introduced this particular variety, the blooms reminded them of the cherry blossoms in Japan, hence the name 'Sakura'. The plant forms a low clump of green leaves which turn to a rich plum red in winter, and it grows to about 15 inches high. The flowers are a vivid shade of bright pink and come in generous clusters of double and semi-double blooms. Like most Bergenias, not only is it beautiful en masse in the landscape, but it can be used in containers, in the front of a border between shrubs, or in a mixed planting bed. It also makes a lovely cut flower.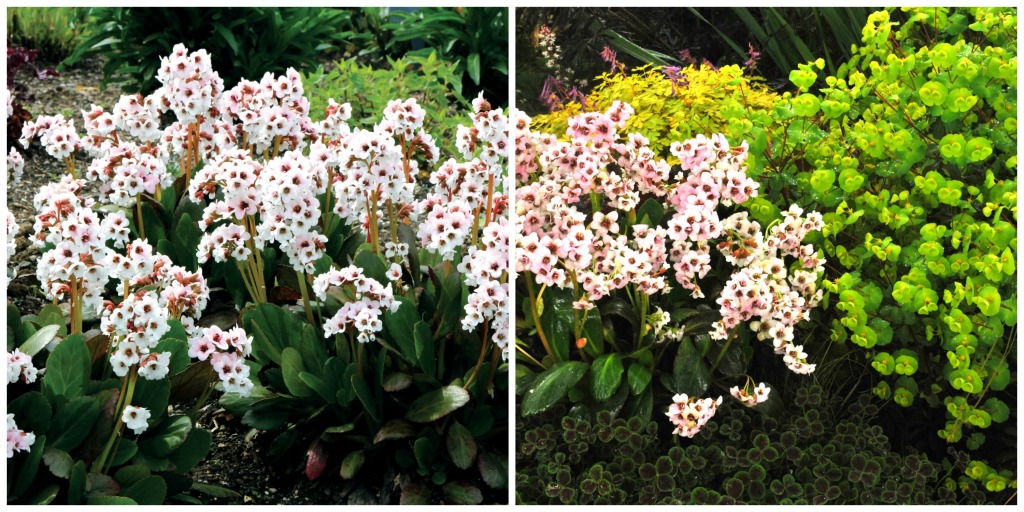 Bergenia Dragonfly 'Angel Kiss': The foliage on this tiny clumper reaches only 10 inches tall, and it becomes covered with an airy mass of flowers in spring, which emerge snow white and turn a glowing pink as they age. The elongated leaves are a rich medium green in summer and turn to a deep red-purple in the cold of winter. This would make a perfect accent in a shady container under an overhang, and though the flower stems are small, the color would look exceptional in a vase.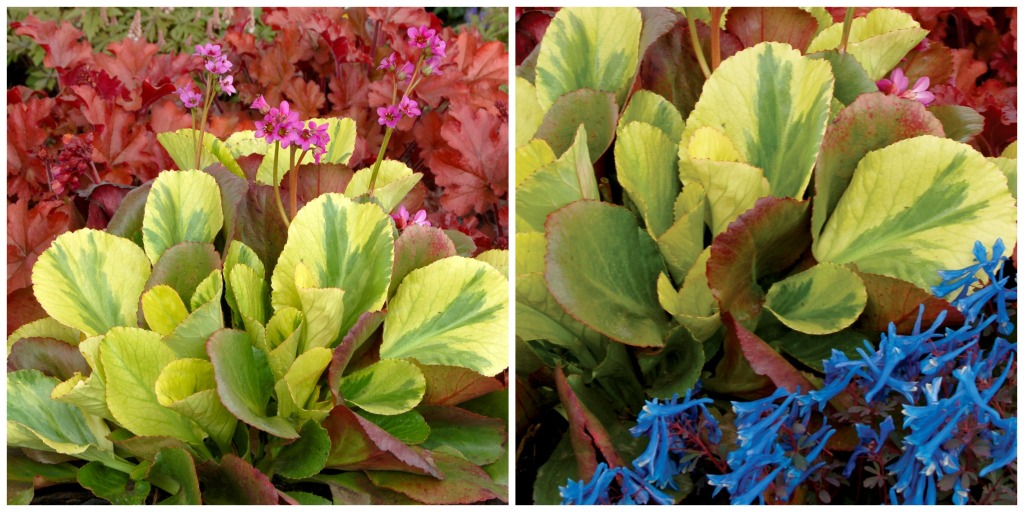 Bergenia 'Solar Flare': It's a variegated Bergenia! Did you ever think this day would arrive? While I love plants like Hosta which have gloriously wide leaves and offer such a dramatic foliage contrast in the landscape, I don't love their long winter dormancy, or the fact that in my climate they are harassed by snails and slugs and generally look pretty tattered by the end of the season if organic snail bait isn't used. So I was absolutely thrilled when I recently discovered this newer variety.
It has a mound of large, rounded leaves with a stunning chartreuse color streaked with medium green. As you can see from the photos, the foliage becomes edged in shades of pink, red, and bronzey purple in winter.
The new growth on this variety emerges a creamy yellow color, streaked with green. The large, leathery leaves age to an attractive medium green, and develop tones of pink, red and bronze in autumn's cool weather. Magenta-purple flowers wave above the foliage in the middle of spring. It has both great texture and form; to be used in alpine and rock gardens as well as borders. It stands about 10-16 inches tall with a medium sized flower head.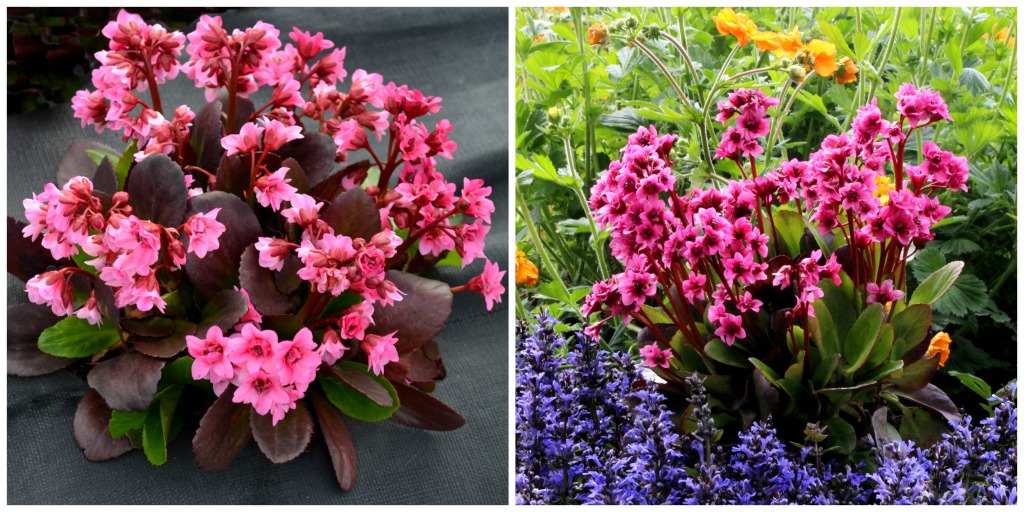 Bergenia 'Flirt' (new for 2014): The brand new miniature Bergenia is a real cutie with foliage that shines and large deep pink flowers on short stems. The leaves in the winter are such a deep burgundy they are almost black, and their glossy surface catches the light. A petite variety, its foliage grows to about 8 inches in height with a 12 inch spread, so it can be used for an understory planting. It works well singly or massed in flower borders, and is also petite and attractive enough to stand alone in a shaded section of a rock garden.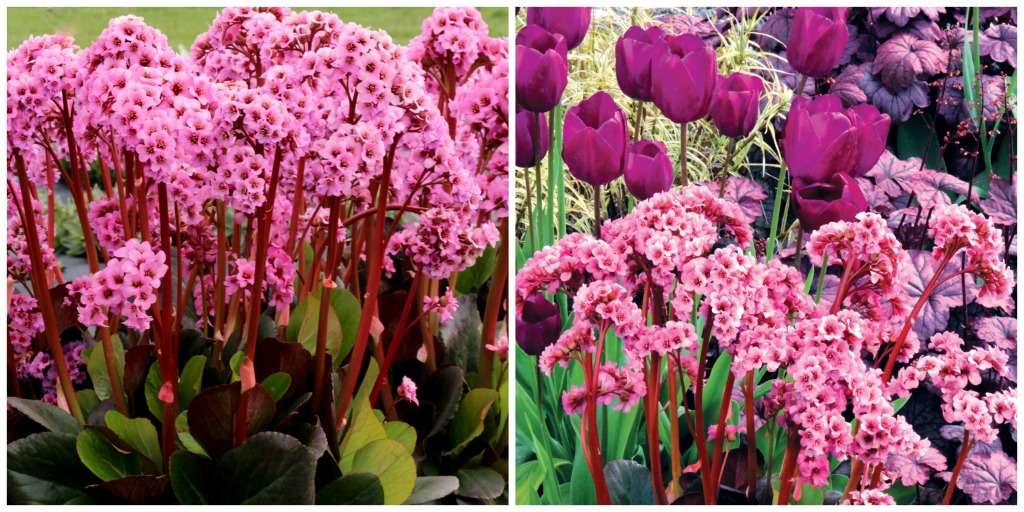 Bergenia 'Spring Fling' (new for 2014): 'Spring Fling' blooms so heavily it can almost look like an Azalea from a distance. With bare red flower stems rising above the diminutive foliage, it unfurls flower after flower for a stronger display of blooms than other Bergenias. The clump of foliage reaches 12 inches tall by 20 inches wide, and have a purple black satiny color in the chilly seasons which make a dramatic backdrop to those midspring flowers. Enjoy it as a cut flower, because the plant certainly has enough blooms to go around.
An interesting aside – using Bergenia medicinally
Though I wouldn't recommend snipping your garden plants and using them medicinally unless you really know what you're doing, some types of Bergenia (I'm guessing not the ornamental varieties listed above) are actually useful as herbal medicine. A powder made from the whole plant can be used to treat urinary problems, and the crushed leaves can be used to relieve earaches. The juice of the root has been used in tonic form to relieve fevers, diarrhea and respiratory issues like colds, coughs, and asthma. Externally, the root can be used as a poultice for boils. Though I wouldn't advise actually testing this information, having an awareness of the ways in which plants like this have helped people over the years gives me a deeper respect for them. They are more than just a decorative accent!
Photo credits: Terra Nova Nurseries