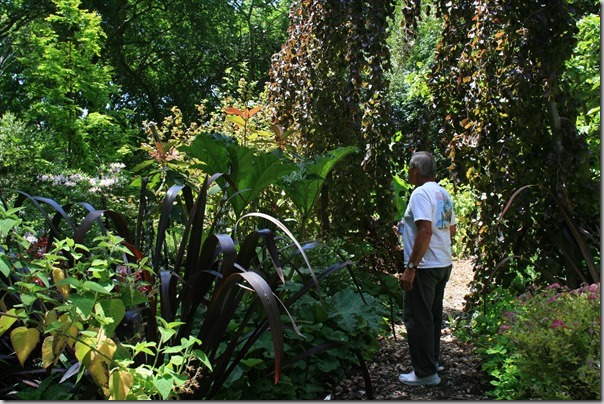 Two years ago, I had the experience of going on two amazing garden tours of the San Francisco Bay Area, one that I structured myself, and one that was arranged by Sterling Tours, where they bussed the whole group from garden to garden for four days and took care of everything, so all I had to do was enjoy the experience. What did I learn?
Well, I was surprised to find just how much I enjoyed going on an actual, structured garden travel experience. I generally prefer to travel alone so that I can take things at my own pace, and not get stuck going to a bunch of lame touristy stuff. But the benefit of going on the arranged tour was that it was a once-in-a-lifetime opportunity to visit some truly unique private gardens that haven't been commercialized to the point of blandness.
Seeing what real, passionately skilled gardeners do in their own space was an experience like no other. The garden art was personal, political, often off-color, and there were many lovingly-placed details such as air plants wired to trees or specially-selected stones and tiny succulent rosettes placed carefully around a fountain.
Picking the best garden tour
Obviously, not all tours are created equal. When googling "garden travel", I found a lot of companies claiming to have garden-oriented tours, but had full days devoted to wandering around, for example, Victoria BC – and the only gardens involved were huge, public ones like Butchart Gardens which anybody can go see. I don't know about you, but I don't need any help wandering around the city or navigating a large public garden which is already oriented towards tourists. And while I like some of the larger display gardens, it's a lot harder to get actionable design tips from a bazillion-acre garden featuring huge lawns, giant hedges, and great fields of honking big tulips. I prefer the small, offbeat and imperfect gardens of real people for that. Which brings me to my first piece of advice:
Make sure you're seeing something that's not open to the public. If you're traveling in an English-speaking country where they drive on the same side of the road you are used to, I fail to see why you'd spend $2-$5000 to have someone lead you in a group to the same places you could visit on your own. Why not just rent a car and make an adventure out of it?
Botanical and public gardens usually have a pamphlet with a self-guided tour at the entrance, so you hardly need help. My best garden experiences were visiting the real,occasionally weedy, and deeply interesting home gardens of actual people, and I'd recommend you seek out a tour primarily consisting of that.
Think about what you want to get out of the tour. Do you need planting ideas and inspiration that you can use immediately in your own garden? In that case, a local tour will be best, even if the selection of gardens is limited. Do you want more generalized inspiration about color and textural combinations, the use of art in the garden, or how to lay out hard materials such as patios and pathways? A tour in your general region will be easy to get to and will have some styles that you can be inspired by without having a totally foreign look or selection of plants. Or, are you looking to add some international flair to your landscape by exploring Morocco or Turkey, Provence or English cottage gardens?
Of course, some people are less goal-oriented and are just looking for an excuse to have a wonderful time in the outdoors with a close friend or a group of like-minded people, and that's fine too.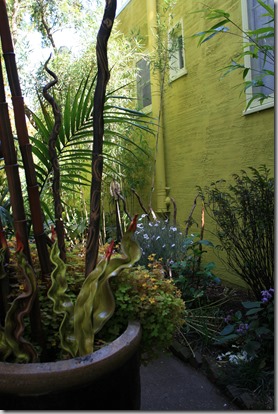 Don't be afraid to take a tour on your own. While it's a wonderful experience to bring a friend, bond over the gardens and enjoy some friendly gossip on the tour bus or at lunch, most of the tours encourage people to split up occasionally and sit with new people on the bus and get to know one another. Going by myself, I met some wonderful people and really appreciated learning from their perspectives and insights, not only about gardens but inherent in their life stories. Gardeners are generally pretty friendly and you already have a ton in common with everybody on the tour just by dint of being there.
Book early! And remember there are year-round opportunities for travel. While local garden tours will be best around May, international tours happen all year long. I found tours for November, December, January and February, along with the usual array of springtime and early summer tours. Book early, because many of the springtime tours are already filling up (particularly the ones more local to the US).
Touring groups and leaders to look into:
Sterling tours: This is the company which hosted the tour I took of the San Francisco Bay Area, and it was exceptionally well managed, with every private garden well worth the visit. Some notable public gardens and nurseries were also included, but they were interesting choices and didn't dominate the tour.
Nan Sterman: Southern California garden writer Nan Sterman runs occasional international garden tours, and it's worth signing up for her newsletter if you are interested in taking a tour led by someone keenly involved and interested in low-water gardening.
Susan Cohan: East Coast designer and writer Susan Cohan is leading a tour about garden antiques and ornaments in Belgium and Paris  in January of 2015. After that date, contact her to see if she is leading any new tours.
Collette Tours: Recommended by multiple garden writers on a private forum I frequent, this tour company runs some garden and many general-interest tours.
Donna Dawson: This writer has been leading tours for some 15 years and is well-respected in her field. Many people recommended Donna's tours as well-organized and a lot of fun.
American Horticultural Society: They have numerous international tours at any given time.
Pacific Horticulture: An emphasis on international destinations with climates similar to California and the West.
Wild Ones: If you have an interest in urban native restored landscapes, check into Wild Ones.
Jeff Sainsbury Tours: Small groups of 6-12, and he does custom tours.
Marty Wingate: Author Marty Wingate does small group tours to England, Scotland and Ireland. Unfortunately, it appears you have to email her to find out info on her tours.
Ginger Aarons: England and Ireland tours.
Coopersmith's Tours: Small group garden tours, country inn, fine arts and manor house tours of England, Wales, Sicily, Norway, Malta, Japan, Sweden, and St Petersburg.
Photo design credits: at top – Jana Olsen's wild prehistoric garden in Berkeley, second two – Marcia Donahue's artistic garden in Berkeley – from the Sterling Tours San Francisco Bay Area Tour in 2012