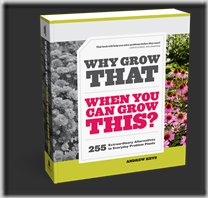 "Let's face it: the garden is a popularity contest. High school is a metaphor for life, and gardening is no exception. Step into our gardens and we find the prom queen and the star quarterback, the cheerleader and the rebel who cut class. Popular plants rule today's landscapes the same way popular kids rule the school. But just like kids, plants grow up, and 10 years or two growing seasons later, we wonder, "Why did my homecoming queen, that gorgeous hybrid tea rose I planted, grow into such a mess?" – Andrew Keys
If there's one thing professional landscapers get sick of seeing, it's those over-planted, fussy-natured plants that never perform well, yet for some inexplicable reason are planted in every other landscape we see. The exact varieties vary from region to region, but one thing remains the same: just because a plant is everywhere, doesn't mean you should invite it into your garden.
That's why I'm so in love with the idea behind this clever new book. Keys chooses a variety of overused and problem plants, describes their issues, and suggests a number of planting alternatives that you may not have thought of. He has a wicked sense of humor, so reading this is like hanging out with your catty best friend and having a good old gossip about each of the varieties.
You can get a feel for his style from the introduction:
"Let's be honest. If we've picked up this book, we've probably:

Pampered the one-time prom king in a pot indoors, because he'd be a plantsicle outside in winter
Fed the aging drama queen's chemical habit, lest she be overrun by bugs and slugs
Sneaked out at night to water the thirsty freeloader who wilted during a watering ban
Realized all the neighbors planted that easy-to-grow floozy in their flowerbeds too, even at the trailer park down the road
Noted, with alarm, an army of that plant's offspring growing behind the football field."
As a designer, I love having some unusual alternatives to turn to, and Keys' suggestions take inspiration not only from the usual standby of flower color, but also foliage color, texture and form, and the function each plant performs in the landscape. There's a photo of every plant described, as well as clear descriptions of the pros and cons of each variety, so it's like having a trustworthy designer and friend in your camp as you navigate the myriad choices at the nursery. If I have one quibble with the book, it's that plant suggestions in a general sense are so specific to a region that it can be hard to know which plant alternatives will work in your climate.
In my rainy coastal area, a number of these selections just won't perform, even though they grow in the right USDA Zone. Yet since Keys is an East Coast designer, his suggestions are spot-on for that climate, and there are numerous options for cold-hardy specimens that would perform well across the country. If you're tired of reading plant books and finding a bunch of sheltered Californian suggestions and nothing for the Midwest, South or East, then these unusual planting ideas will be a welcome change of pace for you. I also love that most of his suggestions are varieties which are easily available at nurseries. They're just unusual enough to be fun, without requiring lengthy searches online for specialty nurseries from which to mail-order.
"It's time to grow up. Let's pretend the garden reunion is right around the corner. It's time to ditch the prom queens of the garden and upgrade with all-star problem-solvers." – Andrew Keys