The chilly air, fall wind, and damp everything have harshed my gardening mellow over the last few weeks. Luckily, the downturn in weather has coincided with a rush of new books and some great deals on old favorites, so I can enjoy a connection with the outdoors without actually having to, you know, go outside.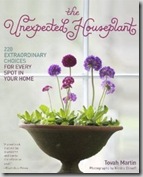 One of the books I'm reading now is The Unexpected Houseplant by Tovah Martin. Since it seems to rain every time I want to go outside, gardening with houseplants is looking more and more appealing, and Martin's suggestions for unusual plants to grow indoors are hitting the mark.
Instead of telling us to search far and wide for rare varieties of houseplant, Martin takes a different tack: why not look at some plants that have traditionally been planted outdoors, but perform well and look great inside? This clever perspective means that most of the "houseplants" I have fallen in love with have been readily available at my local nursery. While this influx of exciting new ideas for houseplants hasn't been easy on my pocketbook, I'm having a blast scouting the nurseries and poking around the house for innovative containers, plants and top dressing materials to dress up my office and home.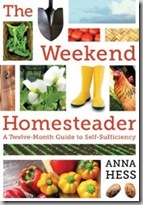 Another good "armchair gardening" title is The Weekend Homesteader: A 12 Month Guide to Self-Sufficiency by Anna Hess. While I think of most homesteading activities as occurring in the great outdoors, Hess looks at the entire lifestyle surrounding these kinds of activities and presents simple recipes, storage solutions for crops, thoughts about making a living while homesteading (hint: she's not advising selling eggs), and generally how to "use it up, wear it out, make it do or do without".
While I'm not going to drop the comfortable perks of my modern lifestyle in exchange for a farm, the sensible techniques she espouses are a fantastic exercise in feeling independent, abundant, and filled with the joys of a simpler way of life.
Is this the most exhaustive book on the topic of basic homesteading? Nope. For that, I'd recommend Urban Homesteading by Rachel Kaplan and K. Ruby Bloom. But The Weekend Homesteader has an approachable, light tone that's making me feel motivated and excited about tackling just a few more projects. I've been having trouble tearing myself away from it, and I especially love how the photos are of real people and real situations that haven't been prettied up for print. There's something refreshing and reassuring in knowing that other people's chicken coops won't be on the cover of Sunset magazine either.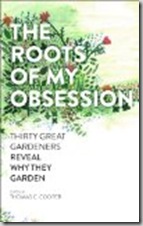 The last book that I'm currently reading is The Roots of My Obsession: 30 Great Gardeners Reveal Why They Garden, edited by Thomas Cooper. While I'm sitting indoors getting slightly twitchy and wanting to prune and transplant and weed, it's a wonderful thing to be able to revel in that passion by reading about other people's love affair with gardening.
Tovah Martin starts her essay by saying, "To set the record straight, I don't garden of my own free will. I am held hostage. Always have been."
From Margaret Roach: "It is no wonder so much of gardening is done on one's knees: the practice of horticulture is a wildly humbling way to pass the days on earth. Even the root of the word "humility" comes from the Latin humus (for "earth" or "ground"). . . Humbled or no, "gardener" was the label imprinted on me when souls were handed out."
Then, Amy Stewart makes the point that gardening is a verb, not a noun. "A garden is not a thing you can buy or own or ever possibly finish. No, "garden" is something you do. It's an active, fidgety sort of pastime, another way of jingling the loose change in your pocket, except that the pocket happens to be your backyard, and the change is a hellebore, or a cherry tree."
Good stuff, yes?