Sometimes you come across a tool that solves so many problems you wonder how you went so long without hearing about it. The Clarington Forge rubber rake is one of those tools.
"A rubber rake?" I hear you asking incredulously. "Really? WTF?"
I'll forgive you for asking, because if you remember our review of the rubber rake from last year, Amy Stewart had the exact same reaction on first glance.
I'll explain the advantages for the uninitiated:
Neighborly relations. Have you ever had a neighbor who wakes up the entire-freaking-neighborhood at 6AM on Sunday morning because they cannot wait to get out the rake and be industrious about the leaves coating their sidewalk? SCREEE! SCREEEE! I mean, all that activity comes from a nice place in their heart, but if anyone in the neighborhood has a hangover, or worse, a baby that has just gotten to sleep, that poor hardworking soul is in mortal danger of being impaled upon the very tool they are using to bring order to their world. If you are that person, I beg you, get yourself a rubber rake and you can enjoy raking at whisper-soft volume any time of day or night.
Decks and patios. What do you do if you have a beautifully-stained deck, or a flagstone patio with a clear coating on it to keep the color looking bright? Even plastic leaf rakes will scratch the stain off a deck when used with vigor. A rubber rake, by contrast, rakes just what it's supposed to and leaves your hardscape alone.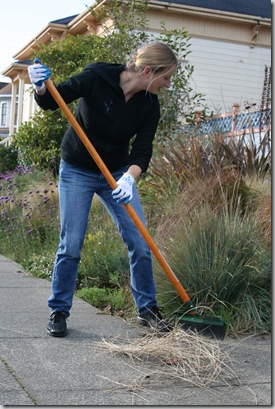 Ornamental grasses. You know all those icky dead leaves that start to clog blue oat grass and others, and keep them from looking their best? You could spend for-freaking-ever running your hands through each individual grass to pull out all the dead blades, but some of us have Project Runway episodes to watch. I'd rather run the rubber rake over the grasses and get back to stalking Christian Siriano on Twitter that much faster.
Groundcovers. Whether they're herbaceous or woody, groundcovers can be a challenge to rake. Every time I run a traditional rake over them, the tines catch on the stems and I end up ripping or displacing my plants. Yet if you've ever picked clumps of leaves off your groundcovers by hand, you know what an arduous task that is. Necessary so your groundcovers don't smother, yes, but if I'm going to spend time outdoors in that fall chill, I'd rather be planting bulbs or harvesting apples or something. The rubber rake once again shines at removing the leaves quickly without hurting your plants.
Raking on mulch. The rubber rake is also good for more pedestrian raking tasks. Ever tried to rake trimmings or leaves off an area that's got wood mulch on top? It's kind of challenging to rake up all the detritus without raking up all your lovely mulch as well. The rubber rake's a lot easier to control than the usual stiff leaf rakes, and makes cleanup a snap. It's also extra-grippy on things like pine needles which like to stick to pavement.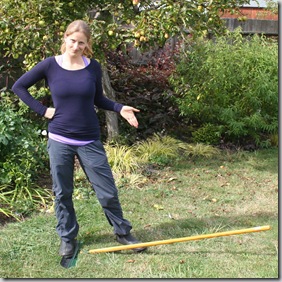 No more whomping yourself on the ears. Have you ever pulled a smooth move in the garden by stepping on your rake when it's sitting face-up and having it whack you in the head?
Every new employee likes to try this maneuver a few times in their first weeks, and it's embarrassing for all involved. I mean, it really hurts. But it's also really funny, and it's very hard not to laugh when it happens, which creates poor relations between crew members. Save yourself the worry and stock your toolbox with a rubber rake. I personally tested this by jumping up and down on my rubber rake and was unable to make it hit me in the face. Score!
But don't the tines wear out all the time?
The one concern I had when I first saw the rubber rake was the tines. I saw a great big cha-ching tattooed on those rubber tines and figured I'd be buying replacement tines every other month. Strangely, that hasn't happened. My landscaping crew's been using the rake for a full year now, and even with regular professional use (it's really nice because we don't disturb our clients when we clean up), the tines are holding up great. They still have quite a bit of life left in them, and I imagine for the average homeowner, the tines would last 5-10 years. (Need a tutorial on changing the tines? I created one here.)
The rubber rake from Clarington Forge comes in two sizes: the Wizard for raking large spaces, and the Merlin for raking in between shrubs. If you're an urban gardener, you'll probably want the Merlin, but if you have a large area, the Wizard's ace for making cleanup fast.
Disclosure: Clarington Forge sent me some free stunt rakes so I could jump up and down on them and attempt to wear out the tines.  All opinions are my own.