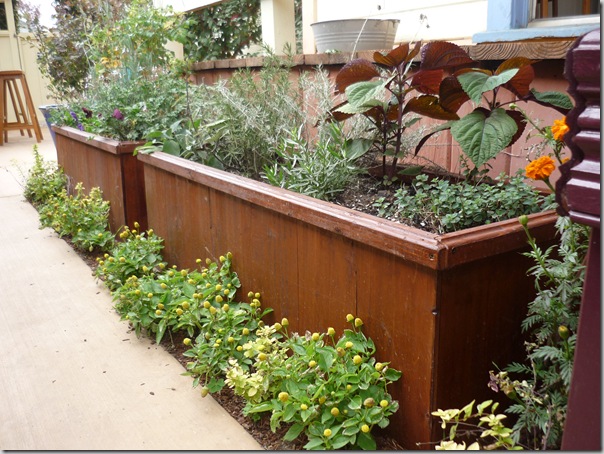 I've been lucky enough over the previous months to get an inside peek into the making of Amy Stewart's cocktail garden to celebrate her new Drunken Botanist book, and have gotten to look at a number of clever products and construction techniques along the way. One of those clever products is the Outerior Décor series of planter box kits. While the idea of mail-ordering a planter box was one that had never occurred to me before, a planter box that comes in a kit is actually pretty workable. It arrived in a long, flat box with the panels stacked on top of one another, and it has pre-drilled holes so you can put it together with a screwdriver rather than needing any kind of power tool.
But I haven't gotten to the cleverest part: the bottom is optional. Since you construct it yourself, you can choose whether or not you want the bottom on there. Obviously if you're placing the box on concrete you'd want a base, but for situations like the one above – where you want a little more height to enhance a skinny planter bed – having a bottomless planter has a lot of advantages. No issues with drainage, and if the plant starts to have a tight fit in the box, it can sink its roots into the soil below and make itself comfortable.
These planters are available in four sizes:
The Churchill – 60 inches The Gran Robusto – 48 inches The Robusto – 40 inches The Latte Square – 15 inches While the one surprise to me was that the sides are a little thin, the fact that they have a thicker molding across the top seems to give them more structural support. They certainly felt sound once they were settled into place and filled with soil. As an eerie Halloween aside, the manufacturer tells me the boxes are made of Chinese cedar (Cunninghamia lanceolata), the same type of rot-resistant wood that has been used to build coffins in China for hundreds of years. Spooky!