The initial plan for my home garden was to set up an automated drip irrigation system, but as my garden evolved, I realized how difficult it would be to make that type of setup work for me. Drip systems work best on gardens that have lots of individual shrubs and plants, and I have the sort of garden that might kindly be called "chaotic", given that I test new plants each year, do odd experiments, and have a fondness for those charming-but-never-in-the-same-place-twice biennials. It's not the type of garden that I'd design for a client, but as my fellow designers pointed out recently, our home gardens are often more like testing grounds than finished landscapes.
So yeah, while drip systems are lovely, it's really tough to water a gardener's garden with one, because of how often things change. That's where sprinklers like the Dramm ColorStorm Turret Sprinkler come in. I turn it on for half an hour, everything gets a good soaking, and it doesn't matter that I don't recall where I sowed the poppy seeds. They come up and do their thing regardless.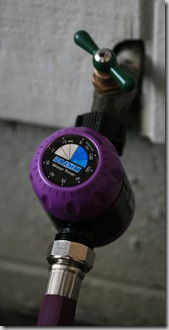 Of course, whenever you turn a sprinkler on, you have to remember to turn it off again, and that's where I've had issues in the past. Before Dramm sent me one of their ColorStorm timers, I'd set up the sprinkler with every intention of turning it off again, but then I'd get a phone call, the UPS man would arrive, and one of my employees would ask me to meet them at a jobsite. All the while, my sprinkler's doing its thing, wasting water and annoying my plants with excess. Not cool.
With this Dramm timer, you turn the dial to however many minutes you'd like to water, it counts down and then shuts off the water at the right time. It's not automated, so it's not for people who are mad forgetful – it's for people like me who can remember that they want to go out and water, but then sometimes get distracted midway through. And thank goodness, it doesn't run on a battery, so it's both eco-friendly and lazy person-friendly. It's like an egg timer where you wind it to the right time and the mechanics inside take care of the rest.
Will the timer last forever? I don't know. It's got a lot of plastic parts. But it's only about $15, and both the sprinkler and the timer are backed by a lifetime guarantee as long as you're using them normally and not letting your rottweiler chew them. Mine's been working great for the few months I've been testing it – no leaks.
Anyway, back to the turret sprinkler: it's really the best I've seen. I mean, it's purple, so that's a point in its favor, but I can promise you I've chucked a lot of purple tools over the years that didn't perform. What I love about it is that it has an adjustable dial to let you choose the shape you're sprinkling in! How cool is that? If I am watering my lettuce bed, which is rectangular, I can choose the rectangle shape. Or if I'm watering my curved garden bed, I can choose the half-circle pattern so I don't dampen my fence but do hit all of my perennials.
Because the base is made of metal, it's not going to crack over time, and like the other Dramm tools I've owned over the years, it seems built to last.
Amy Stewart and I talk more about the ColorStorm tools here:
The only innovation I wish Dramm would make is to come up with a tripod for their sprinklers so that I could elevate them above all that healthy foliage! Obviously that's pretty easy to do yourself – a large brick set on its end works – but I'd love to be able to buy a purple tripod with a stand at the top so I could set the sprinkler at the right height. Hopefully that's next in the product lineup (or am I the only person who would buy that?).
Giveaway! Since these two products are a natural fit to use together, Dramm has generously offered to send one of you lucky readers a set of your own. To enter, just leave a comment saying which color you'd like for your new Turret Sprinkler and ColorStorm Timer (red, orange, yellow, green, blue or purple), and I'll choose a winner at random next Wednesday the 27th. US only.
EDIT: Julia won! Congrats, Julia.