Why are most garden hoses so ugly? It's as though twenty years ago, hose manufacturers decided to pick the most glaringly obvious shade of minty green for all their hoses, and never revisited that decision despite having ample reason to do so. I mean, that hose color is pale enough to show algae stains and mud streaks – yet bright enough to become a major visual element of any garden setting.
Exhibit A: Everyone's favorite Geranium ('Rozanne'), flowering merrily away, yet almost upstaged by the very hose that keeps her so happy. Sweet irony.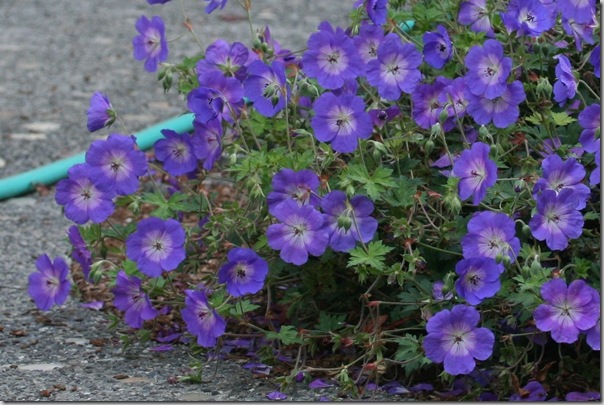 So when Dramm offered to send one of their ColorStorm hoses my way, and I found out they came in purple, I needed no convincing. Purple! In a hose! SOLD!
I mean, it's not like we put our hoses away. Even when they're neatly coiled, they're still out there as a strong décor element in our landscapes. So why not express yourself and have a little fun by choosing one that fits your style?
If you don't want to do it for yourself, do it for your flowers. There is no flower color anything like that minty hose-green, so your plants can't possibly hold their own against such a flagrant visual attack. But imagine the photo above with a nice "berry"-colored hose, and 'Rozanne' would once again take center stage, with a nice supportive backdrop of purple goodness.
Amy Stewart and I talked about the colored hoses and sprinklers here (her chickens helped!):
The ColorStorm hoses from Dramm come in red, orange, yellow, green, blue, and PURPLE! And they have matching sprayers, watering wands, and some seriously nifty sprinklers as well, so everything can be color-coordinated. The hoses are also good at a variety of temperatures, and can even be used with hot water up to 160F, in case you want to use it to wash your car.
Want to win one? You know the drill. Leave a comment saying which color you'd choose (you don't have to get purple), and Dramm has kindly offered to send one lucky winner a ColorStorm hose and One-Touch sprayer of their very own. US only. EDIT: Congrats to Dierdre, the lucky winner!
And for a second chance, head on over to Garden Rant, where Amy Stewart's giving away a set as well. Down with ugly hoses!