I don't do many clothing reviews here on North Coast Gardening because most clothes made specifically for gardening are either not my style (I only like floral when it's thorny and goth), or the manufacturers are so busy thinking about the stereotype of a Lady Gardener that they completely miss out on creating a product that actually functions, you know, in the dirt. When you're gardening.
So when I got the email from Bogs asking if they could send me a pair of their gardening shoes to test out, I looked at their site with suspicion, even though I'd heard good things about their brand. Was this another veiled attempt to cover me in pink-and-yellow flowers and get photographic evidence of such?
I shouldn't have worried. These are functional, comfortable shoes that fit beautifully and really perform in the garden. They sent me the Classic Short Bogs, and I was delighted to find they go perfectly with all of my clothes (yep, they're black!).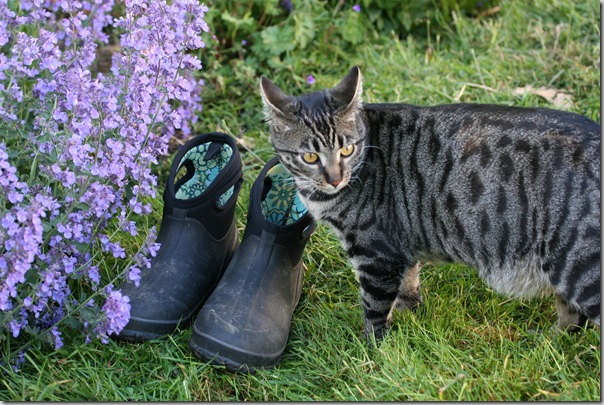 I usually wear Merrell's mocs in the garden, but I have had issues in the past with them leaking. It rains here a lot, and even summer mornings are very dewy. There's little more uncomfortable than getting your feet wet in the first hour of work and then having to suck it up and keep working all day anyway. Pruney toes = unhappy Gen.
Yet I had tried other types of waterproof gardening boot in the past and found them heavy, inflexible, and not breathable, so my feet ended up sore and sweaty at the end of the day.
When I tried on the Bogs I was surprised at how much I liked them right away. The neoprene-like fabric at the top is so flexible that I can slip into my Bogs while standing, and the handles are great if I get them so muddy that I want to rinse them off afterward – they're easy to carry over to the hose for a quick scrub.
And they are totally, indisputably waterproof. I've gardened in the rain, in the mud, I've even dipped my feet into the pond to see if the rubbery outside bits would leak.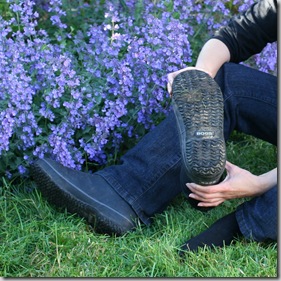 Another thing I like is the way the soles don't pick up mud. Bogs calls them self-cleaning, and that's pretty accurate. I step in a lot of muddy clumps, but because the bottoms of the shoes have just a subtle tread, soil doesn't get stuck in there much. When it does, it tends to come off when I walk around a bit. I've had other types of shoe that piled up mud until it felt like I was wearing showshoes.
Then, they seem to really breathe! I don't understand how they can have such a rubbery coating and yet my feet never feel hot or icky, but they've got some magic going on there. Plus, the insole is anti-microbial, so they have some anti-stink protection going on.
But you want to know what surprised me the most? I even like their flowered ones! This one's got a ghostly-chic floral going, the aqua-chartreuse thing is totally working for me here, and this purple one is, well – it's purple! Need I say more?
Want to get geared out in some Classic Short Bogs of your very own? Bogs has kindly offered to send a pair to one lucky reader in their choice of size. While I tested the women's version for obvious reasons, they also have a men's version in case one of you lucky guys is the winner.
Just leave a comment for your chance to win (US lower 48 states only). I'll pull a winner on Monday, June 11th. Good luck! Krista has won! Congrats, Krista!