Gen here – today's article is a guest post from my friend Rachel Mathews of Successful Garden Design. Rachel's an established landscape designer in the UK, and I've been been enjoying her landscape design eBooks and courses for some time. Today she'll share one of the biggest secrets to success in designing a landscape:
What's the most important part of a garden? Not just your garden, ANY garden? (BTW I'm from the UK so when I say garden, I mean your whole yard, not just the plants).
What is it that makes a garden go from being dull and boring to truly fantastic?
Was your answer "The plants and flowers"? – nope
Perhaps "The deck"? – no
"Nice lawn"? – no
"The gazebo"? – another no
"Water features"? – still no
Or perhaps you said "Sun chair for sipping G&Ts, beer or other beverage of oblivion"? As much as I'd like to give you that, alas, still no.
So what is the magic ingredient in a great garden?
If you're thinking the only thing that is left now is the soil and I'm about to get evangelical about worms and compost, fear not, as good as those things are, what I'm talking about is an above ground thing.
It's not something you have to buy and it can be really inexpensive to do (though there may be some cost involved).
You don't need a degree in landscape architecture to do it.
And, what's more, if you get this part right, it will get you 60% of the way there to creating a fantastic looking garden.
So, have I tantalised you enough? Want to know what it is that REALLY creates a great looking front or backyard?
I'll assume you said yes; here it is: shape.
It's the shape that really makes the winning difference.
Yup that's it. Shape.
"Shape of what?" I hear you ask. Well NOT the shape of your overall yard, that's not remotely important. What is critical are the shapes that you create within it.
Most people start landscaping their backyard with either the plants or the patio/deck area and then the bits that are left are usually lawn or random empty spaces which get filled over time with 'stuff' from the garden centre.
But that's like starting to make a cake with the icing and cherries. Doesn't matter how gorgeous your end ingredients are, you've got to start with the right framework underneath. Otherwise you'll just end up with a blobbly mess that in theory should look amazing but just doesn't, despite your best efforts.
Any great garden also has a framework underneath it. The framework is the defined shapes of the lawn and patio areas. These need to be specific shapes that enhance the entire garden and bring it together as a whole thing rather than a series of unrelated features.

See the difference a shaped lawn and patio make!
Where to start:
The exact place you start will depend on what you have in your garden already. But the main thing you need to do, regardless of what is there now, is to create defined shapes with your lawn and patio area. Re-shaping your lawn is not expensive and the difference it will make is mind-blowing! There are ways to get around having to re-shape existing patio areas, so you don't have to go to that expense unless you want to.
Choose simple, geometric shapes like circles, squares, ovals etc. Even if you want to create a 'wild' or natural looking landscape, still start out with a simple shape and evolve it from there.
Create a coherent design shape to bring the whole yard together. If you look at your current backyard, it's probably a series of unrelated elements like patio, shed, plant areas etc. You need to visually join up the dots, so to speak.
You need to get the right design shapes in place to enhance your garden and make the best use of the available space. If you have a long, narrow garden, you need to make it look wider than it really is. Or if your yard is small, you need to make it look visually longer than it really is and create more interest and feelings of space. Getting this right will dramatically improve your garden and help it look good all year round, not just when plants are flowering.
Once you've done that, then you can sit back with that G&T and know that your garden truly is fantastic!
If you want to learn all the steps involved with shaping and landscaping your backyard, check out Rachel's online garden design courses on her website and eBooks on Amazon.
Garden Design Course Giveaway
If you'd like to win Rachel's Great Garden Formula online garden design course (normally $297) leave a comment below about where you feel stuck with your garden and we'll randomly pick a winner in a 'number out the hat' style draw! Two runners up will receive a mini-course on either patio or deck design (a $37 value).
(EDIT: Dennis, Laura and Stevie are the winners! Congrats, all!)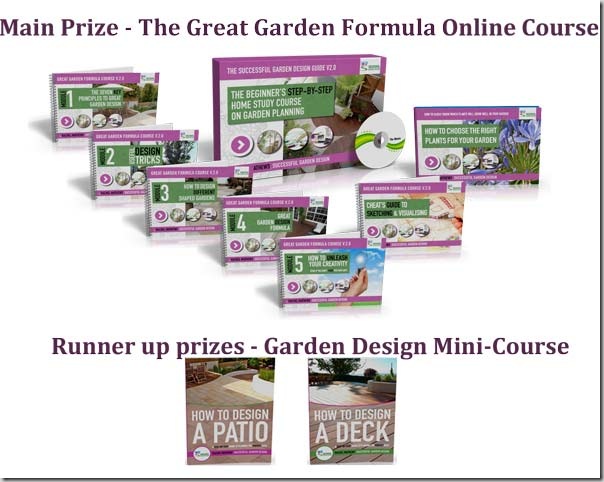 Author Bio
Rachel has been an international garden designer for the last 20 years. She passionately believes that the 'average' garden can and should be so much more than average. She has set up the Successful Garden Design website to teach garden design using simple methods that anyone can use to transform their own garden, no matter what it's like now. Rachel has put together a series on 'where to start with your garden' and a free pdf guide, simply signup to her Design Tips email group to get it.