I'll admit it: I'm bad with containers. I love planting them, placing them and admiring them. What I'm not so great at is watering them.
So when Eartheasy offered to send me one of these stylish triangular Triolife planters to test out, I wasn't feeling too confident that I'd be able to create an effect worthy of its awesomeness. I mean, look at the thing – it's all modern and fresh and thrilling-looking.
But when I looked further at the design, it's actually got an open center which allows a core of soil to run down the middle, making the planter a lot easier to keep watered and happy as there's plenty of root room for all of the plants.
I am getting ahead of myself, though.
Amy Stewart and I decided to do a joint review of the thing, but when it first arrived, we spent a ridiculous amount of time trying to put it together (I don't think we're very handy). But once we figured it out, there was a satisfying simplicity to the design – it fits together with perfectly-cut pieces and pegs, and you don't need any tools, screws or the like to construct it. (Kind of like that raised bed kit we reviewed from Eartheasy a while back.)
But just in case you're a little, erm, "challenged" in the construction department like we are, Amy and I made a quick video showing what it looks like before planting it up, so you can get the gist of how it goes together.
Step-by-step photos:
Don't neglect the kitty during this process or you'll get a wet nose pressed against your camera lens.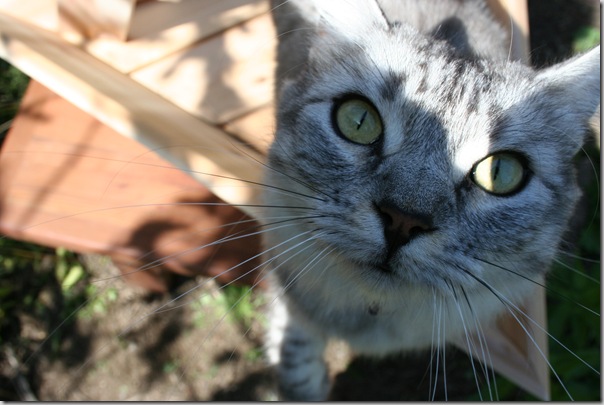 Anyway, what was I doing? The cutes temporarily blinded me. Oh yeah! Once you get the frame put together as shown, you can set the last two trays on the little ledges cut into the frame.
Plants in 4″ pots fit perfectly into the sides of the Triolife. Since I've been re-reading Debra Lee Baldwin's book Succulent Container Gardens, you know what theme I picked! Here's my finished planter: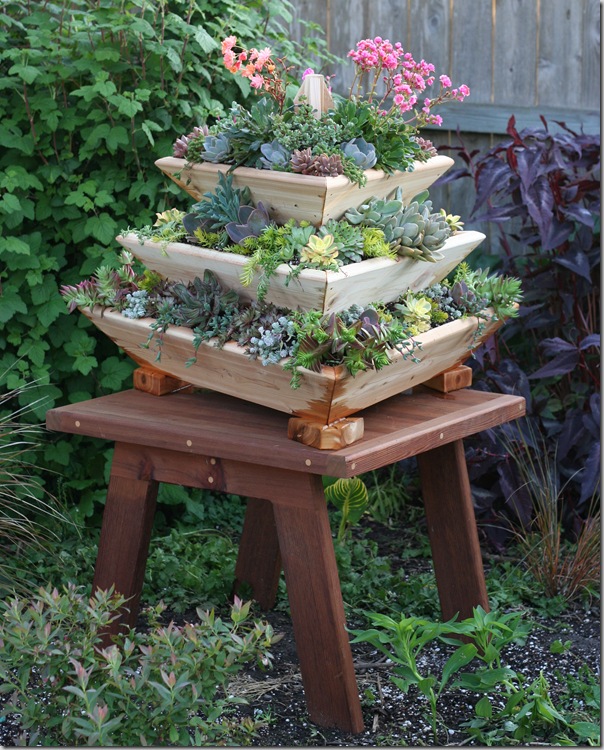 I was thrilled with how it came out. You could plant edibles, ornamentals, or whatever you wanted in there.
Want to win a Triolife container? Eartheasy's kindly agreed to give one of you lucky readers a Triolife of your very own! All you have to do is comment for your chance to win. I'll select a winner at random on Weds May 23rd. US only. For a second chance, head on over to Garden Rant, as Amy's giving one away there as well!
Edit: Lucy's the winner of the Triolife! Congrats, Lucy!
You can catch up with Eartheasy on their Facebook page and learn more about their innovative raised beds and planters here.