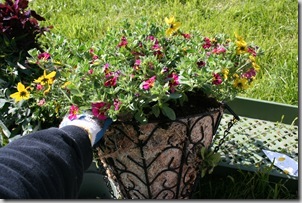 Years ago, when I worked at a local independent garden center, one of my favorite winter activities was creating moss baskets to sell. We used loose sphagnum moss to line the baskets, and stuffed the sides and tops with lettuces, annuals and herbs. It was a blast!
So when Discoveries in Gardening asked if I'd like to test out one of their hanging baskets with the Angel Moss lining, I was excited! Eliminate the messy and time-consuming process of soaking the loose moss and stuffing just the right amounts around the wire frame? Yes, please! More time for planting and chasing the kitties around the yard.
(Update: I've gotten a number of emails asking where Angel Moss can be purchased, since Discoveries in Gardening has closed down. There is a distributor in Georgia who is selling NZ moss and liners like these.  They are Acadia Wholesale – Phone 770 271 0829 – Contact: Tim – please direct any requests to Tim.)
I made a quick tutorial on how I planted it up so you can see how easy the process is and feel inspired to make your own basket. They're lovely hanging on a hook on the porch or in your front entry. I'm going to sink a post in the ground so I can hang my basket right in my garden bed for a little vertical interest – hopefully the fact that the post is made of wood will encourage the cats to use that as a scratching post instead of my poor tortured peach tree. (One can hope.)
Anyway, the process:
First, gather the ingredients:
Basket with moss liner and chain
Plants, preferably some that will spill over the sides (if you want to plant directly in the sides of a basket, get some six-packs because larger 4″ or quart-size plants won't fit between the wires of most baskets)
Potting soil
Either Angel Moss Marbles or polymer crystals that help retain water (soak first or leave a little room in the basket as they will expand when wet)
Organic fertilizer, which slow-releases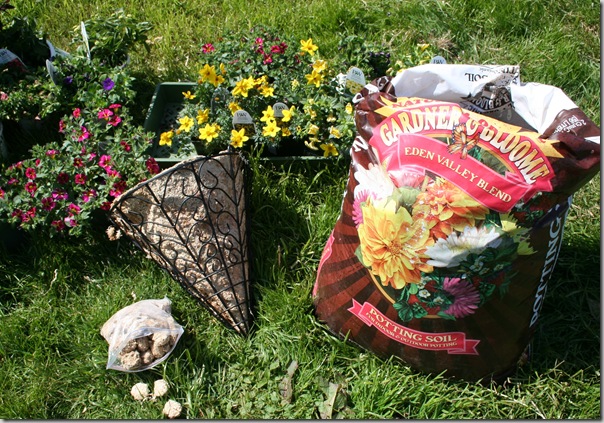 Add a little soil and your moss marbles or polymer crystals, if using:
Then plant the sides, by peeling back the Angel Moss lining (it peels like handmade paper or a soft-textured cardboard) and popping the root ball through the hole: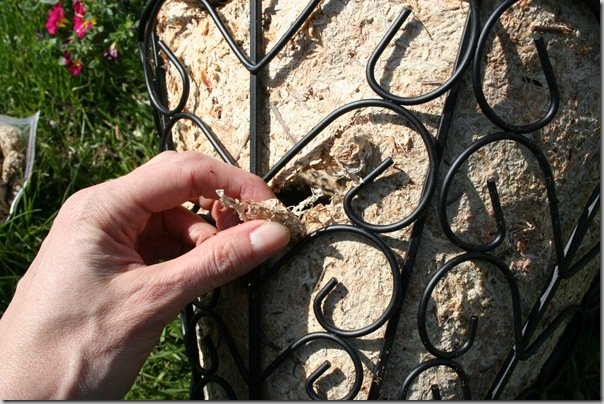 What to do if your plants are too big to fit in between the wires? Gently but firmly smoosh the rootball with your hands to make it a different shape:
Add fertilizer and more soil:
This basket's a cone shape, so in order to pot up the top, I just stuck the bottom of the cone into my bag of potting soil to keep it from falling over:
In my basket, I used:
(I've also written about other planting ideas for hanging baskets in the past.)
After planting the top, you're done! Easy, right?