Are pruning saws mostly the same from brand to brand? I certainly thought so. They cut things (some better than others), and some fold or have a pole attached, but otherwise, pretty similar in how well they function, right?
Nope! After trying at least 10 brands of saw over the 16 years I've run a landscape maintenance business, I've finally found a brand that blows the rest away – the Professional Pruning Saw from Garrett Wade. It's well-made and has the simple elegance of a tool that's built to last.
The handle is a beautiful hardwood laminate and is contoured for a secure grip. Because it has finger grooves, you may be concerned that it won't fit your particular hands comfortably, but I asked a number of men and women to test it out, saying "be honest!", and everyone found the fit of the handle exceptionally comfortable.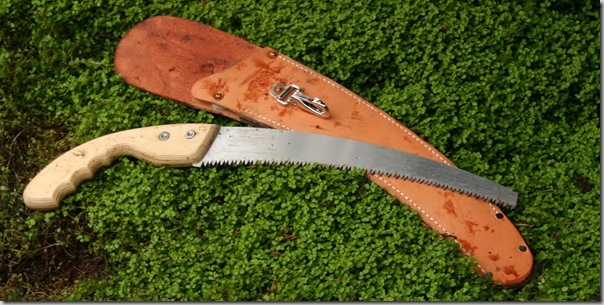 But where it really shines is in that gorgeous curved blade. My old saws have all had a straight blade and I think of that as the standard. But a slight curve lets the teeth of the saw really bite into the wood, so it reduces the amount of force you have to use to make the cut, and it cuts fast, too. It's so well-designed that it feels like the saw itself is trying to help me prune! Contrast that with my old straight-bladed saws, which definitely felt as though I was doing all the work.
Another element I like is that this saw has a snub-nosed tip. Most saws have a pointed tip, which tends to catch in the wood because that tiny bit of metal at the end is too flimsy and floppy to hold up. Pretty much every saw I own has the tip broken off because it binds up in the wood while I am pruning and I snap it, which leaves a jagged end that is unsafe and makes pruning more difficult. The people who designed this have obviously had the same problem, since they built this saw with a smooth, blunt tip. Yay!
The saw is made with extremely high-quality Japanese metal, and is manufactured in nearby Chico, California. Garrett Wade sourced this tool from Fanno Saw Works, which is a company that's been handed down for three generations and has a reputation in professional circles as being THE professional saw brand.
However, the one thing that has been a bummer about this saw in the past is that the original Fanno scabbard is – there's no other way to say it – kind of lame. These people know their saws, but aren't really leatherworkers. So Garrett Wade upped the ante by having leather scabbards custom-made for the saws by an Ohio company which makes tack for the Amish. These scabbards are the real deal, made of premium leather and perfectly-suited to this gorgeous line of pruning saws.
Is there any downside to this saw? Um, no, not that I can see. The price is even in line with or cheaper than the other saws I have purchased over the years, and I like those other saws a lot less. They do sell the scabbards separately from the saw itself, but this thing is sharp enough that I'd really recommend springing for the scabbard as well, because if you're not as obsessive about wearing gloves as I am, the teeth on this thing could give you a nasty cut. But that's a good thing. Better to use protection than use a wussy tool, right?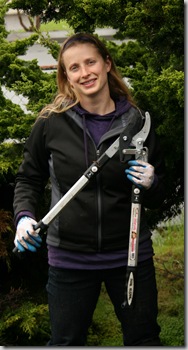 As if that weren't impressive enough, Garrett Wade also carries these heavy-duty loppers. Loppers are another type of tool in which most companies just don't innovate. Yet this lopper has two features which set it apart.
First, it has a ratcheting action which makes short work of thick branches. Have you ever started to prune a branch and realized it was just too big to cut with your loppers? Well, that unfortunate moment is what this tool was designed to fix. When you start trying to cut the branch, you can get more power by opening the handles a second or even a third time to allow the ratcheting action to give you more leverage to finish the cut. The blade cuts through even hard wood (like that of conifers) with ease.
The other handy feature is that the handles telescope! This is fantastic for when something's just a bit out of reach, either when pruning from the ground or up a ladder. Another benefit of an extending tool is that you can use it to avoid bending down or crawling under a shrub. I often thin shrubs from the base, which requires some maneuvering, but the fact that I can extend these loppers means it's easier to get in and prune low in a shrub without having to get low myself.
I also have a number of clients and older friends who garden from a wheelchair or a seated position, and the dual benefits of an extended reach and an easier cutting mechanism make this a great tool for those with arthritis or who have trouble standing or bending.
The one issue with it is that it is a tiny bit heavier than most loppers, but the fact that it is almost a multi-purpose tool, cutting thicker branches than usual and giving you the option of height, makes me think the bit of extra weight is worth it to be able to get so much more work done. I've started carrying this tool for heavier work, and just keeping a smaller, lightweight lopper for roses and other light pruning.
The bypass version that I have is best for pruning live wood, because it makes a clean, smooth pruning cut that discourages damage and disease from pruning. But if you are cutting branches for kindling or clearing a property of dead wood, I'd recommend picking up the anvil-style lopper as well. The anvil head cuts branches up to two and a half inches in diameter! But the crushing action of an anvil pruner isn't recommended for fine pruning of plants in the garden.
You can pick up these tools from Garret Wade here, and I'd highly recommend them if you do a lot of pruning or just like to know you're working with the finest tools available.