The last time I reviewed Jessi Bloom's new book, I focused on the text. Let me tell you, even with only three chickens, I needed the advice, and I could not wait for this book to come out.
But in my eagerness to absorb everything that Jessi knows about gardening with chickens, I may have neglected to properly rave about the other awesome element in the book: the photographs.
The pictures are so charming that if I didn't already have my own flock, I would have been rushing out to the feed store to place a new order for a lovely variety of hens. I mean, look at this: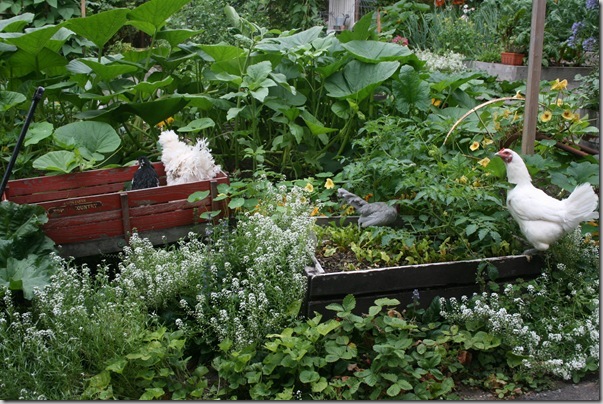 Those proud beaks, and their fluffy little behinds! I love the tiny gray one halfway hidden in the foliage – she looks like a miniature roadrunner to me. So cute!
For me, the photos enhanced the text by making gardening with chickens seem not only accessible but chic. Sometimes, all the poop on the patio gets me down, but the reassuring photographs (with, yes, the occasional pile of manure in the shot) make me actually believe Jessi that having both a lovely garden and lovely birds is not only possible but fun as well.
The photos shown here are a selection of pictures that didn't even make the cut for the book, so you know the book itself is a beaut.
Want to win your own copy? We're having a bit of a blog party to celebrate the book, so Timber Press has offered up a fresh new copy of the book to one lucky reader. But a one-book giveaway wouldn't quite constitute a party in my view, so Storey has also offered up a copy of their brand new Fresh Egg Cookbook by Jennifer Trainer Thompson!
Just leave a comment below and I'll pick a winner at random on April 12th (US only). And if you really want a win (you know you do), head on over to  these blogs for another chance:
Jessi at http://gardenfowl.com/
Erica at http://www.nwedible.com/
Theresa at http://www.LivingHomegrown.com
Angela at http://myrubberboots.com/
Annette at http://www.sustainableeats.com/
Kylee at http://www.ourlittleacre.com
Willi at http://www.digginfood.com/
Debbie is our winner! Congrats, Debbie! I have emailed you about your prizes.
All photos copyright Jessi Bloom.