Longtime readers will know I've been a fan of Fern's stylish blog Life on the Balcony for some time. Fern's like an approachable version of Martha Stewart for container gardeners – while her photos and ideas are gorgeously inspiring, her projects are never so difficult or time-consuming that I feel I couldn't possibly fit them into a weekend, unlike some of Martha's cool but overly involved eye candy.
So when Fern's new book Small-Space Container Gardens
came out, I already had two copies pre-ordered, one for myself and one to give as a gift. I just knew I was going to love it. And sure enough, I do!
The book is structured as a total from-the-ground-up guide to having a gorgeous balcony garden. While you might think that would encompass only container planting, she also shares numerous tips on design and décor, dealing with narrow spaces, vertical gardening, and issues unique to balcony gardeners like how to deal with rain pouring in sheets off the roof and onto your potted plants.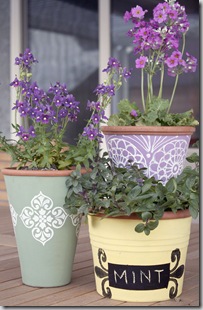 Even better, Fern's DIY style is made easy and fun with numerous tutorials and crafts throughout the book. I absolutely adored this chalkboard planter idea for taking ordinary, inexpensive pots and making them cute and functional.
How many times have I gotten a call from a client just before dinnertime wondering whether the plant with big leaves was the oregano or the sage? Now, I can show horticulturally-challenged gardeners this tutorial and they can create their own (very chic) labeled pots for their edibles. What a great gift idea!
I felt this way with all of the tutorials in the book. Fern made everything look so elegant that I immediately wanted to rush out, get a few supplies, and make 'em happen. She showed a small-space DIY birdbath which would be perfect nestled among a few potted plants. And this mod-minimalist bird feeder? I totally want to adapt this project and make it my own (I mean, purple would be mod-minimalist too, right? Right?).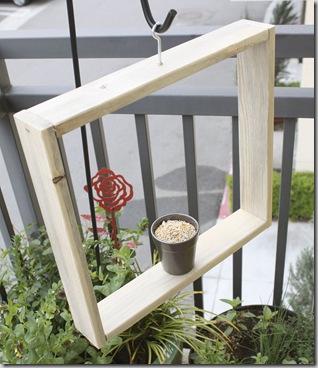 I also loved that Fern made cohesive garden design easy with her small-space patio design plans. She created full container planting designs for a Verdant and Vertical Garden, Potager With a Twist (some great edible and cocktail garden ingredients!), Succulents and Scents, and more. It's not just the planting ideas, either; she mixes décor tips and layout ideas into her plans so you can see how all the elements fit together.
The book is beautifully-photographed and designed, and would make a great gift for the beginning or advanced container gardener. The text covers all that a beginner would need to know in clear language, while the designs and DIY projects offer enough interest to keep even pros like me coming back for more.
Want to win a copy for yourself? Timber Press has offered one up to a lucky reader! Just leave a comment for your chance to win. I'll pick a winner at random on Friday April 6th, US only. Brynda is our winner. Congrats, Brynda!
(All photos copyright Fern Richardson)