Gardening in soggy soil can be tough enough without the added challenge of shade. While the usual suspects in such conditions – ferns, iris, astilbe and hosta – are beautiful, if you're looking for a more interesting or architectural planting, it can be tough to find varieties that will suit. Here are six under-used plants for shady sites that are damp or somewhat boggy.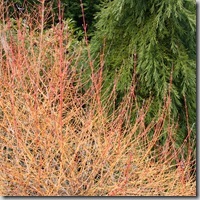 Midwinter fire dogwood, Cornus 'Midwinter Fire', shines in boggy part shade. The golden stems tipped with orange stand out boldly against evergreens in winter, and in summer it's an unassuming but attractive shrub with green foliage.
It reaches 5 feet tall and wide, and should be pruned each year to encourage lots of new stems to grow, since the new stems are the colorful ones. Simply remove 1/3 of the oldest stems at the base each year to keep it looking good.
You can use the stems you trim out in flower arrangements or by themselves in a vase for an elegant look. (Hardy to zone 5.)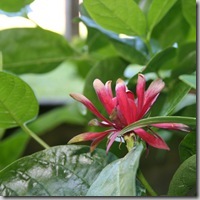 Spice bush, Calycanthus occidentalis, is a California native shrub which prefers partial shade and grows to 8′ tall and wide. In full shade, its habit is slightly more twining and is a good candidate for espaliering, while in sunnier spots, it forms a sturdy shrub.
The vivid blooms have an aroma like that of a wine barrel – a fruity-musk scent with a hint of oak. The contrast between the bright flower and lush green leaf is a welcome addition to a forested area, since so many shade-tolerant plants have pastel-colored blooms. Its foliage smells spicy and herbal when crushed, a quality that deer find most unfortunate. (Hardy to zone 7.)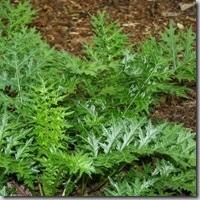 Spiny bear's breech, Acanthus spinosus, has glossy deep green leaves with prickly tips. If you're bored of the usual bear's breech, Acanthus mollis, this is a much more interesting species that's just as easy to grow.
It reaches 2-3′ tall and wide, and in summer, bold spikes of purple and white rise above the foliage. The blooms make long-lasting cut flowers in a vase. It's happy in full to part shade, and looks great near water features or in urns. Just don't plant it next to a pathway! (Hardy to zone 6.)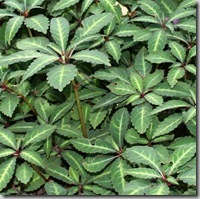 Hardy impatiens, Impatiens omeiana, is an easy, spreading groundcover with hints of red on the stems and a bold streak of variegation down the center of each leaf.
While I've never personally seen them bloom, rumor has it they have an orchid-like yellow blossom in late summer that highlights the creamy-gold venation on each plant.
They reach about 1′ tall, 2′ wide. (Hardy to zone 6.)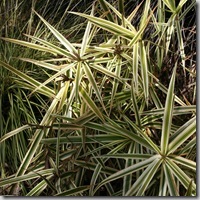 Sparkler sedge, Carex phyllocephala 'Sparkler', is a versatile shade plant which takes both wet and dry soil with ease. It has the look of a bamboo plant that erupted into fireworks, and what you see is just its foliage, not the flowers.
So long as it isn't burnt by direct sunshine, the creamy-white stripes make a gorgeous show next to other variegated plants or against green or silver plants. It reaches about 2′ tall and wide. (Hardy to zone 7.)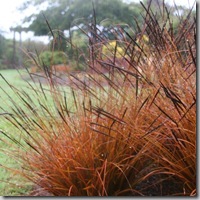 Red hook sedge, Uncinia uncinata 'Red', is my new Halloween plant crush. It takes partial or dappled shade with ease, and in late summer gets these lovely brownish-black flower spikes that look all wicked next to the glossy orange foliage.
These will occasionally re-seed through the garden, but the seedlings aren't too plentiful and are easy to pull out, so I'd consider them a benefit (free plants!) rather than a pest. 18″ tall. (Hardy to zone 8.)
Want to see what other garden designers around the country have to say? Check out the other members of the Garden Designers Roundtable who have likewise posted on the topic of shade.
Margaret Roach : A Way To Garden : Hudson Valley, NY
Andrew Keys : Garden Smackdown : Boston, MA
Christina Salwitz : Personal Garden Coach : Renton, WA
Debbie Roberts : A Garden of Possibilities : Stamford, CT
Douglas Owens-Pike : Energyscapes : Minneapolis, MN
Lesley Hegarty & Robert Webber : Hegarty Webber Partnership : Bristol, UK
Pam Penick : Digging : Austin, TX
Susan Cohan : Miss Rumphius' Rules : Chatham, NJ