***Giveaway below***
Outside of the garden, I'm attracted to cool, subdued colors, like purples, blues, blacks and greys. But lately, in the garden? Give me some color! Wild, exuberant color, that shocks the eyes and cheers the soul.
So when the kind folks out at Tesselaar Plants offered to send Amy Stewart and I some Tropicanna cannas, I was all over it. Miss Zonal Denial is ready for spring!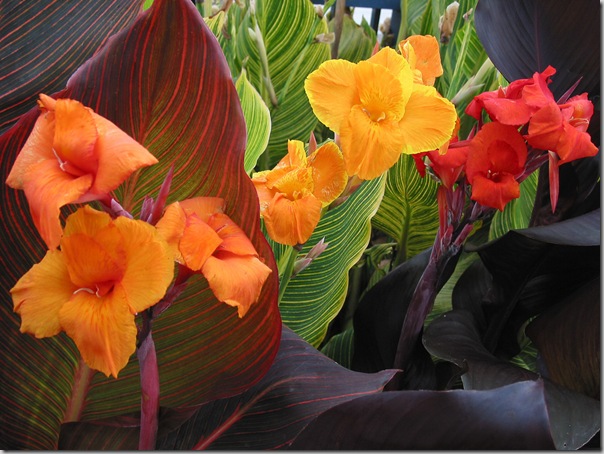 The original Tropicanna, Tropicanna Gold, and Tropicanna Black (photo courtesy of Tesselaar Plants)

We took some of our Tropicanna bounty over to local artist Linda Mitchell's home. Linda (yes, those are her lemons at left!) has a gloriously tropical garden of her own, with loads of exotic fuchsias, bold foliage and exciting colors that come up in summer.
Here's Amy and I finding homes for all the different kinds of Tropicanna:
These are one of the hardiest "tropical" plants around. They're safe in the ground to zone 7, and gardeners in zones 6 and below can plant them in containers, or just dig them up each season and bring them in. In my area where they overwinter easily, they reach about 6′ tall, but in pots they'll stay a more sedate 3-4′.
Inspiration board for the three kinds of Tropicanna canna:
Top row: Tropicanna canna, Alstroemeria 'The Third Harmonic', and Uncinia uncinata 'Red'
Second row: Tropicanna Gold, Euphorbia characias, Calluna 'Beoley Gold'
Third row: Tropicanna Black, Helianthemum 'Henfield Brilliant', Clianthus puniceus 'Red'
Would you like to grow your own Tropicanna cannas?
Tesselaar Plants has provided a whopping FOUR SETS of Tropicannas for Amy and I to give away to some lucky readers. Each winner will get a generous set of all three types of Tropicanna, enough of each to try them in a number of cool combinations.
All you have to do is comment here and over at Garden Rant to win, and next Thursday Amy and I will each announce our two winners. US only. Good luck!
And if you want to connect with the nice folks out at Tesselaar Plants, you can check them out on Facebook or follow them on Twitter.