There are two schools of thought on pruning Lenten rose, or Helleborus orientalis. One side says to prune off the old foliage to the very base just as the Hellebore is starting to flower.
The bloom spikes start coming up in the center of the plant, and the old foliage lays down obediently: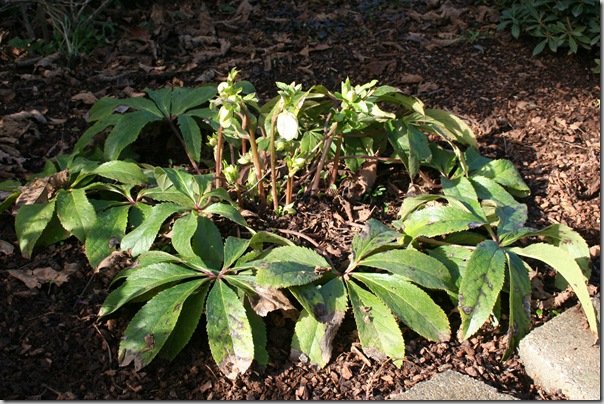 If you prune it at this time, your new flowers will unfurl with the naked, innocent look of a woodland bulb – all stem and bloom: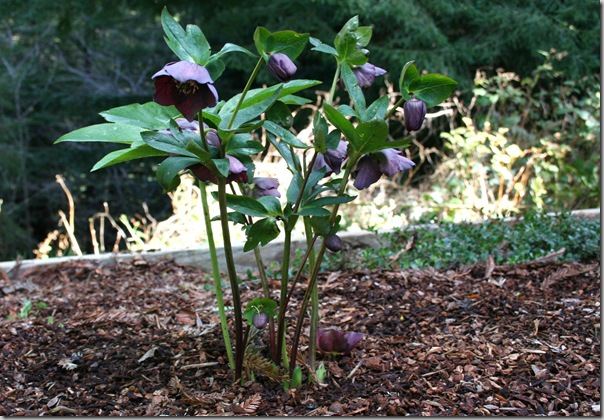 And if your Hellebores are really plump and happy, you might not even miss the foliage: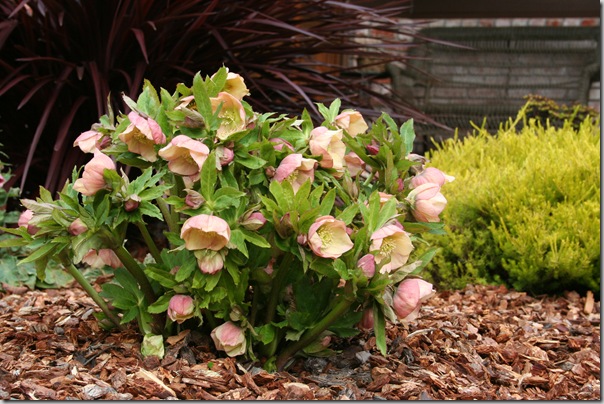 Of course, some people don't like the minimalist look on their Hellebores, and prefer to leave the foliage as long as possible: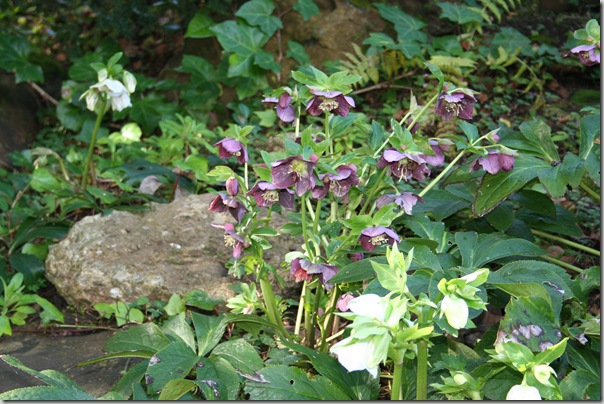 If that's you,  just keep an eye on things and prune out the old foliage when new leaves start to come out, about two months after bloom starts.
If you miss the boat and let the new foliage emerge among the old foliage and the flowers, you get a mess, and it is hard to prune out the old stuff without harming the new:
Hellebores are lovely, easy-care plants that rarely get a disease, but they do not like being crowded. Plants that look like the photo above often suffer snail damage, sooty mold, and whitefly, none of which will kill the plant, but sure isn't attractive.
The winter cold can kill off these pests, so if you do prune off the old foliage right away as the flowers are emerging, it takes away the hiding place of any garden snails and kills off any whiteflies or mold that may be hanging about, ready to get a foothold.
Whichever way you choose to prune, you should take off your Hellebore's old foliage between January and April, and also prune out the dead flowerheads when the flower color becomes dull and the seed pods in the center of the bloom begin to enlarge.
Hellebore flowers make a lovely display in a vase, even when they're fading, so if you're having trouble taking the plunge, just cut them and enjoy the last couple weeks inside.
They spread at an almost alarming rate via seed, coating the ground quickly with shiny baby Hellebore sprouts that are a terrible pain to remove. Unfortunately, it takes a really long time for Hellebores to do anything from seed – many years, in my experience, and the seedlings are random colors, so they may not be just what you were hoping for. That's why I usually deadhead mine and just buy new Hellebores when I want them, so I can choose which colors and styles I actually want.
Want to read more about pruning Hellebores? Frances at FaireGarden prunes hers every year and shares the process with us.
More pruning tutorials here.