Ever since a Buddleja gave me a six-month long sinus infection a couple years back, I've taken every possible opportunity to convince people to kill the darn things. After all, they're invasive in my county as well as in parts of Oregon and Washington, and yeah – if you've ever stood beneath one and tried to cut it down to size, you'll know that it spits out masses of hairy dust that you do NOT want to inhale.
So when Fiskars was kind enough to send Amy and I a pair of these PowerGear Loppers to test out, I was excited to have an excuse to have at Amy's poor, defenseless Buddleja: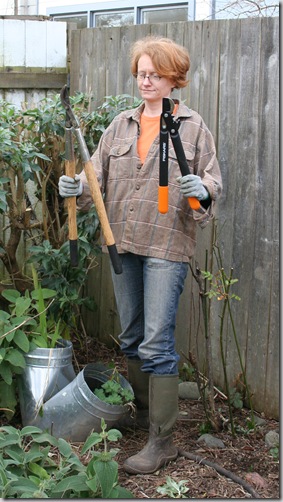 You can see that the PowerGear Lopper gets in there and cuts even thick stems with very little effort, due to the gearing mechanism. You do need to change the way you approach a shrub to prune, just because the handles open up so wide, but I've found that simply threading the handles inside the shrub allows me to make nearly any pruning cut, even in tight corners.
I also love how lightweight and small they are. They cut branches that even my larger loppers have trouble with.
If you'd like to try them out for yourself, Fiskars has generously provided a giveaway for two lucky readers – one here and one over at Garden Rant. Just leave a comment to win!
EDIT: Erin from The Impatient Gardener has won! Erin, Fiskars will be sending out your loppers shortly! Congrats…
And if you want to get to know the nice people at Fiskars, check out their Facebook page and Twitter stream.