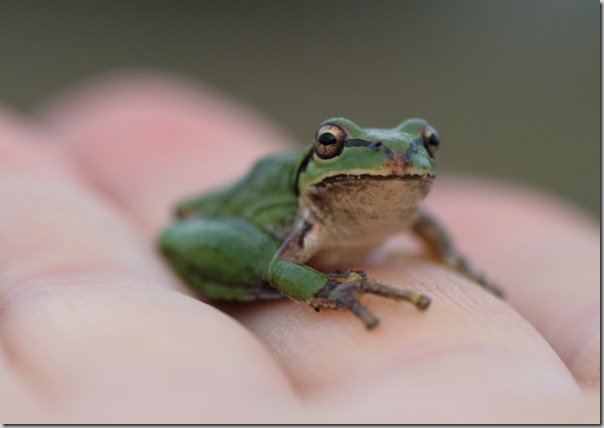 Debbie's post over at Garden of Possibilities was a catalyst for me to really think over an issue I've been having a lot lately – the Neat VS Natural debate. It's not a debate I've been having with anyone else, it's more been an internal struggle.
You see, the more I learn about gardening, the more I want to garden in a way that's a little more natural, a little more wildlife-oriented. The problem I encounter is that so much of what I've been learning to do for wildlife just looks messy to me. I'm sorry, but it does. Fallen leaves piling up, masses of brown flowerheads and dead foliage scattered about… You don't spend 15 years running a landscape maintenance company without developing a bit of a neatness fetish in the garden.
I'm not saying I don't appreciate a bit of intentional leaving it be – the artfully-left seedpods, the carefully-chosen flowerheads that stand brown and proud, and the fallen leaves that are still a lovely array of colors. But when it starts to veer from artfully-placed into the realm of out-of-control, I kind of lose my appreciation for it.
But I haven't lost my appreciation for native bugs, for the songbirds they feed, the butterflies they become, or the happy thrum of native bees in the summer garden.
So when I hear that a lot of good bugs overwinter in leaf litter, I feel like a jerk for raking it all up and composting it. And I love to watch birds scratching and pecking in the garden, but if I suggest we leave some dead flowerheads and foliage till spring, I worry that my clients will think I've lost it.
This is the crux of the issue for me: in my own home garden, I'm cool with lettings things go for a bit. I'm down with a casual look – my chickens have made sure of that! But when gardening for clients, most of them have an entirely different kind of garden. How can I leave fall leaf litter for overwintering bugs in a garden with landscape fabric and wood chip mulch? Suggesting to them that attracting spiders (which will kill off pest insects) should be adequate reason to let compost build up on top of their landscape fabric is hardly going to go over well! In these neatly-kept gardens, deadheads don't look vaguely romantic – they just look out of place.
Perhaps there are some ways I could adjust the planting scheme so that the soft browns of the autumn and winter garden fit in better, but for this year, right now – how do I reconcile what I know is good for wildlife with what I know my clients' eyes have adjusted to see?
I could take the easy road and say that I just do what clients want me to do in their own gardens, because that is absolutely true. But it is also true that because I care for so many gardens, I have a real opportunity to make a difference in numerous small ways. Any change I can make is magnified across every garden I care for. This is why I'm reading blogs like Wildlife Garden, Ecosystem Gardening, and Town Mouse and Country Mouse.
Yeah, they're fun, and interesting, and the pictures are lovely – but what I'm really hoping is that someone, somewhere will have the magic beans that will allow me to find a happy middle ground, that protects and honors wildlife while giving my clients the clean garden aesthetic they expect. Yes, it'd be ideal if we all adjusted our perspectives to see natural beauty as the best kind there is. But until that day comes, I'm struggling with how best to "sell" some of these shifts towards the natural garden to my clients and even myself…
Where do you fall on the neat vs. natural continuum?
Have you learned to love the relaxed feeling of a more natural garden, or do you prefer things to look neat and in their place? Let me know in the comments below.