Is the word "garden" a noun or a verb? If much of the joy you take in your garden is that you get to play, experiment, fiddle, and tend to it, then this is the book for you.
Stephanie Cohen has put together a thoughtful design primer for gardeners who love to garden, and want a garden that flows from season to season with nonstop color and interest.
The book starts out with a straightforward chapter of advice that will get you fired up to create a gorgeous garden. She gives you an easy, but not simplistic, overview of what concepts to remember as you renovate your existing space or plan your new one.
Then she walks you through the different types of plants that will star in your year-round, nonstop garden. Chapters on trees, shrubs, perennials, tropicals, bulbs, annuals, edibles, and vines follow, and in each chapter she profiles some of the winning plants that you might select for your garden. Interspersed throughout the book are ten very pretty designs you can adapt to your own garden or use as a springboard for your own design. (As a landscape designer, I found her presentation of these designs extremely inspiring!)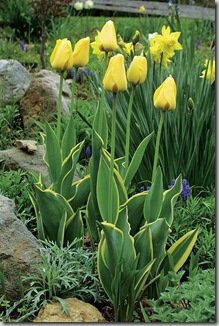 The highlight of this book for me was Stephanie's down-to-earth and just plain funny writing about design and choosing plants. Some of my favorite bits:
"If a plant has "yuck" foliage right after flowering, as so many perennials do, it might be best to plant it in your compost pile." (Sing it, sister Stephanie!!)
"Impulsive plant purchases can lead to a garden that looks like it was designed by a blender." (Heh-heh – yep.)
"Do not fully commit to hardy plants that return year after year. By designating space for annuals, biennials, and tropicals, you give yourself some shopping trips to look forward to each gardening season." (I know a few beloved clients who will be delighted to hear that their gardening strategy is sanctioned by the Queen of Perennials herself!)
"By all means do not turn up your nose at the average Joes. The local garden society might find plants like impatiens to be a little too pedestrian, but if they work, who cares?"
This is the friendly, witty writing style Stephanie's known for.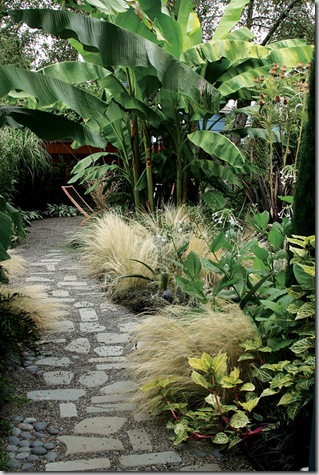 Now, the caveat:
This is not a low-maintenance gardening book. This is an "I like to garden, I put my soul into my garden, I enjoy buying new plants and find the creative process of gardening fun and invigorating" style of gardening book.
To give you an idea of what I mean by this, Stephanie's "Recipe for Success" outlines the approximate percentages you might choose for your nonstop garden, which is:
30% trees and shrubs
30% perennials
20% annuals and tropicals
10% bulbs
5% vines
5% veggies and herbs
That means that no less than 20% of your garden, and probably more, will need re-choosing and  re-planting every year, or at the very least some plants will need to be brought in and coddled through the winter if they're tropicals. And 30% of your garden will need some form of summer deadheading and winter pruning every year.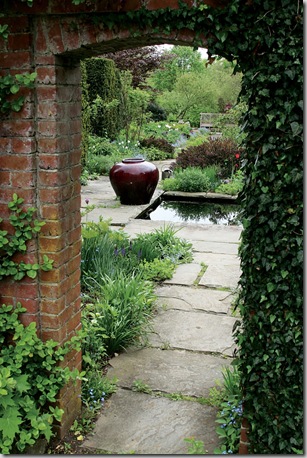 So your garden will be H-O-T, with big tropical leaves and blooms, lush flowers, gorgeous foliage plants… Like the gardens you see in Fine Gardening Magazine… It also means your garden truly needs to be a labor of love and a joy for you to work in or else you're going to end up feeling guilty and exhausted at all it needs from you.
By now you know if you're the right kind of gardener for this book. Either you're shaking your head and muttering about toddlers and money and gotta-be-an-easier-way, or you're enthusiastically going, FINALLY!! I love to garden! I just need someone to show me how to put together all the gorgeous plants I buy into the garden I've been dreaming of.
The photos are gorgeous and creative, the designs are well-thought-out and easy to envision and understand, and Stephanie's humorous, no-nonsense approach will make you feel like a more experienced gardener has taken you by the hand and joined you in creating the garden you've always dreamed of.
All photographs copyright 2010 by Jennifer Benner, used with permission of Timber Press. Timber Press provided me with a review copy of this book.
If you enjoyed reading this review, you might also enjoy:
Check out The Nonstop Garden at Amazon.com
Read my Review of Amy Stewart's The Last Bookstore in America
Read my Review of The NEW Low-Maintenance Garden by Valerie Easton