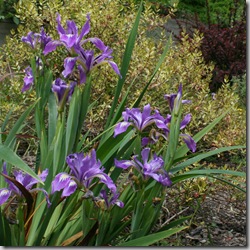 Douglas Tallamy, author of Bringing Nature Home, wants to change the way we landscape- radically. He's a native plant buff and makes a scientific case for planting more natives in our gardens to preserve biodiversity.
This five-part podcast (it's only about 45 minutes long all put together) presented some game-changing info that's making me really re-think how I garden.
Some highlights:
Bugs are good. They pollinate, birds eat them, and much as some folks don't like them, it's not overstating things to say us humans would be in serious danger without them.
Bugs are also very picky. They can sense the chemical composition of plants with their legs, and when it comes time to reproduce, many bugs will simply die if they can't find a plant with the exact chemical signature they are looking for.
If a bug wants to lay eggs on a milkweed and there are only roses around, many bugs will die without laying those eggs. They've evolved over a long period of time to have relationships with specific plants, and without those plants, the bugs don't reproduce. No bugs – no pollination, no birds, no tasty peaches for us to eat.
This whole bit about the chemical signature was kind of game-changing for me. I thought the arguments for biodiversity were about preserving native plants, which I have sympathy for but seems less connected to what I plant in landscapes, since I'm not planting endangered wildflowers anyway, I'm planting shrubs for the most part.
Hearing that it's about making sure bugs reproduce, so they can take their rightful place in the food chain and the ecosystem, made it a lot easier to understand what a difference it can make to plant even a few native plants in a garden otherwise barren of them.
The problem is that there's a lack of information on which plants have the biggest impact, how native is native, and can cultivated varieties of natives (like the white variety of our native flowering currant) still have the same good effect on nature? We simply need more scientific data on it as a lot of the info out there is emotion- and speculation-based.
Tallamy's book is important for the concepts and explanations, but his specific plant advice is based on east coast natives, I hear. I'm hoping to find a guide to help us out here on the west coast…
Anyway, I LOVE plants and I am such a ridiculous plant geek that I can't imagine ever throwing my beloved non-native plants under the bus. But if by incorporating a few beautiful natives into appropriate spots in the garden, I can have a big impact on our ecosystem and food chain – well, it doesn't seem like too much of a sacrifice. I mean, have you seen our California and Pacific Northwest natives? Some of them are hot!
I'm going to be reading more about this to try and pinpoint which plants in our areas have the biggest impact, and then figure out how to effectively landscape with natives in a way that's gorgeous and still fits with our expectations of what a pretty garden looks like.
Do you have any tips for native plant learning, beyond Doug Tallamy's book? Leave your book rec's and website info in the comments below!
Further Reading/ Listening:
Timber Press's Doug Tallamy Podcasts
New York Times Interview with Tallamy
Buy the book: Bringing Nature Home: How You Can Sustain Wildlife with Native Plants, Updated and Expanded
Scott Hokunson's Blue Heron Landscapes Blog: Review of Tallamy's Book
Town Mouse and Country Mouse's California Native Gardening Blog