A client came up with this pretty container planting idea for summer and fall.
The spiky Phormium/ Flax Grass makes a vivid centerpiece, then she used red Coleus and orange Impatiens to pick up on the Flax's colored stripes. Last, she used some purple trailing Petunias to cool down the combination and spill over the edges.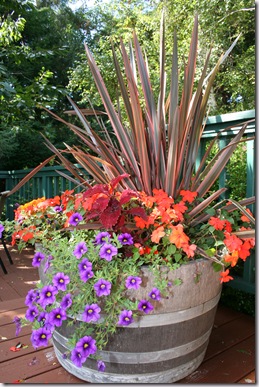 This is a textbook Thriller, Filler, Spiller combination – as Fern from Life on the Balcony explains it::
A thriller is a pretty self explanatory; it's a gorgeous plant that is the focal point of the container. Fillers highlight or compliment the thrillers and fill up the pot so it doesn't look bare. Spillers cascade over the side of the pot to add interest and soften the edges of the container.
Of course, everything but the Flax will die down for winter, so if you had this combo going through fall, you'd want to pop in some Paludosum Daisies, 'Bright Lights' Swiss Chard, 'Zeolights' Calendula, or other winter annuals and greens to cheer up your Flax Grass as the flowers die back.
Need more fall and winter container inspiration? Check out these ideas:
Winter-Blooming Annuals for the Pacific Northwest
Asian Vegetables for Cool-Season Gardening
Small Accent Plants for Your Winter Garden
[print_link]