I'm a huge fan of Amy Stewart, and I've read everything she's written, including her bimonthly column in our local newspaper and her writing at Garden Rant, so I was thrilled when I heard about her latest book, Wicked Plants.
I'm a professional gardener and a total plant geek, so reading all about the wicked deeds of the plants I know and love (and learning some new ones as well!) was a blast. But you don't have to know or even care much about plants to enjoy this book.
Amy blends the human stories and the plant details with such humor and depth that even the black-thumbed among us will enjoy reading. As she says, "I looked for plants that had an interesting backstory. There had to be a victim – a body count."
She goes on, "These are plants you do not want to meet in a dark alley." Indeed not. When I read about Mussolini's guys chasing Communists down the streets with bottles of castor oil, a laxative made from the beautiful but deadly Castor Bean, I just howled with laughter. Earlier, I'd read with bated breath how the KGB injected a tiny pellet of ricin, from the same plant, into Communist defectors to murder them. I think I'd prefer being chased by the Fascists!
The book itself is gorgeously done, with hand-drawn copper etchings of the plants, brown detailing on the pages which makes it look deliciously ancient, and one of those cool ribbon bookmarks. It would make a great gift book, and indeed, I've already bought three copies to give to friends – it's just that nice of a book.
I'm lucky enough to live locally to Amy Stewart, and she invited me to do a video review of the book in her Wicked Plants-inspired poison garden. In the video, Amy introduces us to a few of the botanical miscreants she writes about. Check it out!
You may have seen Amy's poison garden featured in the New York Times, with the small plants just coming out of winter dormancy and starting their growth for the season. I visited a couple months later to see the progress: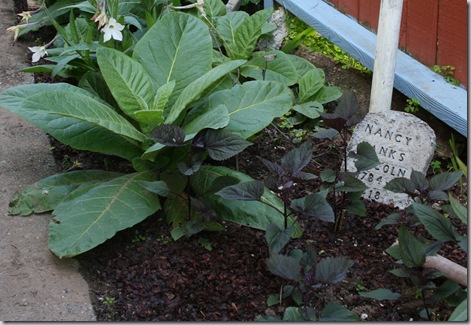 This was a spring picture of the wickedest plant in the world, if you take body count as the deciding factor.
You can also see one of the coolest plant markers ever, which Amy made herself out of cement. This one bears the victim's name instead of the plant's!
A couple months later, that same wicked plant. Can you guess what it is?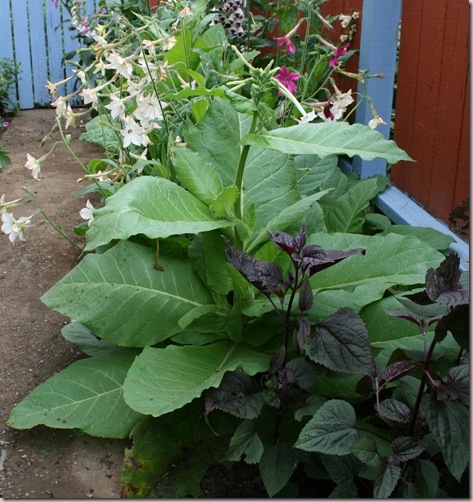 Yup, tobacco! Amy shares a story of standing in a tobacco field, touching the plants, and becoming overwhelmingly woozy from just the residue on the leaves!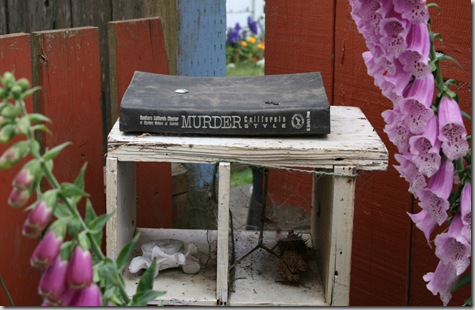 Amy's husband Scott owns an antiquarian bookstore in Eureka, CA, and when he was tossing some unsalvageable, mildewed books, Amy remembered seeing an artist who had planted books in the soil, then dug them up many months later to see how they evolved. Many had grown plants, mosses, and warped in interesting and beautiful ways.
She took the books with the wickedest titles and planted them in her own garden to see what would happen. When planting, one book happened to fall open to a gruesome scene – someone had been poisoned with Digitalis (flowers shown above!).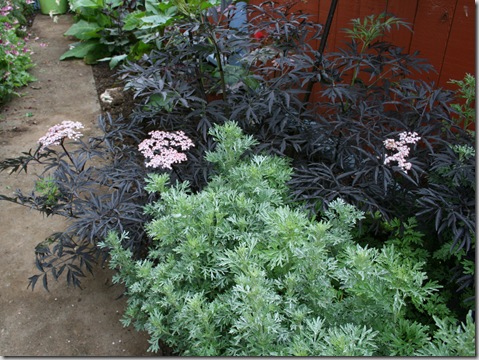 This is an ornamental elderberry with lovely goth-y black foliage, next to a delicious-smelling Artemisia – the Absinthe plant! I got to try (the now legal) Absinthe at one of Amy's readings at a local bookstore, and it was an eye-opener for sure! Tasted like pure alcohol with a bit of licorice and complexity to it. Phew!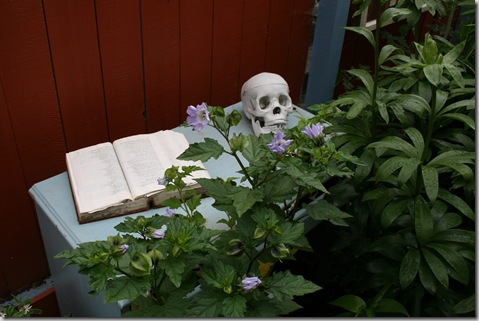 This old desk features what I think is a Solanum (Deadly Nightshade), growing out of its drawer.
The hands reaching out of the top drawers add a deliciously creepy touch, I think!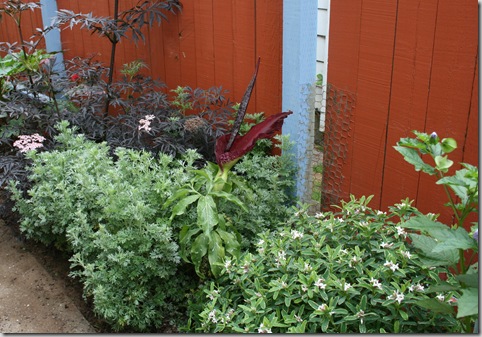 And lastly, my favorite plant in the wicked garden – Arum! It's settled in next to the Absinthe and a very poisonous Daphne. Want to see a closeup?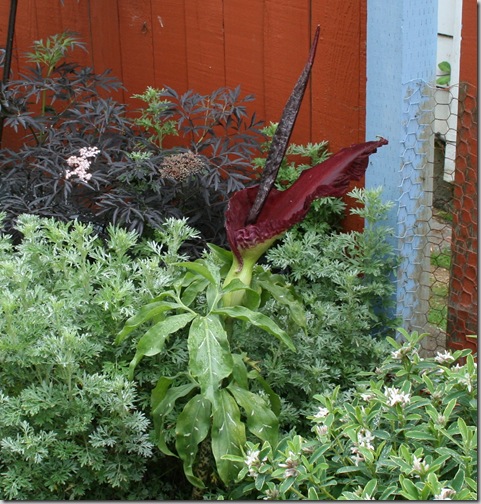 This is the one element in the poison garden that is better experienced by photo. Arum flowers smell shockingly foul – like rotting meat. I love the deep burgundy color and the curving leaves, but – not sure I'm rushing to plant one in my garden!!
Hope you guys enjoyed the Poison Garden tour – if you haven't read Wicked Plants yet, be sure and pick up your copy today – it's well worth it and would make an excellent gift for any brooding teens you may know who wear too much black and act all serious – might lighten them up a bit!
If you enjoyed this article, click to read more:
The Last Bookstore in America by Amy Stewart: Book Review
Lessons From the Road: in which your author learns that even everyday plants have their wicked side, by Amy Stewart in the North Coast Journal
[print_link]