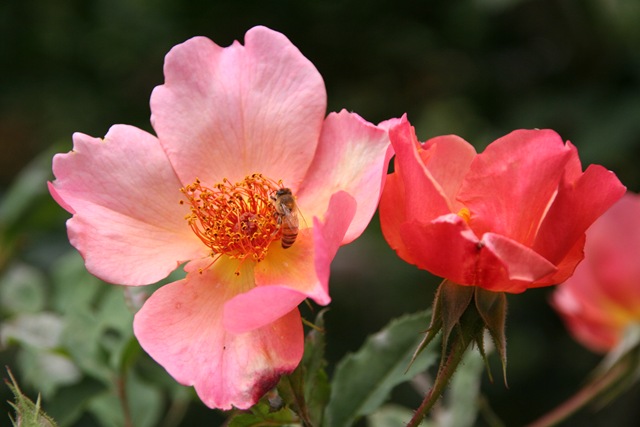 As a professional gardener, my philosophy leans more towards making organic and sustainable choices in the garden, not only because I'm afraid of what long-term repeated exposure could do to my health, but also because I have the power to help so many people make better choices for their gardens.
The organic philosophy can be difficult to keep up, however, in the face of over-bred plants like many Hybrid Tea roses. Don't get me wrong, I love roses! But so many have been bred aggressively for just the blooms, and often breeders of Hybrid Tea roses have ignored factors such as sturdiness and disease-resistance.
If you'd like to grow roses organically in the often-damp climate of the coastal Pacific Northwest, here are some varieties which are resistant to disease in moist/ humid climates:
Cut-flower roses to bring indoors:
Who doesn't love a bouquet of fresh roses? Most disease-resistant varieties make poor cut flowers, but I've tried a number of roses in my clients' gardens here in the damp Redwoods of Northern California, and these cut-flower roses do great here.
David Austins are bred in England, so they're used to fog, rain and moist air. I usually recommend roses with as low of a petal count as you can find (below 35 is best), since more petals equals more places to trap moisture, and moisture equals fungus, but because of where and how they were bred, many of the ruffly Austin roses do great here.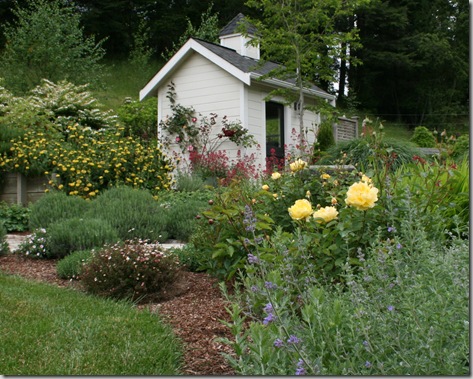 'Carding Mill' is a ruffly apricot bloomer with a myrrh fragrance.
'Heritage' – follow the link to see a photo of these pale pink roses in a vase. They only last a few days, but look gorgeous while they're there!
'Queen of Sweden' is a cupped, pretty pink rose with a light myrrh fragrance.
'Benjamin Britten' is a brilliant red with great fragrance, and is vigorous enough it can be grown as a climber or a shrub.
Other good cut-flower roses:
'Europeana' Ever taken a photo of a red so bright it blurred out the picture? Yeah, this is that color. Wear sunglasses before clicking the link.
'Just Joey', a fragrant apricot-orange that rosarians swear by.
'Bonica' or 'Royal Bonica', both delicate-looking pink beauties with a light sweet fragrance.
'Hot Cocoa' is kind of a crazy color – I wouldn't call it chocolate color, really – it's more of an orangey-bronzey-reddish brick-like color. Makes great cut flowers.
'Burgundy Iceberg', a vivid thornless beauty (perfect for you goth gardeners!).
'Julia Child' is a small but very fragrant yellow shrub.
'Sexy Rexy', with pale pink Camellia-like blooms.
Colorful, heavy bloomers for the landscape: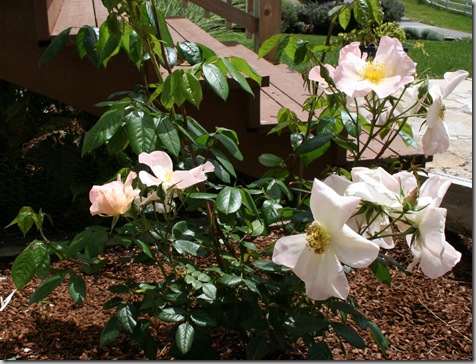 Sometimes our best success comes from deciding to enjoy our roses outside, and choosing varieties that have been bred specifically for sturdiness in the garden. Many of these make terrible cut flowers; either the petals explode in a great mess when you cut them, or the flowers only last a day – but all the roses listed here will make gorgeous flowers for enjoying outdoors in the garden, and are among the sturdiest roses available.
Rugosa roses are tough roses with textured, quilted leaves different from the glossy leaves we expect on so many roses. They also have loads of tiny prickles all along each stem, but I actually find their prickles less offensive than those of most roses, because they are so small and profuse that they don't usually pierce the skin.
This is the only rose I'd say even comes close to deer-resistance, and there are so many nice varieties. They also produce rose hips, which you can use to make jam if you grow your roses organically!
Some varieties spread slowly by suckers/ new shoots and will make new plants for you in the garden, so if you object to that (or have landscape fabric that will get pushed up by suckers), make sure you get a variety that growers euphemistically call "neat" or "tidy" in its habit.
I've never seen a Rugosa with any pest or disease, period.
Try these Rugosas:
'Buffalo Gal', a pinky-purple rugosa that has not been touched by the deer in a garden where every other rose has been chomped multiple times, despite being sprayed by deer repellent and guarded (usually) by a Scarecrow sprinkler.
'Topaz Jewel' flowers like mad and is a pretty double yellow. Many Pacific Northwest rose fans swear by 'Topaz'.
'Blanc Double De Coubert' is a reliable double white with a neat habit (see? Less suckery!).
Other great landscape roses: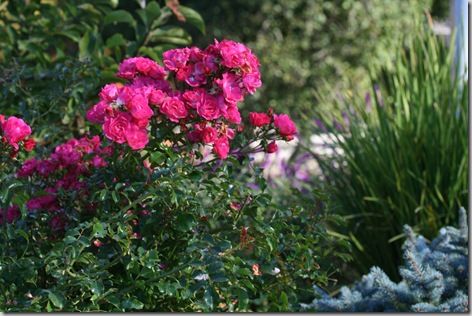 Knockout roses get rave reviews from everyone and are especially good in hotter climes, though word is they perform well on the coast, too.
Flower Carpet Roses make a wonderful sprawling companion to lavenders and ornamental grasses – check out the new amber one.
'Sally Holmes' is one of my favorite shrubby roses, getting to 6'+ and blooming again and again through the year. Pale salmony-pinky-white single flowers.
'Baby Love' is a small yellow plant that I've never seen get even a whiff of black spot.
'Happy Chappy' – is a very pretty rose with sunset-like colors of yellow, orange and pink. It keeps selling out at my local nurseries – as soon as they get them in, whether in 4" size or 5-gallons – people fall in love and take them home.
'Gourmet Popcorn' is a lovely small rose with little popcorns of white and yellow.
'The Fairy' is a petite thing in bubblegum pink. It gets to about 2-3' tall and is a classic mini rose.
'Mary Rose' is a very nice fragrant pink.
'Nearly Wild' is a very fragrant old-fashioned single-petaled rose in a dusky pink.
Disease-resistant climbing roses:
'Constance Spry' – a loose, openly growing shrubby climber to about 6' tall, the fragrance is like myrrh and the petals are a pale pink (a David Austin rose).
'Graham Thomas' – a bright ruffly yellow climber to 5-10', this is a very fragrant rose (David Austin).
'Climbing Iceberg', a simple white climber with a good cut flower but little fragrance.
'Lady Banks Rose', in yellow or white, these thornless old-fashioned climbers have profuse clusters of tiny flowers. Give her some room to grow, she'll get 15-20' tall and will cover a pergola nicely.
'Cecile Brunner', of course – the usual suspect in old-fashioned gardens, she's a super vigorous light pink climber to 25' plus. Thorny but fragrant.
I hope this list of disease-resistant roses for the coastal Pacific Northwest is helpful to you! Of course, you'll want to prevent rose pests with good care, even with disease-resistant varieties. If you do end up with rose pests, check out this article on controlling rose pests organically. Click here to learn how to select bare root roses.
What are your favorite disease-resistant roses? Let me know in the comments below!