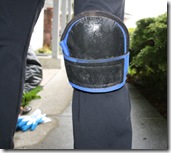 Many people avoid wearing gloves and knee pads to garden because they see these kinds of protective gear as getting between them and the experience of gardening. Either kneeling pads pinch the backs of your legs uncomfortably, or you can't feel what you're doing while wearing gloves.
That's totally valid, but there are things you can do to ensure you're choosing protective gear that will fit you well and actually enhance your enjoyment of gardening. I personally find that I lose myself in the act of gardening much more easily when I'm protected; if I can just plunk down and start weeding without hurting my knees on a rock, or reach for a blackberry bramble without worry of thorns, I feel so much more able to enjoy what I'm doing.
Here are some of the features I look for when choosing knee pads and gloves, and my recommendations for the best ones I have found.
Knee pads for gardening
When I am shopping for knee pads, I look for a few qualities:
Firstly, I don't want the kind that you have to carry around with you – those sheets of foam that you must pick up and move about. It's just too silly trying to remember to move that pad around the garden with you; much easier to get some that strap on.
Next, the straps need to be flexible. I have tried knee pads with inflexible straps and they are a recipe for unhappy legs – either you get a rash from the strap rubbing the back of your leg, or you lose circulation every time you kneel. Try straps made of neoprene, which feels like a thick wetsuit material. The straps flex with you so that they stay on securely but feel comfortable.
The ideal knee pads have two straps rather than just one. That helps them stay on since they're attached above and below the knee, and also helps keep soil and grit from slipping between your knee pad and your knee.
The pads with one strap usually attach below the knee, and I find they are prone to slipping down my leg. The single-strap ones also tend to hang away from the knee a bit at the top, so they catch any falling bits of soil and end up pretty dirty on the inside.
Machine washable. Need I say more?
I try for a good balance between thick cushioning and light weight. A heavy knee pad (like many of the gel ones) will often slip down.
A non-slip surface. You don't think of this as a feature on a kneeling pad until you try to kneel on concrete with a pad with a hard plastic surface. You only have to pull a muscle once from having your knee slide suddenly, to swear off hard plastic-shell knee pads in future.
A few good knee pads: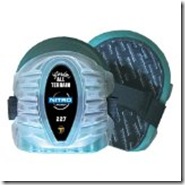 I don't actually recommend these knee pads, but they have a feature that deserves mention: the rubberized plastic shell with an almost-flat surface. Your kneecap area does not actually touch the ground, instead the edges of the shell make contact with the ground. This keeps your kneecap suspended within the padding (gel and foam types are available) and really helps if you have patella pain.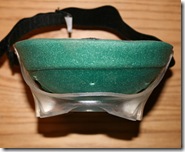 The other cool thing about the nearly-flat shell on this knee pad is that it keeps your knee pads oriented to the front instead of having them gradually slip sideways, since the flat part wants to stay flat on the ground. It also supports the knee in staying in a healthy, straight position.
The reason I don't like these particular pads is that they are cheaply made. The foam is easily crushed, the single strap is stretchy, but made of thin materials with a poorly-done velcro closure, and they aren't machine washable.  But if you want to try out this feature and see if it works for you, these aren't bad for the price.
I'm on the lookout for a pad that has that flat-shell feature, with two neoprene straps, and quality padding – but isn't too heavy or hard to walk in.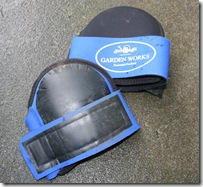 These have the best padding ever! It's very thick and supportive without being heavy or unwieldy. I love the wide neoprene straps, strong velcro closure, and the fact that the pads are machine washable.
The only problem with these is that they have a single strap which attaches below the knee, so they often want to slip down, and they collect loose soil because there's no top strap holding the pad's top close to my leg. I'm having to pull these up every fifteen minutes or so, which makes me only want to wear them for jobs on concrete or gravel, when I really need the extra cushioning.
I'd recommend these for people with knee problems who really need the extra padding. They're easily the comfiest, squishiest pads I have tried.
Soft knee pads, about $28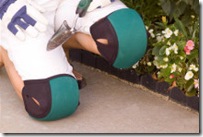 This is my favorite style of knee pads for all-around use.
The brand I've been using for ten years or so, Kneelons, have firm, sturdy foam which lasts a long time (I get about two years of 20-hour-a-week use out of them before I start to wear holes in the foam).
There are two neoprene straps which attach securely with velcro above and below the knee, and they flex nicely when I bend. I can attach them tightly enough that they really don't slip at all – I can totally forget about them. The padding is about 3/4" thick, as opposed to the Garden Works Super Soft ones which are twice that, but for most knees, it's more than enough padding given how high-quality the foam is. And Kneelons are fully machine-washable. I wash and dry mine on delicate/ low with my garden gloves. The Kneelons brand is hard to find, but there is one source online, Rosemania.
If you prefer buying from Amazon (and getting that free shipping) Cate's Garden kneepads are a new brand developed by a family-owned garden center, and I've been very impressed by the quality. When I spoke with the company about their product, they gave me a coupon code for my readers to use which will give you guys 30% off your purchase of these kneepads on Amazon. This makes the kneepads only $17! That's a huge price cut over Kneelons, and since they are so much more convenient to buy, I'll probably be switching my landscaping crew over to these as my old Kneelons wear out (EDIT: I've been testing these for six months now of full-time professional use, and they still going strong! So we've been very happy with them).
(The Cate's Garden coupon code above has been extended to also provide a discount on anything they make, including their anvil pruners as well as their bypass pruners.)
However, not all brands are the same quality. I tried Knee Benz on three different occasions, because the company kept assuring me that I got a "bad batch", but the foam just wasn't as sturdy and tended to crush down in only a month or two, and they shifted and bunched to the sides, so that my knees weren't protected. Worst of all, the company, Garden Works, was rude and dismissive of my concerns when contacted and asked me to send them back at my own cost, promising to send me a fresh pair – then wouldn't follow up on their promise even after multiple emails and phone calls, leaving me out the cost of shipping and an awful lot of effort (I won't buy anything from Garden Works ever again).
Go with either Cate's Garden or Kneelons instead. Both are sold by reputable companies that care about their customers.
Garden Gloves
Many people love to feel the soil on their hands, but most gardeners know that the soil really saps moisture from our skin. Cracked, dry hands are no fun to garden with, and it's even less fun to stumble upon a grouchy insect or thorny plant without any protection for our hands.
The biggest complaint I hear about gloves is the lack of tactile sensation. There are some wonderful premium gloves out there, Bionic
for example, that really let you feel what you are doing, but I go through gloves so quickly that I really don't want to spend $30 on a single pair.

My favorite type for fussier work like deadheading annuals or planting veggie starts is the Atlas Nitrile Glove. These are super-thin cloth gloves with a light coating on them to make them stronger and better for gripping things. If you hate wearing gloves, try these and see if you can get used to them.

I prefer using a slightly thicker style of glove so that I can prune roses and grab brambles in between weeding and planting. I use a generic version of the Atlas Fit Glove, and I quickly got used to being able to do any task I wanted with just the one pair of gloves.
The Atlas Fit (Mud Gloves are another similar brand) are much nicer than leather gloves for feeling what you are doing. It's easy to deadhead and prune, and the rubbery grip is great for holding tools.
Both types of glove are machine washable and cost less than $5 a pair.
What types of gloves and knee pads do you prefer? Tell us about your favorites in the comments below!