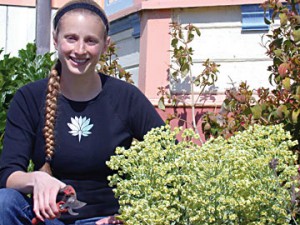 Welcome to North Coast Gardening! I'm a landscaper in the Redwoods of way Northern California, near Oregon – an area us locals call the North Coast.
I've been doing Landscape Design, Garden Coaching, and Landscape Maintenance for twelve years at the start of this site, I love gardening and reading, and I am a total plant nerd.
After graduating high school, I knew I wanted to be a writer someday, but I also knew that at 17, I didn't know much of anything that anyone else might care about, so in college, I followed my other passion – gardening! A few years of maintaining other designers' mistakes convinced me that I could do better (seriously, guys – who puts prickly Barberries next to a hose bib?!!), so I branched out from doing a careful and loving job maintaining plants, to design, which I adore. To a plant geek, what could be more heavenly than getting paid to sit and think about plants all day long?
Just a few years ago, I learned about a new way of helping folks in the garden – Garden Coaching! Now that I have seen over and over again the mistakes new gardeners make, the questions gardeners new and experienced alike seem to struggle with, and the few tweaks that really make a garden pop, I figured what better way to connect with my fellow friends-in-the-dirt than a blog?
I am looking forward to providing solid information that will be useful to those gardening on the coast in Northern California, Oregon, Washington, and similar climates around the world.  Let me know if there are any topics you'd like me to cover – click the contact page above – and if you enjoy gardening, I'd love to connect with you on Facebook or Twitter!