***Giveaway below! Comment to win one of SIX sets of slug shields!*** EDIT: Winners have been chosen and contacted. Thanks everyone for entering!
I've written before about how nasty the usual snail and slug baits are. In fact, here in California, metaldehyde snail bait is the #1 poisoning agent of dogs. Hmmm…. Fido or slug-free plants? Not a hard choice. Luckily, there are a lot of excellent organic options available, and the Slug Shield is one of them.
You've probably heard that copper repels snails and slugs, and you've probably also read that snails and slugs don't like to glide across scratchy surfaces. The Slug Shield works by combining both of those actions into one control.
It's basically a scratchy, tangled mass of copper that you wrap around the stems of plants to prevent snails and slugs from crawling up. It works on anything where you can totally encircle the base of the plant with it, and on plants where you can keep the plant's foliage from hitting the ground.
It's even purported to work on lettuces and cabbages, which is awesome, because I just dug up a delicious lettuce the other day only to find the center of it overrun with slugs. Um, yeah – the chickens got to eat my lovely buttercrunch lettuce after that. You just wrap the slug shield around the bottom of the head, touching the soil, and as long as no leaves flop to the ground and form a leafy bridge for the snails and slugs to travel safely onto the plant, you're good! No bait needed, even the organic kind.
Now, obviously this doesn't work on every type of plant. My artichokes, for example, seem like a good candidate but have a terrible habit of flopping onto the ground every time a breeze ruffles them. But I think dahlias, citrus, lettuce, peas, chard, cabbage – even hostas would be good bets to try it on.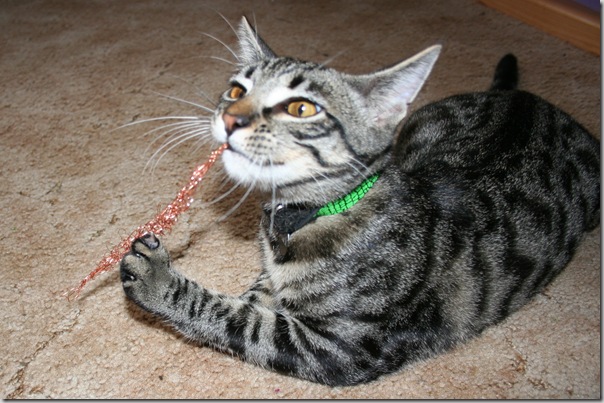 (Despite Mackerel's obvious enjoyment of his Slug Shield, I'm not sure they should be used as kitty toys!)
If you have a thicker-stemmed plant, you can tie multiple slug shields together to make a longer wrap. They do expand with plant growth, so they won't hurt your plants as they grow. You can even put a slug shield around the bases of freestanding trellises, for vines or climbing veggies that are disturbed by snails and slugs.
Want to try the Slug Shield for yourself? They've donated a whopping SIX sets of Slug Shields for you guys to win. Just leave a comment below, and I'll hold a random drawing in one week. EDIT: Congrats to the six winners! I've sent you each an email.