I think of video games as mostly time-wasters and try to avoid them, but every so often one comes along that is so extremely fun that it's hard to resist. Plants VS Zombies hits two of my favorite things – the ridiculous charm and kitsch of zombies combined with the over-the-top sunniness of plants.
You start out in the game by choosing which plants you want to use to defeat the zombie hordes – among them the weak Pea-Shooters, the expensive Cabbage-Pults that explode cabbage leaves on their heads, or the concerned-looking Wall-Nuts which the zombies stop to munch on until some of the bigger plant artillery can turn the zombies back into worm food.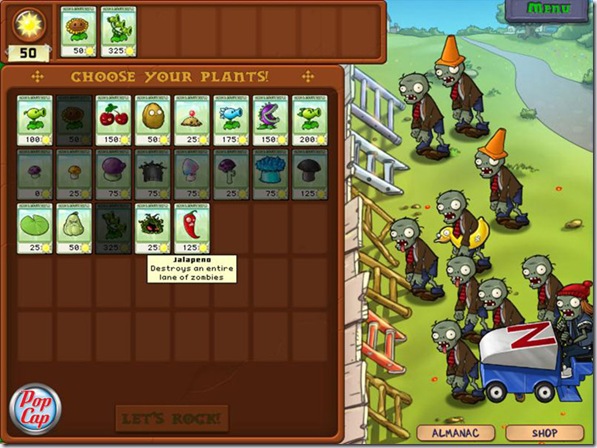 Then you start the level, and the zombies start lurching towards your home. It's a race between you getting your plant garden growing fast enough and with appropriate defenses, and the zombie hordes that advance in greater and greater numbers as the levels progress.
Every level, you get a new plant or ability of some kind to try out, and the zombies get cleverer about ways to sneak past your cheerfully lethal garden and into your home to eat your braaaaaiiiiiiiins.
What I loved most about the game is the fact that it's rarely so difficult that you actually fail, but it's never so easy that you can afford to take a moment and think about something else, so it lulls you into this almost meditative state of collecting sun and planting plants and strategizing about the next move.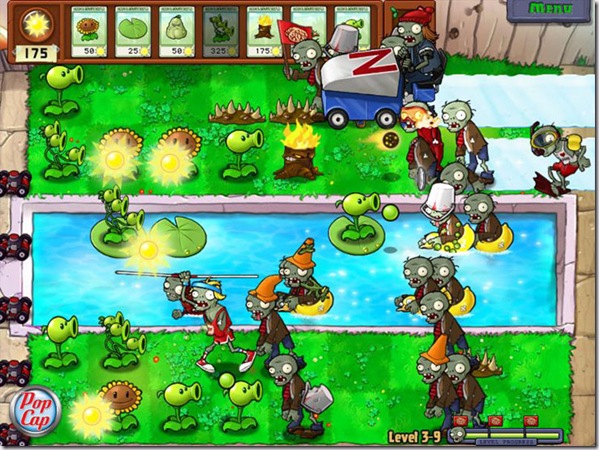 There are like 30 different plant weapons you can choose from, and you get to pick a number of them each round, so the strategic possiblities are endless. I settled into doing things in a few different ways, then was shocked to watch my partner play using a totally different strategy, using the zombies' hatred of garlic ("BLECH!!!", as they say) to funnel them all down a few rows of heavy pea-shooting artillary.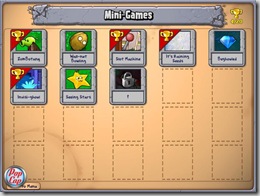 I completed the game once, then started in on the mini games and the endless modes. You can play "Be-ghoul-ed", like the game Bejeweled only with plants and zombies, and after you complete a lot of the levels, you get to switch things up by playing a mode where YOU get to play the zombies and the computer plants the garden and defends the homestead. Once you have the insights from playing the bad guys, you can whomp the zombies even better when you go back to trying to vegetatively clobber them.
This was a really simple, fun game with a deceptive amount of strategy and thought involved, and it's really fun to play with other people, because you can share ideas and strategies. It's a one-player game, but the levels only take a few minutes to play, so you can switch off turns pretty easily. I read online about a father and his six-year-old daughter playing together each night after dinner, and how much they enjoyed talking about how to beat the zombies and making bad jokes about braaaaiiiiiiins afterwards. There's even a really goofy music video at the end when you beat the game. Yes, the song is now indelibly stuck in my head.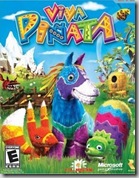 If you liked Tetris and enjoy other games where you can dip in for a little while here and there, then give Plants VS Zombies a try. If you like plants and also enjoy video games, you might also enjoy Viva Pinata – as Fern over at Life on the Balcony says, it's a "first-person gardening game"!! A good substitute for those of us who studiously avoid the first-person shooting games that the boys play.