If you've been following my series on Planting to Attract Birds, you may already have a few plants in mind to attract hummingbirds to your garden. Who wouldn't want to bring that energy and life into their garden?
Even though I'm a landscaper and get to see hummingbirds every day, they never lose their magic for me. I love to see them guarding "their" sage or Buddleia and tweeting irritably at me to get lost already (sorry guys! The weeds don't stop for anyone!), nesting safely in shrubs and small trees, and zooming about in search of their next meal.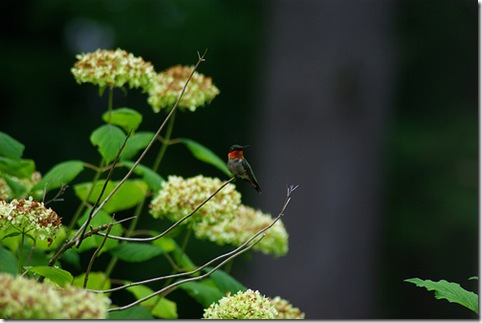 While planting is the best way to attract them, both for providing food and shelter, during the lean winter months a feeder can be a very kind gift. Feeders take more work than most plants, but your hummingbirds will be very grateful to have a nectar backup in case the neighborhood shrubs fail them.
Using a hummingbird feeder
No need to buy fancy food packets for your feeder; instead, make a simple sugar solution by boiling 4 parts water, removing the water from the stove, and stirring in 1 part sugar until dissolved. You can keep your prepared sugar water in the fridge for one-two weeks.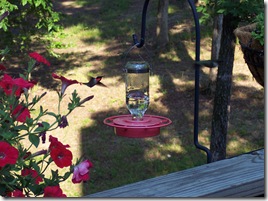 Making your own solution works well because flower nectar is sucrose, just like in regular white sugar, so you're giving them the same kind of sugar as they'd get in nature. Don't add red coloring – most feeders have a red accent to attract hummers, and food coloring isn't healthy for them. Stick with white sugar; honey and other alternative sugars are more prone to ferment and go bad.
Place your feeder out of direct sun, and once a week, rinse out your feeder  with hot water and let it dry before refilling with sugar solution. If your sugar water goes cloudy or you see mold inside the feeder, clean the feeder with a 10% bleach solution to kill off any fungus.
Hummingbirds will appreciate having a perch near the feeder where they can rest in between drinks, so if possible, put your feeder near a small tree or openly branched shrub where they can sit safely. If you have a territorial hummingbird, they'll appreciate having a safe place to sit and guard the feeder from others.
Now, on to some favorite hummingbird plants!
Ceanothus 'Dark Star' or Dark Star California Lilac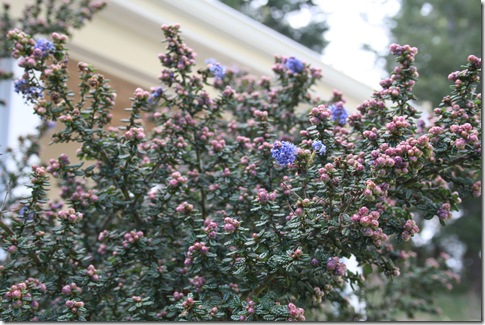 Ceanothus are California natives that do admirably in the garden, as long as you don't overwater them (reduce the summer water after the 2nd year).
'Dark Star' has a stiff, upwardly arching habit to 6', tiny leaves, and such a neat and defined look that it works well in Japanese gardens. They make little blue poofs  in spring – mine are blooming right now in early March – and the hummingbirds love their nectar!
Ever hear the phrase "live fast, die young"? That's exactly what Ceanothus do. They get to mature size in 3-5 years, then slowly edge towards an early death at age 15 or so. That's a short life for a shrub, but for most people the fact that it reaches maturity so fast makes it worthwhile.
'Dark Star' is seriously low-maintenance, too. The only pruning you ought to do on it is to remove the dead branches that pile up underneath the good foliage in time. If you need to prune a tiny bit to adjust the form when they're young, go ahead, but pruning 'Dark Star' is like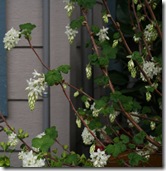 pruning a pine – if you remove a branch, nothing's growing back to replace it, so choose your cuts carefully.
The evergreen foliage and arching habit of 'Dark Star' look great with our  native White Flowering Currant, Ribes sanguineum 'Alba', which is also a hummingbird magnet.
Grevillea lanigera 'Coastal Gem'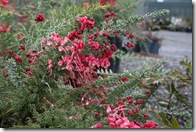 'Coastal Gem' is an evergreen groundcover with the dual attributes of being hard to kill and extremely floriferous (sorry for the geeky word, I can't help myself sometimes!). It's a surprisingly rare combination.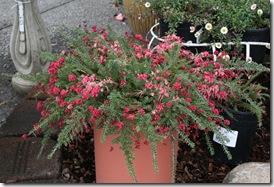 They arch outward and tumble casually over hillsides and garden beds, getting to about 2' tall by 5' wide in time, and they bloom off and on all year in my coastal climate, even in winter. The hummingbirds love the masses of reddish-coral and cream flowers that cover the plant, and so do kids! The flowers look like weird alien insects and they're kinda fun to flick at people (not that I'd know personally, I am far too mature for such things!).
I love to place them near deep purple Heucheras/ Coral Bells, like 'Obsidian', which show off so nicely against the velvety grey foliage.
Only things I've ever seen kill them are overhead water from a lawn sprinkler, and poor-draining, heavy clay soil. They'll take little summer water once established, and only need pruning if you've planted them too close to their neighbors.
Check out Iona's close-up photography of this lovely plant over at Iona's Fort Bragg Garden. Iona's a retired librarian, and she's unearthed some great info about this Grevillea.
If you need a taller shrub, Grevillea rosmarinifolia 'Scarlet Sprite' is a cheerful 5/6-footer. It has greener, lighter foliage than 'Coastal Gem', and the flowers are a bit brighter red as well.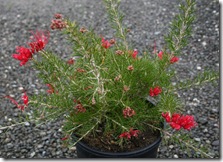 'Scarlet Sprite' is another sturdy shrub which looks best when left unpruned.  The leaves are a bit spiky, so I'd give it the space to spread out where you aren't going to be squeezing past all the time. Surprisingly, it looks great with the slightly different foliage and flowers of 'Coastal Gem', and I've had two clients decide they liked them right up next to each other! Hummingbird heaven…
Salvia leucantha and other Sages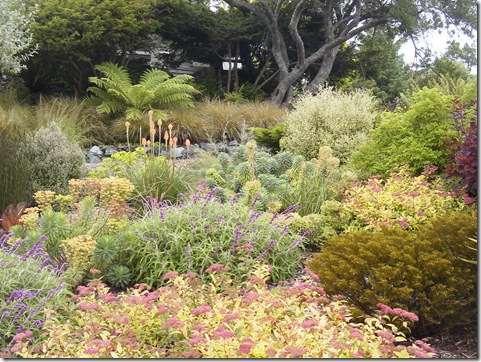 Salvia leucantha or Mexican Bush Sage is one of my favorite plants ever. The fuzzy purple spikes rise above the grayish-green foliage, getting longer and longer through the year until winter, when the fuzz drops off along with the leaves.
The fuzzy spikes are actually calyces, and the flowers are smaller white or purple tubes that accent the main show. The regular Salvia leucantha has purple spikes with little white flowers (my favorite!), while 'Santa Barbara' and 'Midnight' have (respectively) lighter and deeper shades of purple flowers that blend with the fuzzy bits.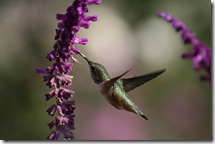 They are tender, and so each year I leave the old stems on the plant to help protect any new growth from frost until I think it's safe out, and only then do I prune out all of last year's stems. The new foliage is so pretty as it emerges, and usually when the plant is about a foot tall, flower spikes begin unfurling, starting the show. They'll get to about 4' tall and 5'+ around, and if you plant them in landscape fabric be sure and leave a 3' hole so they can spread out a bit.
Once established, these guys are tough as nails and can tolerate little summer water. They do best with good drainage and will flower for you from May through first frost, when they die back completely to the ground.
A quick rundown of some other favorites: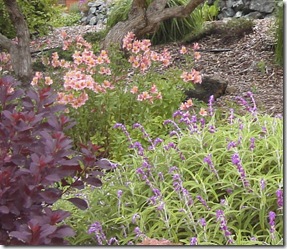 Florist's Alstroemeria or Peruvian Lily is an amazing garden plant –  easy to grow, blooms early, fun to care for and full of color!
There are versions that are a foot tall (the Princess line) and 4' sprawlers like 'Regina', pictured. Read more about how to choose and care for Alstroemerias here.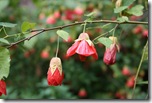 Abutilon hybrids or Flowering Maples are wonderful in the ground or  in pots. They vary greatly in size (3-15'!) and color (shades of white, pink, red, yellow, and orange), so it's easy to find one that's right for your spot.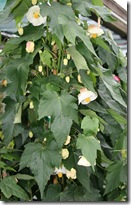 The bell-shaped flowers are full of nectar, and one year we had a hummingbird fall so in love with our Abutilon (A. megapotomicon 'Red') that she nested in the trellis I used to espalier it.
Monterey Bay Nursery has some of the best information on the different varieties available, as well as photos of each.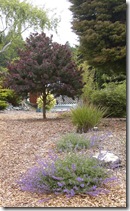 Nepeta faassenii or Catmint is one of those airy, prettily-textured plants  that everyone seems to love. It goes with bright colors every bit as well as it supports more restrained plantings with grasses and foliage colors.
'Walker's Low' gets to about 1' tall and 3' wide when in bloom, while 'Six Hills Giant' gets about 3' tall and 4' wide. They both get cut back to nubs in winter.
I hope this gives you some fun inspiration in getting started attracting hummingbirds to your garden! They are such lovely creatures to watch, and nothing perks up a gloomy day like seeing the red shimmer of their feathers and hearing them zipping past.
Stay tuned for the last installment of my bird-attracting series, in which I'll talk about container plants that birds love.