1. They make charming pets! I love their happy little chortles when they see us, and if you want them to love you forever, a bit of leftover rice or lettuce goes down a treat.
They're great gardening companions, too. Esther, above, likes to stay close when I'm digging so she can have first crack at any worms. It's a bit hard to dig when she keeps sticking her head in the hole, but then, gardening isn't supposed to be a race to the finish, is it?
2. I'm growin' all the snail-attracting plants – Hostas, Dahlias, Lettuce, you name it; not a hole in the leaves. Our girls think snails are the tastiest treat ever, and they crunch them up with great relish.
And the ladies help with the weeds by scratching up the weed seedlings! Of course, they also scratch up my re-seeding annuals like love-in-a-mist, but if I don't have to weed so much I can handle putting a little framework over my baby plants.
3. The eggs! They are healthier and taste WAY better when they're fresh from happy free-range chickens. No more of the insipid pale yolks with a side helping of guilt from supermarket eggs. Even the expensive eggs from the natural foods store can't hold a candle to the ones from our girls.
4. You'll make loads of new friends who want to come over and see them. Nobody can resist petting their soft feathers and bringing them offers of snails from their (organic only!) gardens.
And the jealousy and conniving that goes on when one chicken has ahold of the last snail and her sister wants it! The one with the snail will hunker down and turn in circles, using her feathery behind to keep her sister at bay while she tries to gulp down her prize.
What guest can resist returning for more of such drama?
5. The Locavore movement? You're totally there, dude. If you read Barbara Kingsolver's book Animal, Vegetable, Miracle and got all inspired about growing your own, then keeping hens is a great way to start. Not only do you get the eggs, but you get plenty of manure for your compost pile.
Need more convincing?
Check out garden writer Amy Stewart's hen Bess and just TRY not to fall in love:
So, why wouldn't you keep hens?
1. They're expensive. I don't care what those naive but well-meaning articles have to say – between the initial expense of building a solid coop, the chicken food, the coop repairs, the hay, and don't forget to value your time – there's nothing about keeping chickens that is saving you money.
2. Raccoons will break your heart if you aren't careful. In order to keep your ladies safe, you need to build an amazing coop – floor, roof, wire-mesh walls and a sturdy door, with no holes anywhere big enough for skunks to squeeze through.
If you let your ladies free-range, you have to be home again to close them in at dusk. Not a problem if you're a creature of habit like me, and love to be home, but if you're a person with a lot of night-time adventures going on, chickens probably aren't right for you.
Gratuitous cuteness alert!
I'll leave you with these photos of our hen Esther meeting our feisty kitten Kernal for the first time. Esther was well used to telling our previous kitty Rocky what was what, and she wasn't taking any guff from this newcomer. You should have heard her scold him!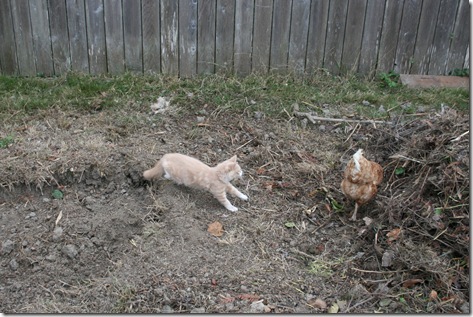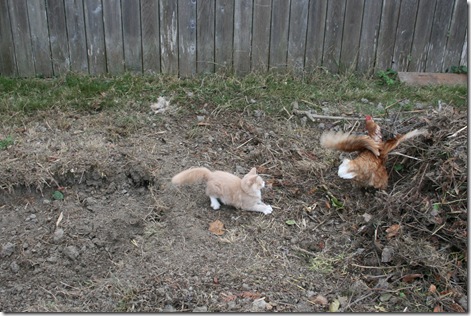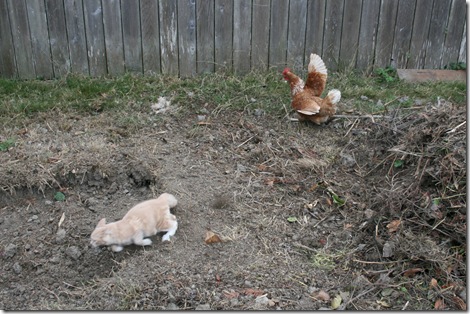 More Chicken Links:
Eight Benefits of Raising Backyard Chickens by Robin Wedewer