It's getting pret-ty darn chilly outside, and I don't know about you, but most of my gardening activity in the last couple weeks has been planning, dreaming, and viewing my garden from indoors, thank you very much. Even my chickens are resting in their toasty coop a good portion of the day, and they have a built-in down jacket!
I'm noticing how much the larger elements of our gardens stand out from indoors, and the things that so many of us obsess over – like coordinating bloom time and perennial colors – are simply not in the picture now. The standouts are the trees and large shrubs – even the totally dormant ones – and the interplay of foliage and form between the biggest denizens of our gardens.
What better time, then, to talk about a few of the trees that are looking their best right now? Whether through gorgeous foliage, bright variegation, or cheerfully colored stems; these are the trees I'm most enjoying resting my eyes on right now.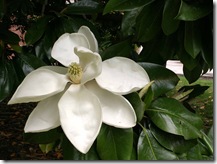 Magnolia grandiflora, the Southern Magnolia: While many of you will  be familiar with this plant, I still can't give it enough love. Those glossy, leathery leaves have such a pretty deep green/ olive tone to them, and the fuzzy cinnamon-colored undersides stand out beautifully. The fragrant cup-shaped white blooms are really just a bonus.
There are varieties for small gardens, like 'Little Gem', which grows very slowly to 20' and can easily be kept smaller, to huge majestic specimens that could define the tone for an entire garden.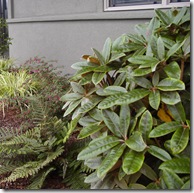 The one thing to remember is that they do drop those thick leaves  throughout the year, so Magnolias are best in an area of the garden where that's OK. I hate them over a lawn because the mower doesn't chew up the leaves very well, but they are great within a garden bed where there are other plants and mulch, and you don't need to worry about the leaf drop.
Try Evergreen Magnolias with purple-leaved plants or cream variegation. I think it's fun to echo the foliage theme with Rhododendron 'Teddy Bear', a dwarf Rhodie with similar cinnamon-y undersides.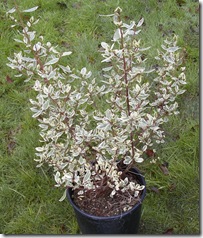 Rhamnus alaternus 'Variegata', the Variegated Italian Buckthorn: This little dear falls into the "shrubs that you can train into a small tree" category, getting only 8' tall in ten years. It has a graceful and open habit, and those evergreen leaves and reddish-brown stems show off gorgeously against any number of foliages. It's not just a foliage plant in winter, though; there are lovely bright red berries, too!
Italian Buckthorns are awesome for resisting wind and can even take a bit of seacoast wind (don't put it right on the front lines, but it's tougher than you think). The foliage lasts great in a vase, too.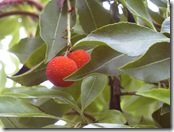 Arbutus unedo, or Arbutus 'Marina', the Strawberry Tree: The  Strawberry   Trees in my gardens are just letting go of their non-edible "strawberries" and putting on clusters of lovely pink flowers. While I love the orangey-red color of the fruit, and the birds they bring, and the pinkish white bell- shaped flowers, the real reason I love Arbutus are the stems and bark.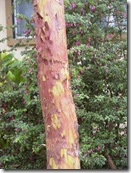 The bark is exfoliating, which means it peels away in interesting layers and  provides a gorgeous multi-colored look, and the new stems are a vivid red. It's evergreen, too, so there's never a time when this plant isn't being interesting for you. They get about 20-25' tall, and remember about that fruit – this isn't one for planting over your spacious driveway – it's another that's better within a garden bed.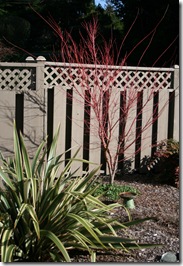 Acer palmatum 'Sango Kaku' or Coral Bark Maple: This is another  you may have seen before – if you have, you'll certainly remember it! The lush golden-green foliage of summer gives way to a glowing yellow fall color, then the leaves drop to reveal bright orangey-red stems. 'Sango Kaku' gets 15-20' tall in time, and is best in partial shade – it takes full sun here on the coast, but the foliage looks a little ratty by autumn – in full shade, the color isn't very good.
I love to use these with yellow-twig and red-twig dogwoods throughout the garden to have that variety of bright stems popping up in between your leafy shrubs in winter. They're also fun with green plants with rich purple flowers, like Princess Flower or Tibouchina urvilleana, or Mexican Bush sage/ Salvia leucantha.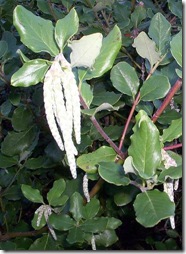 Garrya elliptica or Silk Tassel: Our native Silk Tassel can be pruned to a  small tree or sprawling shrub, getting 10-15' tall in ten years. I love the bright whitish-grey catkins that form around December and linger into summer, and the red stems of the new growth.
The foliage, for me, requires just the right backdrop to show off well. It's kind of a greyish blueish green, and can appear dull if you're not careful. Set it against richly green evergreens like Redwoods or Cypress, or try it with purple-toned plants like Loropetalum chinense 'Razzleberri' or 'Sizzling Pink' to bring out the richness of the leaf color and contrast with those silvery leaf undersides.
I've had great luck with naturalizing these guys in woodland settings, where they get full sun but just a bit of shade at either end of the day. To naturalize, plant them in fall so they catch the winter rains, mulch very well to hold in moisture, and water deeply once or twice a week during the first few summers to get them going. By the time they're 5-6' tall, they should be fine on their own.
I hope this gives you some fun ideas for getting some bold color and interest that you can enjoy from indoors throughout the winter! Check out the rest of my Fall Planting Series here, and stay warm as you enjoy your garden planning!