Lawn Gone! author Pam Penick has a new book out, The Water-Saving Garden, about – you guessed it – designing gorgeous, colorful landscapes that don't rely on water to look good. Though I've read a couple of garden books on saving water in the past, none has done such a good job of addressing a wide variety of climates, with design ideas and planting suggestions that can be applied equally well across the country.
She starts with a garden tour showing all the beauty and ingenuity that can go into designing a drought tolerant garden, and how to adapt different design styles to suit the need for less water. Pam features the gravel garden at Chanticleer in Pennsylvania, a boldly colorful contemporary landscape in Arizona designed by garden great Steve Martino, a Zen courtyard in Oregon, and many more. She then shares practical tips for preserving the water that naturally comes onto your property, choosing plants that will be happy, and designing a landscape that doesn't look xeric.
I was particularly inspired by Pam's ideas on how to evoke water in a dry landscape. While she shares photos and designer advice on using stone, sculpture, mirrors (brilliant!), and water itself in this way, she also talks about using plants "to create an illusion of watery abundance". As she points out, choosing dry-adapted plants to accomplish this sleight-of-hand makes the illusion even more satisfying.
Because I've been into succulents lately, I wanted to focus on some of the ways these plants can be used to bring a feeling of lushness and water into a water-thrifty garden.
Using succulents to evoke water in the low-water landscape
Make a river or pool of plants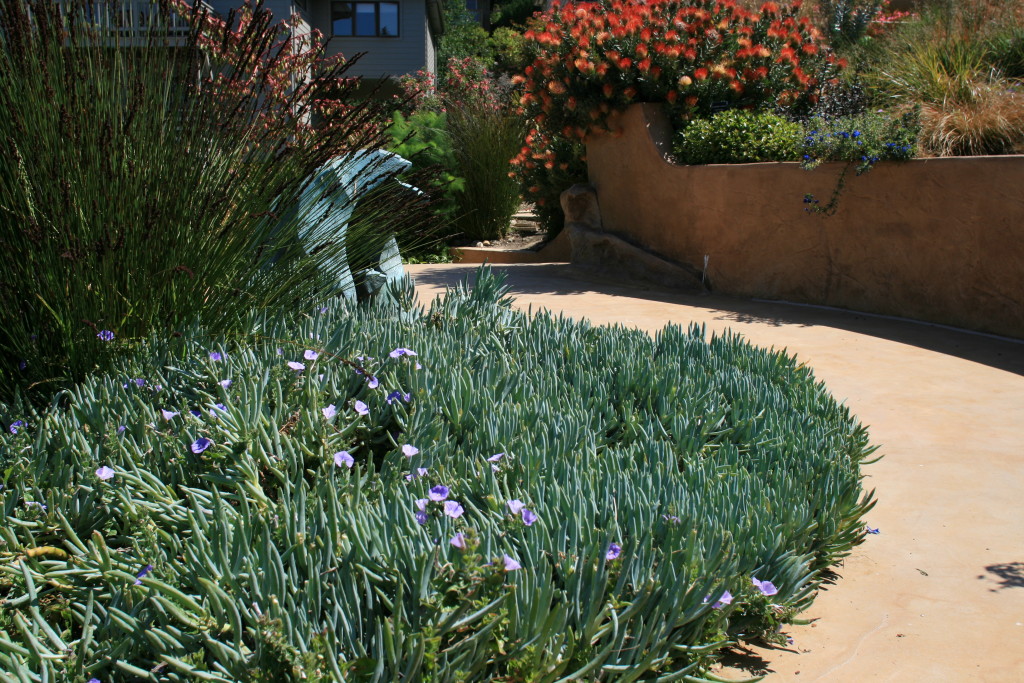 "Mat-forming or creeping groundcovers with silver or blue foliage quickly fill in to create the illusion of a limpid pool or a light-reflecting lake, while covering bare soil or replacing swathes of lawn," Pam says. This photo I snapped at the Wave Garden in the San Francisco Bay Area seems to illustrate her point, with a lush stand of blue chalksticks (Senecio serpens) following the curve of a pathway and looking a bit like a pool of flowing water. She also suggests John Creech stonecrop (Sedum spurium 'John Creech') with its green, scalloped leaves and haze of pink flowers in late summer as a colorful alternative.
Design an under-the-sea garden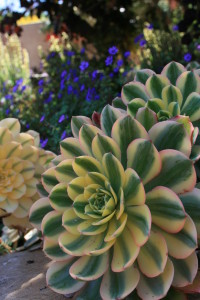 "Plants with an otherworldly form or fantastical foliage or color can create a magical underwater mood," she says. "Succulents are especially good for this, which is ironic because they are wonderfully water-thrifty plants." She suggests using clamshell-shaped paddle plants (Kalanchoe luciae), agaves with writhing arms such as squid agave (Agave bracteosa), and crested euphorbia for undulating brain coral, among others.
Create a waterlily dish planter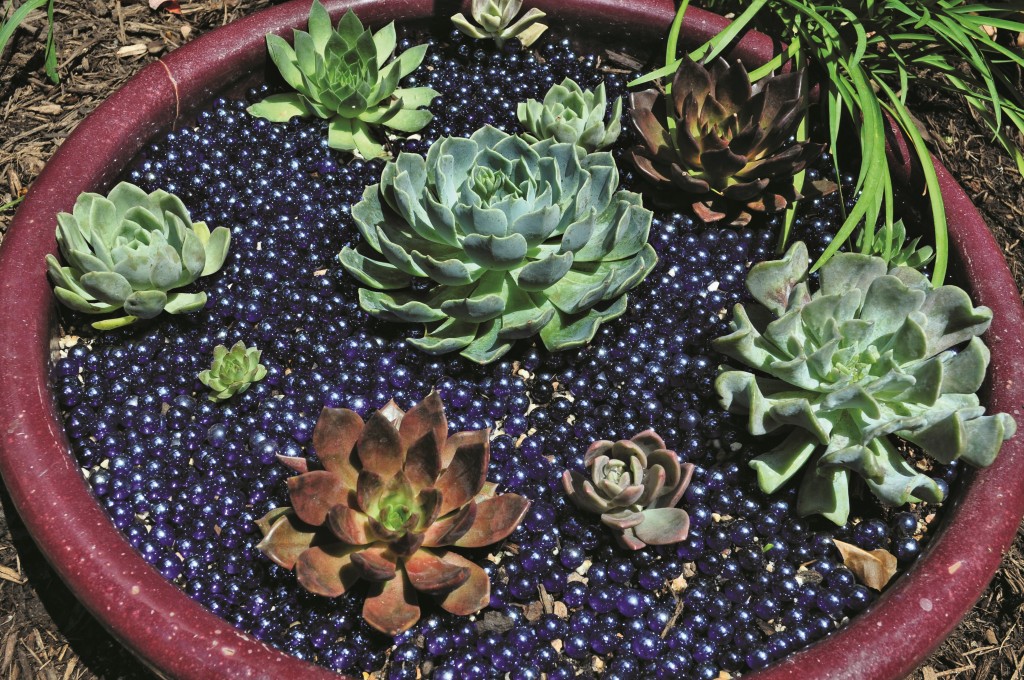 "You can also use succulents to create an ever blooming, waterless lily pond in a container or birdbath," Pam says. In a dish planter, she suggests using a handful of dinner plate aeoniums with that flat, saucer-like shape that resembles lily pads, and a few dusty pink and blue-green echeverias to stand in as water lily flowers. Then mulch the "pond" with glass beads or blue frosted glass chips for a watery finishing touch.
Using succulents in a rainy climate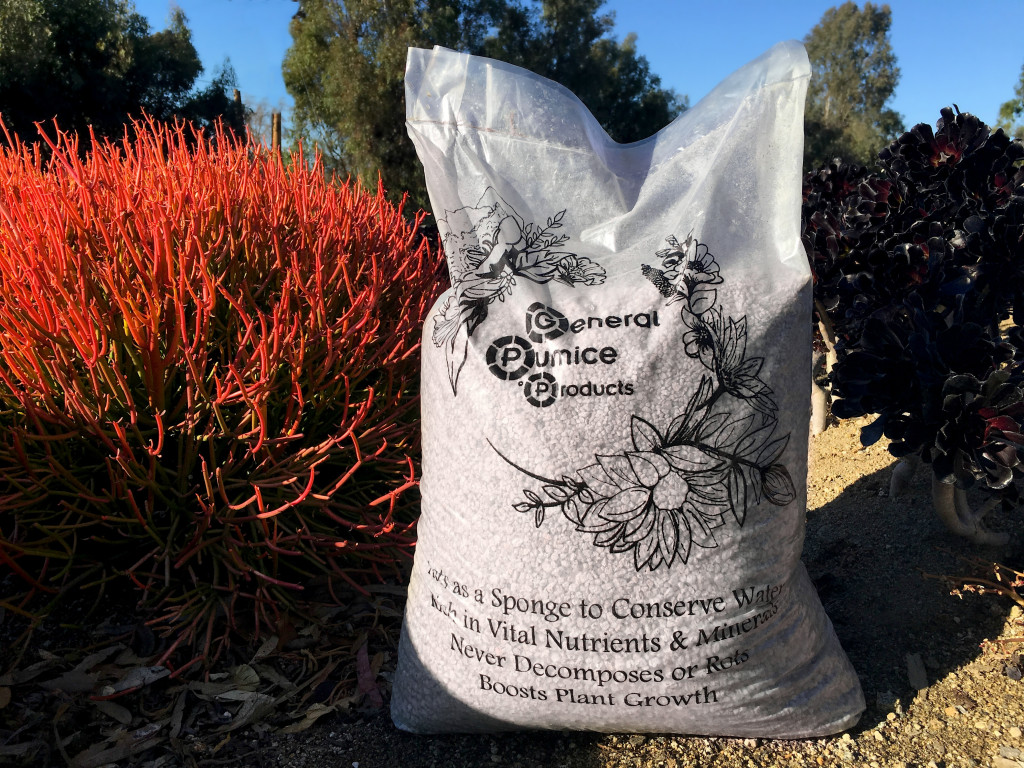 Of course, here in the Pacific Northwest, one barrier to using succulents is our ample rainfall in winter, which can cause root rot in even the sturdiest of specimens. Luckily, the solution is simple: pumice. Pumice has a number of air pockets that soak up excess water and release it slowly as the soil dries, keeping succulents from rotting or drowning in the winter wet. Pumice is a lot heavier than perlite, so it doesn't all float to the surface of the soil over time, and it contains a huge number of micronutrients that help your plants grow.
To use pumice effectively with succulents, simply mix equal parts potting soil and pumice for your pots, or to create succulent planting areas in the garden bed, just mix your native soil with equal parts compost and pumice for an airy planting bed that your hardy succulents will love. You can also mulch with pumice to help soak up any excess water sitting on the surface. This make sure your succulents get the water they need, but it's doled out at a rate that's easier for them to use and deal with.
If you'd like to try out some of these ideas in your landscape, General Pumice, the only supplier of horticultural pumice in California, is giving away three 15-pound bags of pumice to three lucky winners.
Simply leave a comment on this post for your chance to win, and I will draw the three winning names Sunday, March 6. (U.S. only.)
Congrats to the winners of the giveaway, Laura, Emily, and Bob – I have emailed you to obtain your mailing address so I can ask General Pumice to get your prizes sent on their way!
Read more:
To learn more about what other people love best about Pam's book and enter to win a variety of prizes inspired by The Water-Saving Garden, click through to the links below.
Clay and Limestone: http://www.clayandlimestone.com/2016/02/the-water-saving-garden-book-party-and.html
Danger Garden: http://www.thedangergarden.com/2016/02/the-water-saving-garden-book-party-and.html
Digging: http://www.penick.net/digging/?p=37430
Gossip in the Garden: http://harmonyinthegarden.com/the-water-saving-garden-book-party-and-giveaway/
Red Dirt Ramblings: http://reddirtramblings.com/blogging/water-saving-garden-book-party-giveaway
Rock-Oak-Deer: http://rockoakdeer.blogspot.com/2016/02/the-water-saving-garden-book-party-and.html
Photo of the succulent dish garden reprinted with permission from The Water-Saving Garden, by Pam Penick, copyright © 2016, published by Ten Speed Press, an imprint of Penguin Random House LLC. Photographs copyright © 2016 by Pam Penick.