Guest post from Jan Johnsen, author of the new book Heaven is a Garden and my co-contributor over at Garden Design magazine.
Yoga and gardens are a natural fit! Both are very personal endeavors – Yoga practice elevates our sense of wellbeing and makes us more aware of the present moment while gardens encourage us to appreciate the 'now' as we inhale the aroma of flowers or the green atmosphere after a quiet rain. When you put the two together and create an outdoor space where you can practice Yoga in a meditative garden, it is joyful, indeed!
Gardens are a simple way to celebrate our time with Nature in our own individual way. Some of us thrill to a garden filled with flowers, in colorful bloom all summer. Others yearn to be in a quiet, simple space, with rocks and trees sighing in the breeze. Whichever type of environment speaks to you, it can become a Yoga garden where you face the morning sun and breathe in deeply.
Here are a few ideas that you can use to make your outdoor space a serene yoga garden.
Add sculptures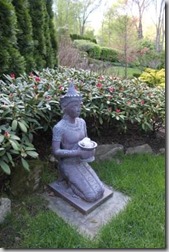 Add statues or sculptures that add a feeling of serenity to the space. Here I placed an Indonesian figure with crystals in an offering bowl on a stone paver and planted 'Yaku Prince' rhododendron as a backdrop. Backdrops of any kind are very helpful in displaying an artwork. This is a sweet way to set the tone for a Salute to the Sun in the morning.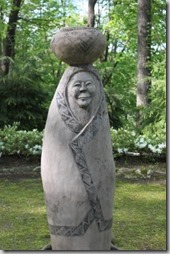 But the style of the sculpture you choose for your Yoga garden does not have to be Asian. Here is a very different art piece with a Southwestern flair. It is a different look but the calming atmosphere it helps to create is similar. The bowl on her head is actually an overflowing , recirculating fountain.
Make room for plants
Plants are the stars of a garden and those you choose for a Yoga garden can be as varied as you want. I suggest you contrast textures and add a lot of white for an outdoor yoga space. Here are three plants that add a white, soft accent to a garden: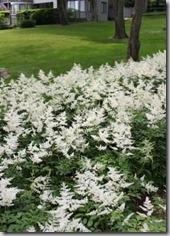 Astilbe 'Deutschland' – this shade-loving perennial, a mainstay of woodland gardens, comes back every year with feathery flowers that look great in a mass in May and June. After they finish blooming I leave the flower heads on for the effect. I follow this up with Astilbe 'Vision in White' which blooms later and continues the white lacey display.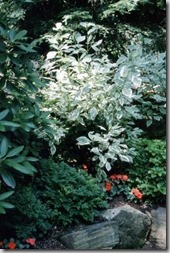 Variegated Red Twig Dogwood (Cornus alba 'Elegantissima') is a great shrub that adds a bright spot in the yard with its gray-green leaves with a white margin. This looks lovely tucked in among other bushes.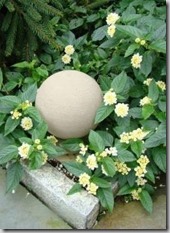 'Lucky White' Lantana – I love white lantana flowers although I realize that in very temperate zones lantana can become invasive and may be seen as a noxious weed. Where I live, it is an annual and I like 'Lucky White' lantana for its clean, bright flowers, flecked with yellow. A nice touch, as shown here, is to plant it around a cast stone ball finial.
Create shade
Perhaps the most important requirement for an outdoor yoga space is shade. We all want a sweet, cool spot to be outside and if we have light, dappled shade from overhead trees or an arbor, we can enjoy it all the more. If you have a tree with heavy shade or low hanging limbs, you can create filtered shade by removing a lower branch. This is called 'lifting the canopy'.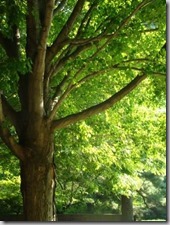 Another shady idea is an arbor nestled among trees, as shown, where you can place a mat and practice alone. Here again, the color white adds a clean, serene feeling to the setting.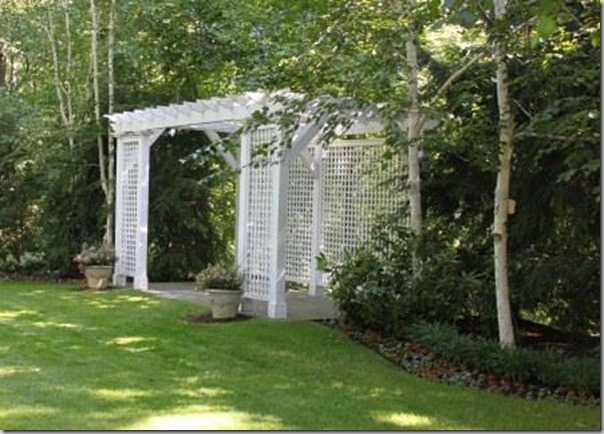 Water, of course, is captivating addition to any garden! The sound alone is soothing and can aid in reflection and contemplation. A recirculating fountain can be the perfect accompaniment to your yoga time outdoors. Here water trickles over a Japanese style basin and recirculates back through the bamboo spout.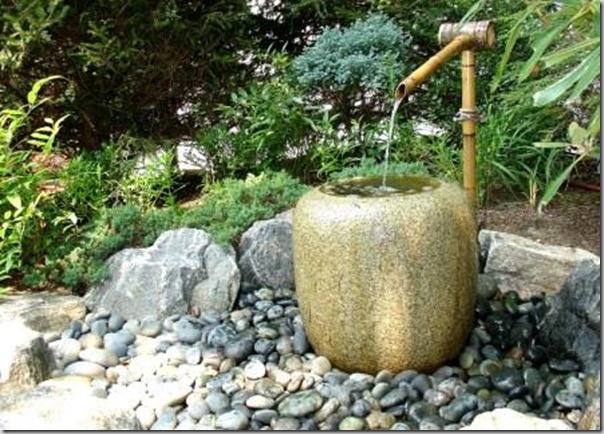 I hope these tips and photos inspire you to create a yoga garden! I discuss these ideas and many more in my new book, 'Heaven is a Garden – Designing Serene Outdoor Spaces for Inspiration and Reflection' ( 2014, published by St. Lynn's Press).
If you enjoyed this post, check out more of Jan Johnsen's insights on her blog, Serenity in the Garden, and in her book, Heaven is a Garden.
And now, for the giveaway!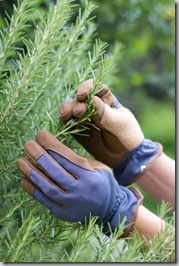 Angela's Garden has kindly offered to celebrate the release of Jan's new book with a generous giveaway – a matched set of her indigo gardening gloves and kneeling pads! I've been using her kneeling pads for some years for light-duty gardening such as weeding and veggie gardening, and – coincidentally – for yoga, to prevent my knees hurting when I'm kneeling on the hard ground. They're soft and comfortable, and would make maintaining your meditative yoga garden even more fun.
Congrats to Bobbi Jean, our winner of the Angela's Garden set of gloves and kneeling pads!!