Every so often, a book comes along which challenges the limits of the media and shows how much is still possible with old-fashioned paper and ink. Amanda Thomsen's new book
Kiss My Aster: A Graphic Guide to Creating a Fantastic Yard Totally Tailored to You
, is just such a book. If you are in your 30s or 40s, you may remember those
Choose Your Own Adventure books
which let you personalize the story by skipping to a certain page if you wanted the protagonists to do X, or a different page if you wanted them to do Y. Kiss My Aster uses a similar concept, and has that same spirited combination of breezy adventure, interactivity, and sheer fun.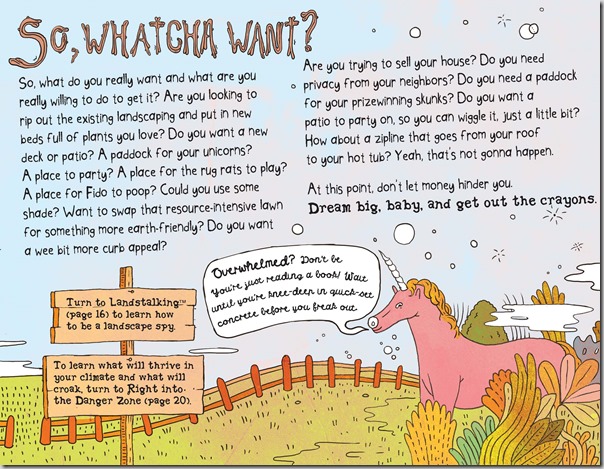 Every page is covered in full color illustrations, humorous yet effective tips, and little asides such as "How to spot a phony landscape architect" (tip: if he's wearing white or sports a fake mustache, you may have a phony on your hands!). Section headings such as "Shrubs: The Khaki Pants of the Landscape", "Dropping Acid (or Alkalinity)", and "Annual Means Always Having to Say Goodbye" set the tone for what's to come.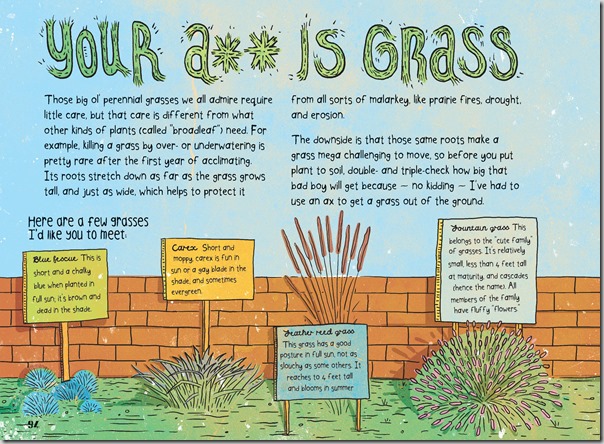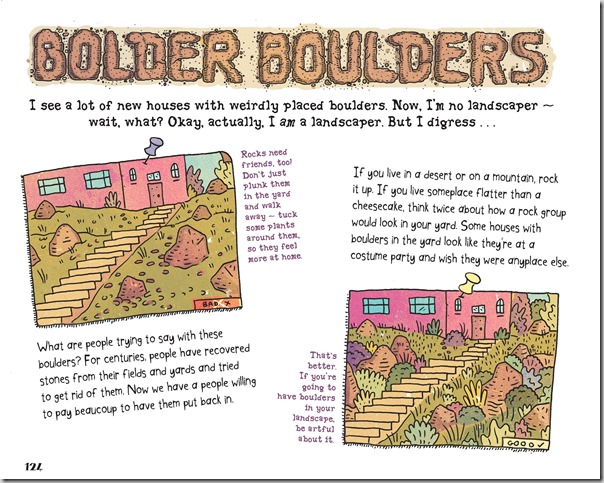 The humor, clever illustrations, and interactive format of this book are so special that it would be easy to overlook the caliber of the advice. Amanda is known for taking a witty, Gen X approach to gardening, yet she also has a rare ability of simplifying the complex. Her advice is to-the-point, easy-to-understand, and most importantly provides the exact types of information that new gardeners really want and need. This would be the perfect book to give as a gift to someone who is just beginning to consider how they can turn their boring patch of lawn into a true garden masterpiece. Obviously, it's not the only book a new gardener will need, because there are no photos with design ideas or planting schemes to try. However, Kiss My Aster provides a thorough and encouraging framework for how to approach different kinds of landscaping projects, and grounds readers in the basics without putting them to sleep. This beautifully crafted book will become a well-worn and dog-eared addition to any new gardener's library. (But don't take my word for it – the book's already got a number of
very positive reviews
from Amanda's many fans!)
Christine, our first entrant, is the winner of this giveaway! Congrats, Christine!
Want to win your very own copy? Storey Publishing has offered up a copy of the book to one lucky US reader. Just leave a comment for your chance to win! I'll pull the winner on Friday, June 21st. Good luck!
(Photos shown have been excerpted from Kiss My Aster (c) by Amanda Thomsen, illustrations (c) by Am I Collective, used with permission from Storey Publishing.)