I'm a humble landscaper in a small college town, so when I got the email inviting me on an all-expenses-paid trip to Little Rock, Arkansas to meet
P. Allen Smith
and hang with some garden writer peeps at the 2012
Garden2Blog
event, I was thrilled to say the least. I've never been anywhere besides the West coast, and getting to meet Allen, who's a big celebrity in the gardening world, sounded amazing. Where do I even begin to share with you all I saw? Allen's two properties have amazing gardens, and they are so totally different from anything I do for myself or for clients that it was exciting to see. Lots of traditional garden structure: boxwood hedges, towering cones of clipped holly and Arborvitae, formal fountains and urn planters, and bed upon bed of exuberant spilling annuals and perennials. Yet even as
the gardens
seemed to celebrate a historic view of gardening, there were modern touches everywhere, from the bold use of foliage color, drifts of grasses, and best of all, the emphasis on growing organically. That's right: P. Allen Smith's a chemical-free gardener. While he has a lot of roses on his properties, most are either old-fashioned varieties which need little help, or the newer landscape roses like Drifts and Knockouts which don't make good cut flowers but grow brilliantly in the garden with no spray. And the results? Lots of happy butterflies, pollinators, birds and life: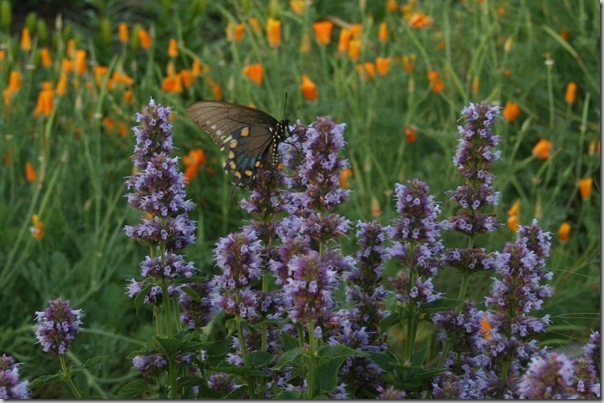 I was so surprised to see my native California poppy in this garden bed – to travel how many miles and see an old friend? Neat!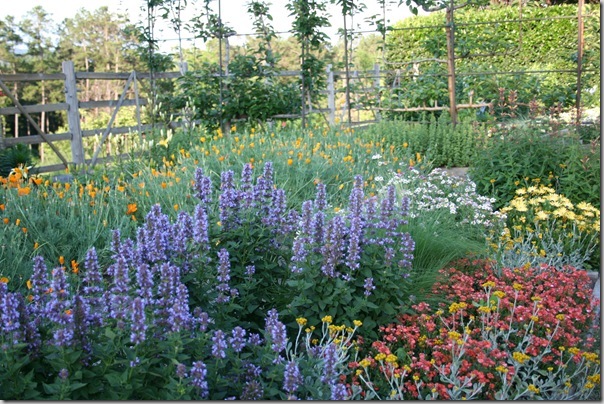 The groundcover plants were gorgeous. Check out this Sedum and Verbena combo: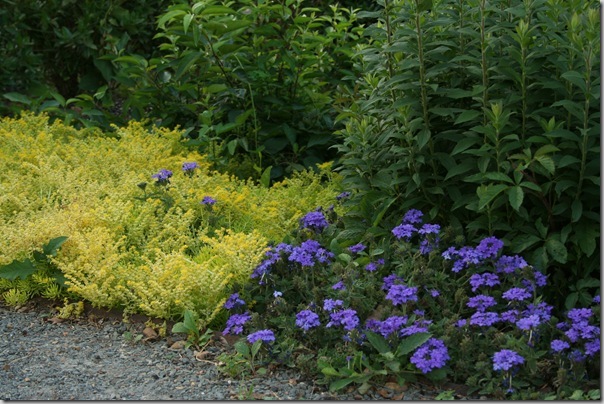 And THIS plant – look closely at this
Cleome
below – Humboldt peeps – does it remind you of anything? I'm in love with the flowers of this thing – like a little petal explosion – but am definitely planting it in my BACK yard so nobody mistakes it for anything they'd want to steal.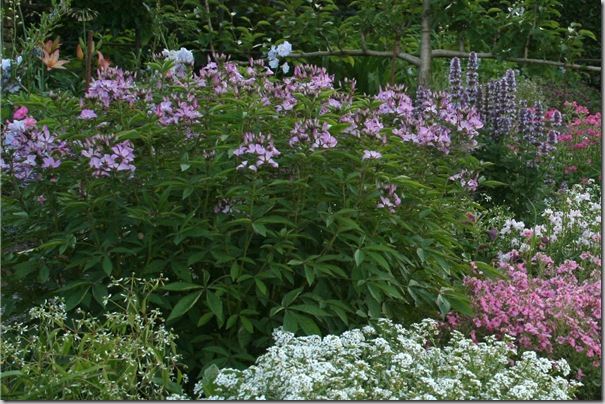 After a hot day of touring and getting to meet the sponsors, walking the garden at dusk with my glass of wine was exactly what I needed: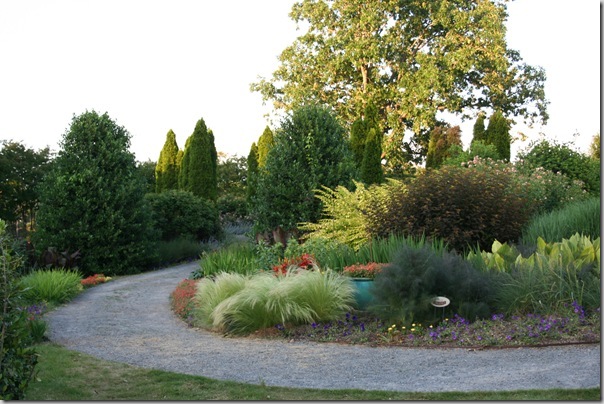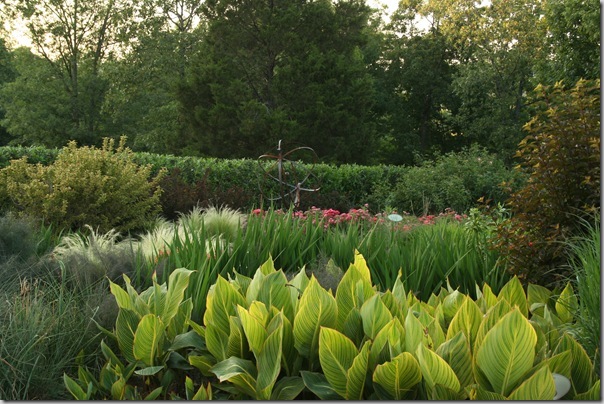 Aha! And there was the
Ruby Spider daylily
I'd been looking for in the scavenger hunt! There'd been a Proven Winners scavenger hunt to celebrate their 20th anniversary, but I think everyone had been crowded around this one blocking it from view while I was on the hunt for it. Drat!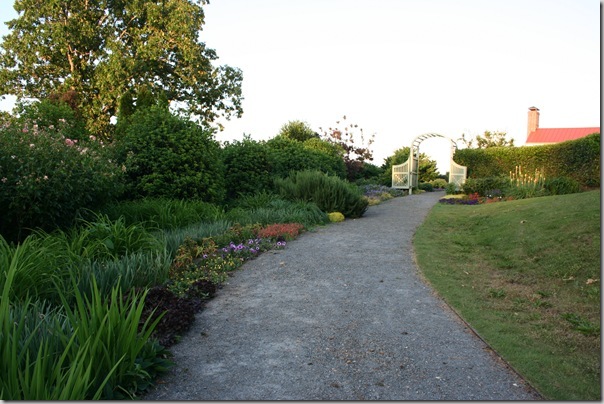 My fellow writers and I had a blast at Garden2Blog.
Jean Ann Van Krevelen
enjoyed stepping into the life of a Southern lady (Does anyone NOT want that tub?):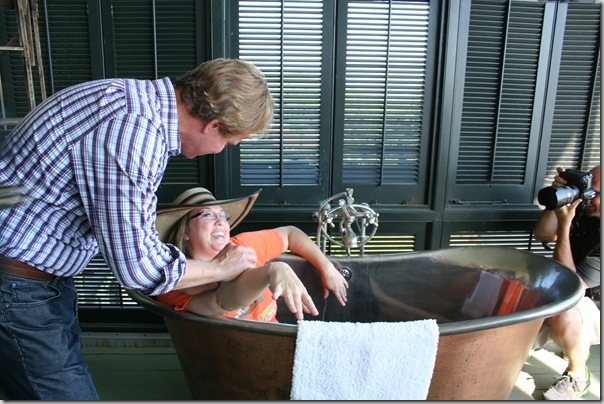 Kylee Baumle
nabbed a bunch of photos (this was pretty much the only moment of the trip when Kylee wasn't grinning – all the pecan toffee we ate seemed to cheer her greatly!):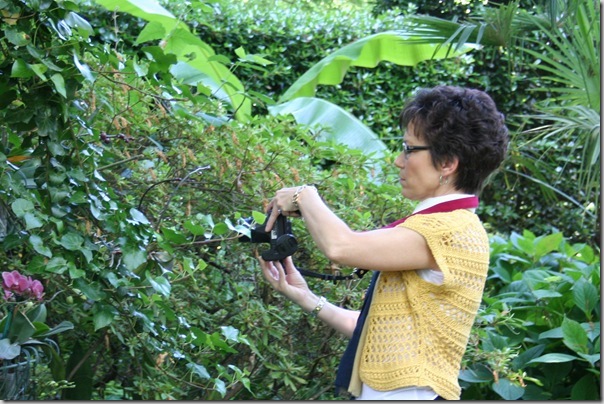 And the highlight of everyone's trip was when
The Grumpy Gardener
, Steve Bender, serenaded us with a rousing rendition of Ring of Fire after the last evening's dinner. I think all that
good food
loosened him up.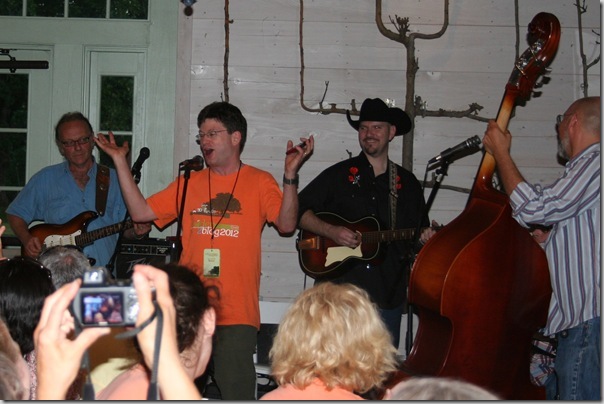 We all thought he was marvelous (left to right:
Barbara Wise
,
Christopher Tidrick
,
Shawna Coronado
,
Carolyn Binder
and
Helen Yoest
):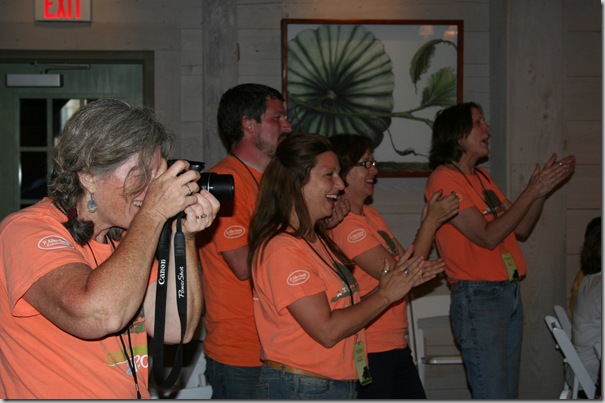 Want to hear more about our adventures (and possibly see further incriminating images of Grumpy)? My fellow
Proven Winners Garden Gurus
who attended have each written up a blog post about their experiences:
Carolyn Binder
Jean Ann Van Krevelen
Dee Nash
Amanda Thomsen
FTC disclosure: Attendees at Garden2Blog including myself received transportation, accommodations and meals during the event. Event sponsors provided samples and product giveaways at no cost or obligation. I am also a paid blogger for Proven Winners which was one of the event sponsors.