I admit it: I love Martha Stewart. She drives me crazy, but her involved-yet-ever-so-elegant craft projects? Her table centerpieces? And her recipes which cause me to swoon (when reading) and curse (when preparing – I mean, who wants to spend six hours on a cupcake recipe?). She's the queen of aspirational living.
So when Martha started showing off her latest obsession, faux bois ("false wood", or wood-looking items made of concrete), I was hooked. I love wood grain! (I'm a landscaper, it's in the rules.) I'm thrilled to see it as a pattern for home décor, but even more excited to examine how it can be used in landscaping. (Faux bois above by Donald Tucker)
We've all seen normal stamped concrete patios. But what about a faux bois concrete patio (from The Lil House That Could)?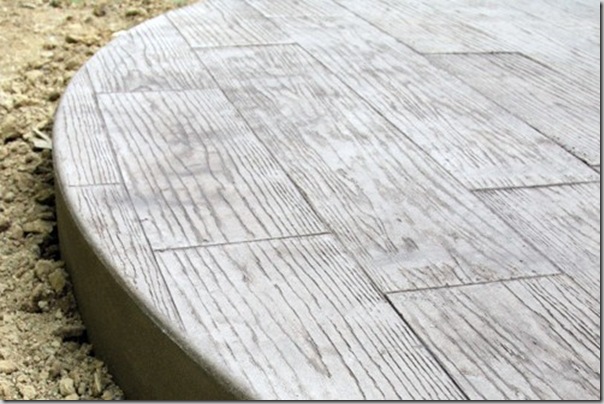 These rustic bird baths (from Carlos Cortes and Rituals Décor) have ridges and rough surfaces that birds can grip with their feet, making them useful to wildlife as well as decorative:
And there are faux bois planters (from Deb Silver):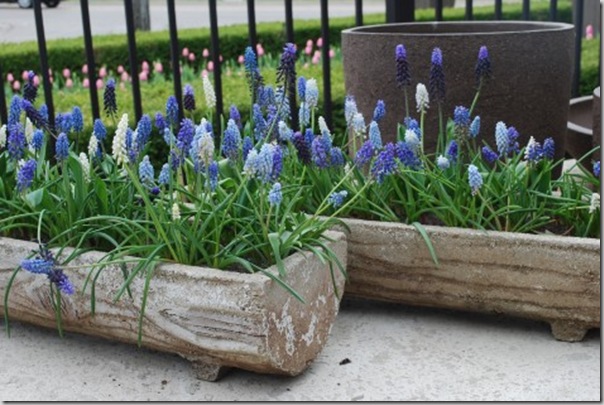 I should probably make a distinction here between things that have a wood grain pattern and faux bois as an art. You can certainly describe the patio at top as being faux bois, but it was created using concrete stamps that resemble wood boards. You can also create a wood-grain finish by board-forming your concrete, like this (from Concrete Network):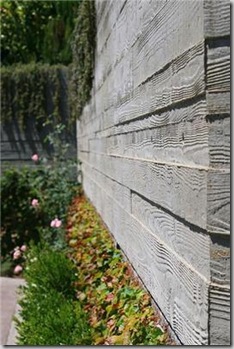 But faux bois as an art form is more akin to sculpture, taking days of non-stop work to get just the right appearance and finish (all work below by Donald Tucker).
It's not all that common, because few artisans know how to do the techniques, and it's so labor-intensive that you'd need to reach a very appreciative market in order to make it a worthwhile endeavor. Yet these sculptures can last for generations – artist Donald Tucker estimates fifty thousand years if properly created.
If you'd like to try doing it yourself, I found this tutorial online by Ken Druse. Or, if you really want to learn the techniques properly, Donald Tucker offers five-day seminars on the technique. These flickr photosets give you an idea of what's involved in a big project: part one and part two.
There's also a coffee table book, Capturing Nature, about artist Carlos Cortes' great uncle Dionicio Rodriguez, who is widely recognized as a master at the craft
.
I love how the faux bois theme mixes natural with manmade, and I think it would make a unique touch in a rustic or woodland garden.
What do you think? Do you like the look of it, or should we stick with wood for a wood-like look?