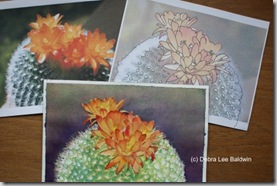 Last week, I gave a few gift ideas for all you DIY types, and since then, I've seen more and more inspiration for fun crafts to do as Christmas or holiday gifts, or just for yourself for the heck of it.
Starting us off, Debra Lee Baldwin over at Gardening Gone Wild shares her technique for painting watercolors the easy way. While I'm not entirely convinced that my attempts will look anything like those of the amazing Debra, it looks like so much fun that I definitely want to try!
Next, Katie of Wellness Mama provides recipes for a number of different body scrubs, hand scrubs, body butters and more. At this time of a year a chocolate mint hand scrub or a lavender mint body butter would go over a treat to moisturize hardworking gardener's hands! This would make a great gift. Honestly though, if I made that chocolate mint body scrub I'd be surprised if any of it made it out of the house! Nom.
Next up, Nicole from Gluten-Free on a Shoestring has some great gift ideas for those who don't eat wheat: dairy-free/ gluten-free chocolate almond biscotti, and gluten-free "Milano" cookies (like the ones from Pepperidge Farm! Swoon!).
Last for today, Amy over at Garden Rant called for crafters and artists who make unique, interesting gifts to comment on this post so we could all check out their wares. If you're running low on time or just haven't been bitten by the DIY bug this year, never fear. You too can have a non-commercialized, Walmart-free holiday by supporting some of the delightful creative people in the garden world. It's not all gardening stuff, either. Go on over and check everyone out!
And don't forget, we have two contests ending this Wednesday – one for two pair of Fields and Lane goatskin gardening gloves, and one for a canvas print of any photo (I love mine). Head on over and comment to win!