Kicking things off, Ginny Stibolt takes P. Allen Smith and others to task for taking the old-skool pesticide philosophy (kill! Kill them all!) and trying to make it eco by using organic pesticides.
And sure, if you've gotta spray, go organic. But as she points out, poison is poison, people. If you care about supporting birds and wildlife in the garden, then killing their food sources by declaring (organic) chemical warfare on the bugs that those birds eat, is kind of missing the point. Read the rest here.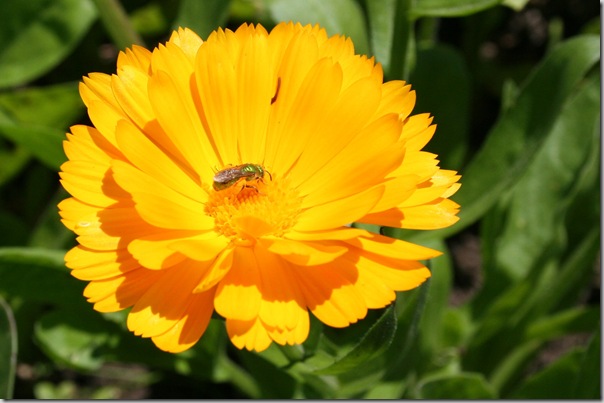 * * *
Next up, I wanted to stand up and cheer when I read Thomas Rainer's latest post taking native plant gardeners to task for having such insanely messy gardens. It's a sad state of affairs when a native plant garden tour, for example, turns up nothing but landscapes resembling an ecological restoration project. Here's Thomas' rant:
"The art of native gardens is not in how well we imitate nature, but in how well we interpret it. Native gardens can still reference their community of origin; in fact, it is better that they do. But when we reference nature, it should be a clearly abstracted, stylized version of that plant community.

Dotting wildflowers together just like you saw them on your hike is arbitrary when you do it in your backyard. What does it relate to? We give it meaning in human landscapes when we take natural pattern and connect it to the built environment. "
Agree or not, I hope you'll go on over and read it and take part in the conversation in the comments there. I confess, I'd far rather see a wild expanse of natives than our current default of lawn, but I hope that as gardeners become more sophisticated, we'll find that we can blend design and our region's plants in ways that express ourselves and support wildlife.
A connected read is Debbie Roberts' post about PR for native plants. Why do they need it, how Debbie won some people over, and why it matters.
* * *
Cool California natives:
Graham Rice's Transatlantic Gardener blog takes on Variegated Ceanothus. If you're wanting to add some CA natives to your garden but want a bit more visual punch, this can be a good place to start.
Sunset Magazine's Fresh Dirt blog has a great photo of a California native I've just planted in my garden, red buckwheat.
(When I visited Peter Haggard's garden recently (he's the author of my favorite bug book Insects of the Pacific Northwest
), he told me that buckwheat was one of the very best plants for attractive our peaceful native bees and other pollinators. Since my sweetie loves to take bug photos, and I love to get my tomatoes pollinated, it seemed like a win!)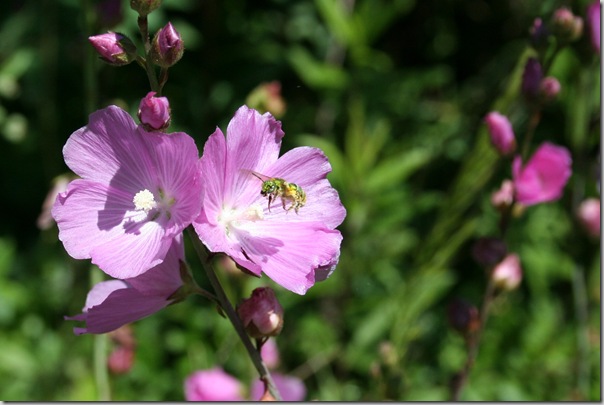 And on that note, another great native bee plant is checkers (above), which I wrote about over at the Christian Science Monitor. I fell in love with all the shiny happy bees on Peter's plant, and vowed to learn more about how to grow it in garden conditions. Turns out, it's easy.
* * *
Last up is Carole Brown, sharing a little more about her journey to become a wildlife gardener.
"Martha the Passenger Pigeon, the last of her kind, died alone in the Cincinnati Zoo on September 1, 1914.

I was 9 years old when I first read about Martha's death, alone in the zoo, and the story of the destruction and elimination of the Passenger Pigeon by human actions has stuck in my mind to this day."
I'll admit, I'm a softie, and reading about the last passenger pigeon made me tear up. Forget backyard chickens, what would have been cooler than having my own flock of passenger pigeons to send secret messages to my minions?
Usually reading something like this makes me feel powerless and hopeless, but Carole follows it up with some facts that prove we can make a difference. Good read, Carole.
* * *
That's all for this week. Have you read any cool sustainability stuff lately? Let me know in the comments below.