I'm guessing most of you are familiar with the simple Google image search. You type in what you want, you get to look at lots of pretty pictures. It's great for figuring out what might look good next to that sleek orange grass you just bought, or narrowing down which variety of Alstroemeria you have.
But the Google image search by image feature's a new one. You can drag any image into the search engine, and Google will find images that are similar to it.
Lots of possibilities for gardening. You could:
figure out which variety of flower you have
see which colors harmonize well with a flower or foliage color
find plants with the same color or texture for repeating a theme within a garden
find furniture or other accessories that match your garden
Of course, these uses are all theoretical. The image search would have to be effective for it to do any of those things, and it's still a very new feature. So I thought I'd test it out for gardening purposes and see what it came up with.
Plant ID
First, let's try to ID a plant. I cropped the following image into two parts, so I could isolate the individual plants I wanted to ID.
From this:
To this and this:
When I searched for the spirea, it actually suggested a "best guess for this image". Ding ding ding! It was Spirea 'Neon Flash'. Google got it on the first try!
It also, interestingly, showed me "matching images"; places where the full, un-cropped photo had appeared. Google wins.
Next, I dropped the Alstroemeria image in. It was less successful, suggesting again that I perhaps have a Spirea 'Neon Flash' in the image. Well, yes Google, but there's also a great hulking orange thing in there. What might that be?
I added the word Alstroemeria to my search in the "describe image here" box, and it came up with eight visually similar images, two of which were – ding ding ding! 'The Third Harmonic'.
One more try. This is a snapdragon a client bought at Annie's Annuals. I dropped it in, and got a fascinating array of images: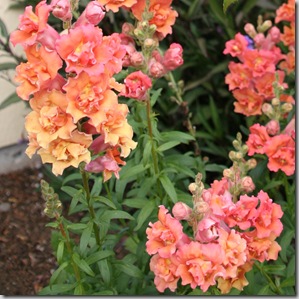 None of them are a snapdragon, but you've got to admit, they are definitely visually similar. In fact, I found the array of colors it picked out of the snapdragon kind of inspiring. It wouldn't have occurred to me to pick out some of the tones it found, but upon closer looking, the colors are certainly there.
I tried clarifying by writing Antirrhinum, the botanical name for snapdragon. It didn't find an exact match, but the results were now all snapdragons. But interestingly, when I began typing Antirrhinum, Google auto-suggested some possible search terms: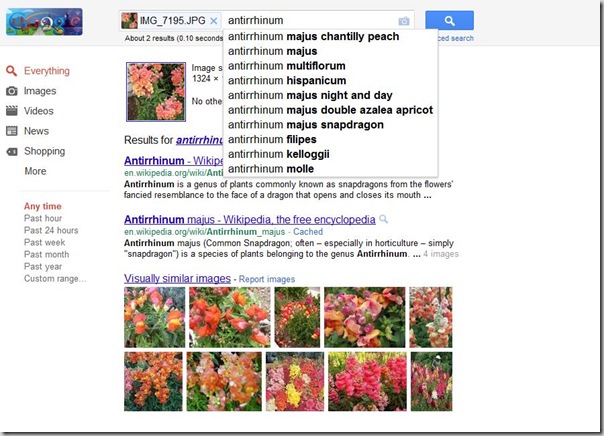 Well, OK Google, let's see if your first suggestion is correct. I selected "Chantilly Peach" and found the exact match over at Annie's Annuals. It took a little doing, but in the end, Google helped me get it right.
The verdict for plant ID? If it's a really common plant, or if you have some guesses as to what your plant is and just need a variety name, Google image search by image can help you out. If you're totally clueless or it's an unusual one, take the photo to the nursery for some ideas first.
Design inspiration:
Next, I wanted to get some ideas for what to plant with this Carex grass: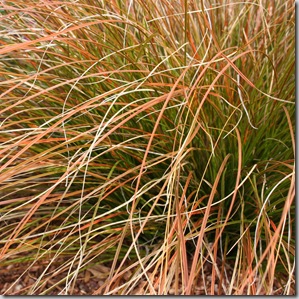 My first search was just odd:
I mean, yeah, Carex testacea does go well with pizza and box turtles, but I'm not sure how to use that in my garden. I found the mosaic-like pattern the most inspiring. I adore that deep purple, and the cream and beige are good possibilities too.
I tried narrowing down the search by typing, in turn, "ornamental grass", "foliage", "flowers", and "plants". Here are some of my results:
Great! Now I have a lot of potential ideas – Leucadendron, Phormium, breath of heaven, coneflower and yarrow hybrids, black Anthriscus, Japanese forest grass, pitcher plant, and milkweed.
The verdict for design ideas? Lots of inspiration, if used with some simple text terms to get Google looking for plants.
Finding garden accessories:
Let's try one last experiment. I want a purple hose. Like, this color purple: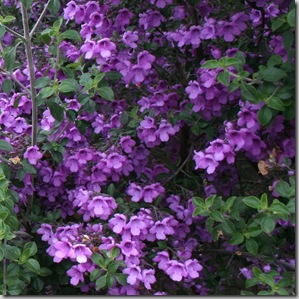 The results? With the descriptive text "garden hose" added, so Google knew what I was after, I found one absolutely perfect hose. A very small image from Kerry Michaels over at about.com: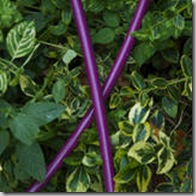 The verdict on finding accessories? I think I got lucky on this one, since Google wanted to show me photos of purple flowers and green hoses, but I'm going to give it to them.
That was fun!
It was a productive set of experiments, and I anticipate using this search function often when I'm needing color inspiration. My only complaint is that with high-resolution images, it took some time to upload the photo, but my lackluster internet speed is hardly Google's fault.
Special thanks to Zogdo.com for tipping me off to this new search feature. And in case it's not obvious, all of the search results featured are copyrighted to their respective owners. I show them only to give you an idea of how the search function works, but you can see them in their original contexts by repeating my searches.