Ah, gophers. So cute, with their cheeks stuffed with grass and their little burrowing ways. Yet so destructive to our vegetable beds. A client finally got tired of having her beets, lettuces, and other delicious veggies cruelly snatched away by Mr Gopher
juuust
when they were looking ready to harvest. So we were called in to line the bottom of her bed with gopher wire. Please, people, learn from these fine people's mistake, and line your vegetable bed with 1/2 inch hardware cloth
before
you put the soil in. Because digging up your entire veggie bed to line it afterwards is really kind of lame to have to do. Anyway, if you're in the same boat (and many people are), here's how to line your vegetable bed to keep out gophers, even after the soil's in. (Click on each photo for a larger version.)
You'll need:
1/2″ hardware cloth, long/wide enough for your bed, plus six inches of overlap if you need to overlap for a wide bed, plus six inches extra on all sides so you can attach it to your vegetable bed.
hammer
fencing nails (they're a curved, staple shape, but very sturdy)
pig rings (oh, the imagery. My innocence was shattered by the thought of what pig rings are actually for. I don't think pigs really enjoy the whole having-their-ears-pierced deal.)
a ringer, to smash the rings into, um, rings
wire cutters to trim your hardware cloth at the end
Optional:
an energetic helper, a staple gun, and staples
First, shovel half the soil to the other side of the bed.
I went 14″ down from the top, because we're only planning on shallow-rooted plants in this bed. You might want to go 18″ down for tomatoes, artichokes, and other large veggies.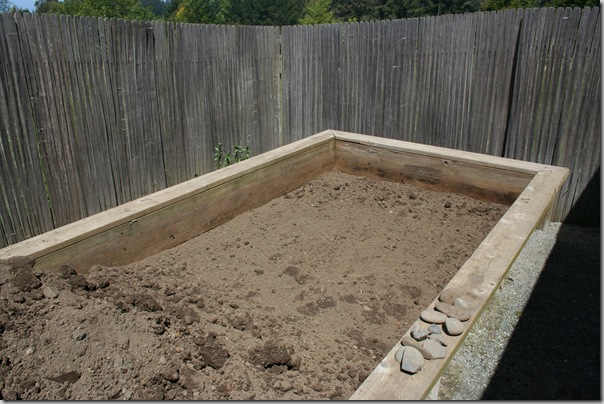 Next, we unrolled the hardware cloth: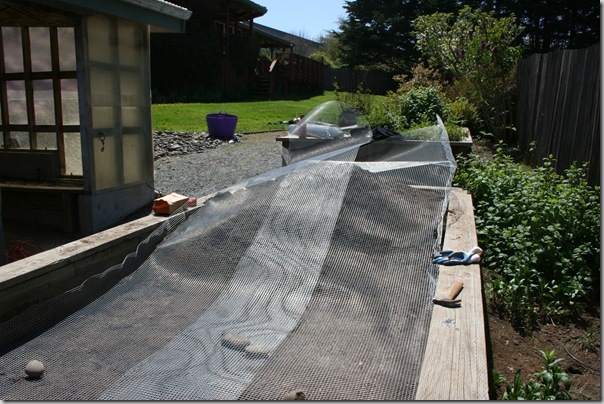 And folded up the edges to help keep it from flying back in our faces.
You don't need to overlap as much as I did here. I had the option of a 3′ or 4′ roll, and 3′ wouldn't have gotten full coverage. 6″ of overlap should be fine.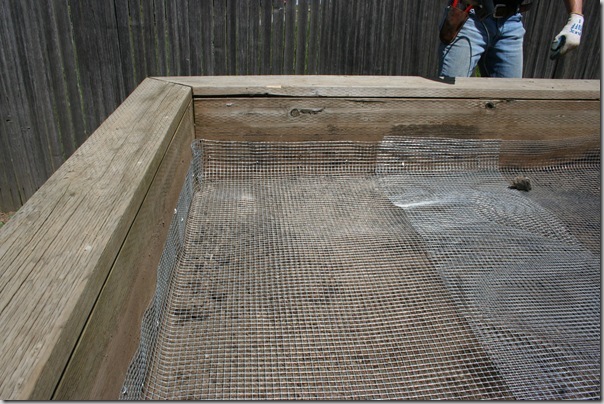 We used a staple gun to secure it into place initially
, but I had no faith that staples would stay put and not rot out in the first year. So the staples were just to get it secured into place initially so it didn't shift around as we worked.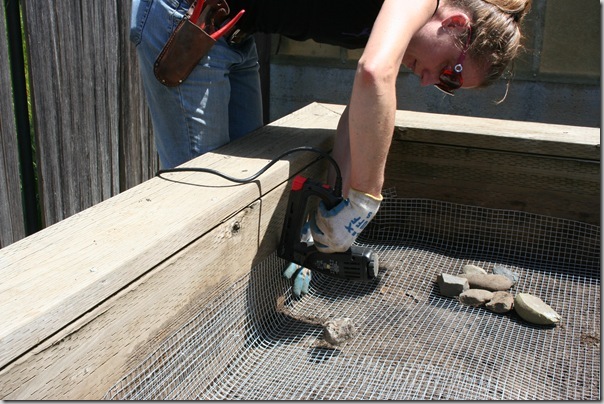 Then, we started hammering the fencing nails in for a more permanent way of holding the hardware cloth in place.
(Why do they call it "cloth", anyway? Even the peeps on Project Runway couldn't make this sharp mess fun to wear!)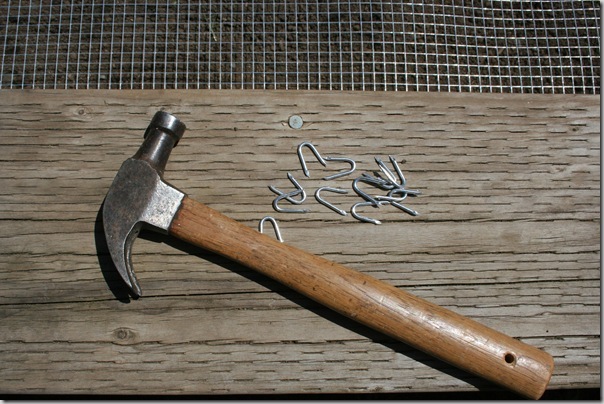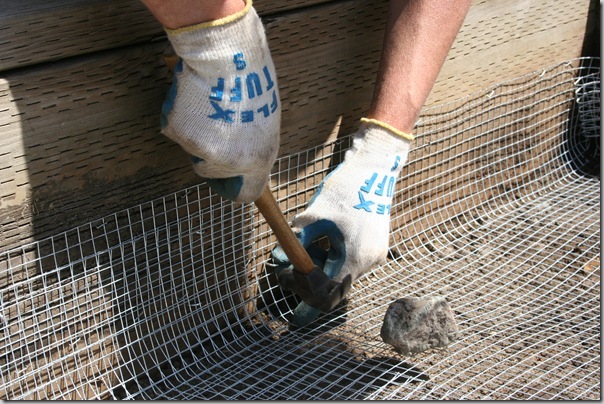 Then, we brought out the ringer and pig rings: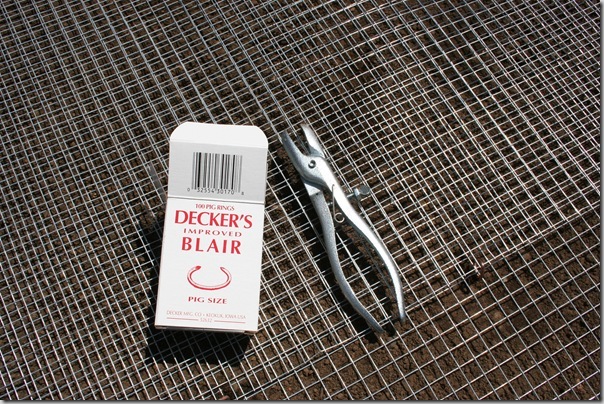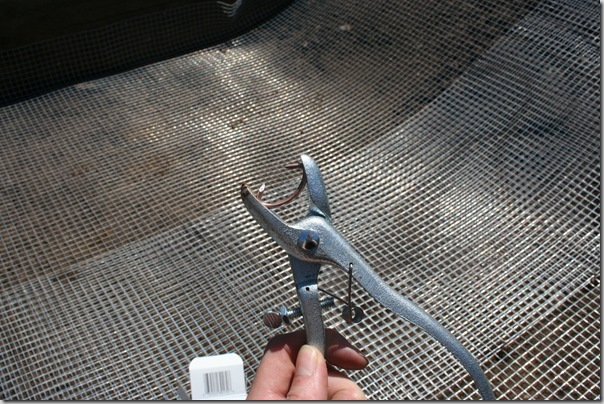 The ringer just barely fit into the holes in the hardware cloth.
We then put rings through the overlapping sections of cloth every 6″
to hold them together and keep Madame and Mr Gophers out of our nice bed. The fellow at the hardware store said every 8-12″ would do, but let me tell you, I was not about to chance having to dig up all that soil again so I could save ten minutes and $3 worth of pig rings.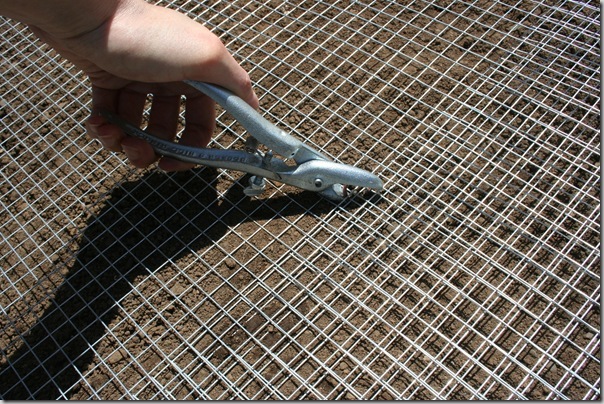 Time to work on the other side!
I just rolled up the hardware cloth tightly, stepped on it to fold it enough that it'd stay in place while we shoveled soil, then proceeded to move the soil from one side to another. This is where I began to be extra grateful for that previously-mentioned energetic helper!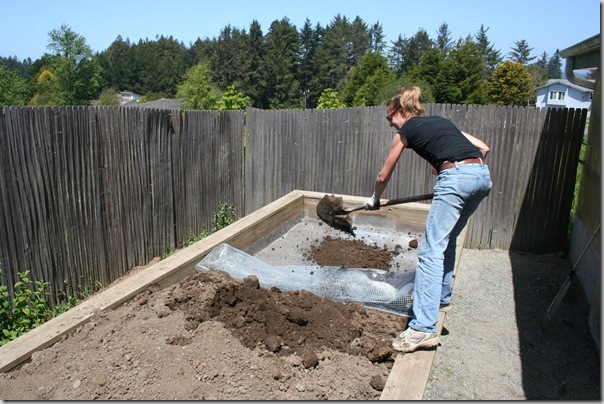 Finishing the other side went a lot easier since we had the techniques down.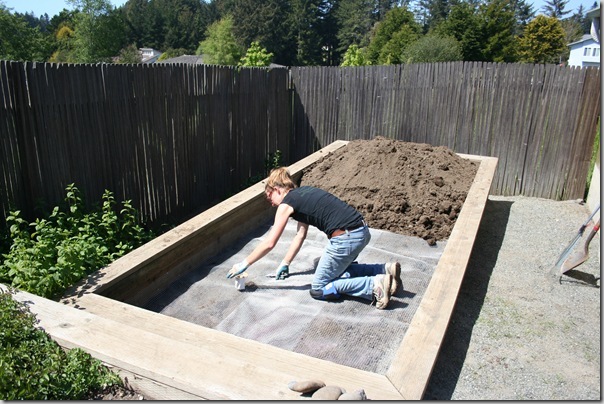 Once you're all secured and stapled-in, just smooth the soil out again, add whatever amendments you prefer, and plant.
The whole project cost about $140 for a 15′ by 7′ raised bed, and took about 2.5 hours with two people, not including the time I spent finding out what a pig ringer was. Hope this helps you outwit those rascally buggers and get to eat your own produce this year! If you have any tips for making the project easier or more cost-effective, please let me know in the comments below.