I'll start out with the depressing bit: Despite the fact that many gardeners have a relationship of convenience with Roundup, and an "it's not so bad" attitude about the harmful effects it has on the environment and on human health, scientists are continually discovering new ways Roundup is screwing with our bodies and our environment.
From Paul Tukey's Organic Lawn Care site:
"You have to look at what Roundup does to the physical properties of the soil, to the biology of the soil, to the disease pathogens in the soil. All these things are affected negatively by Roundup. Then you have to look at what happens to the plant, inside the plant. We know, for example, that Roundup binds all sorts of micronutrients than don't make it into the plant from the soil. That means we're harvesting unhealthy plants and those plants are making it into the food supply.

"What happens next when beneficial nutrients don't make it into the food supply? We get fat, obese in some cases, because we eat and we're still hungry. We get diabetes. It's all because of the food chain affected by Roundup."

That led our conversation back to the ultimate reasons I called, which were Roundup Ready alfalfa and backyard use of Roundup by virtually every homeowner in suburbia. Huber used the same analogy on the latter matter.

"What are the cumulative effects?" he asked. "People only think about what they're using at that moment. But what about how much Roundup they're consuming in their food, too? When you look at the whole picture, it points to a very serious problem."
Go, read his 3-part series about Roundup and see if you can go back to buying Cheerios and spraying weeds the way you used to. I've recently started eating closer to my convictions on this, and despite having to cut back my budget in other areas to pay for it, I've found it worthwhile just in how energetic I feel. I really do think our recent methods of farming have been detrimental to our nutrition.
Allrighty, moving right along. . .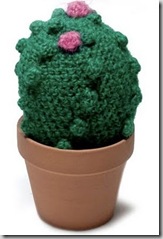 Plants You Can't Kill
Artist Shannon Girard got tired of killing houseplants over and over again, so instead of dooming another living thing to her care, she decided to crochet herself some loveliness! And here we are: Crocheted cactus. Yes, all you crochet people now know what to make me for Christmas next year.
I just took up felting so that I can make adorable small creatures for myself, but I may have to take a break from felting my tiny sheep herd and make some cactus.
A Way To Garden's 3-Year Anniversary
Margaret Roach from A Way to Garden walks that beautiful balance where she manages to be real and share her take on life, while also sharing things that are useful for the rest of us. This marks her 3-year anniversary, and to celebrate she shared her top fifty most popular posts.
My favorites?
What Weed Is It? Putting Names to Pesky Plants
Pruning Roundup: What Shrubs I Prune When
Clafoutis Batter: Universal Solvent of Fruit Dessert
Tillandsia Picture Frame
Jenny's on a roll with an awesome new way of displaying your Tillandsias/ air plants. No, not glued to a seashell and stuck on your fridge. This is cooler:
Go on over and check her out.
Anyone else have any cool articles or sites to share this week? Let me know what you've been reading in the comments below.