When H. Potter first sent me a Wardian case to try out, I was thinking of it as a pretty way of making small seasonal displays, and possibly a nice way of also rooting cuttings while having things look attractive.
Little did I know that its highest and best use is as a kitten-safe decorating unit.
So. Two new kittens around the house.
Meet Mackerel, with his boyish swagger: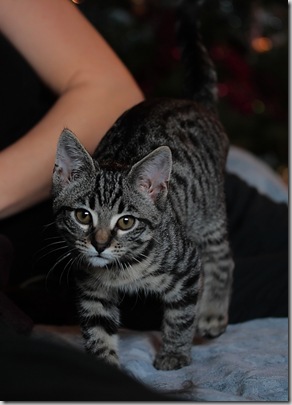 And Tamir, our delicate princess: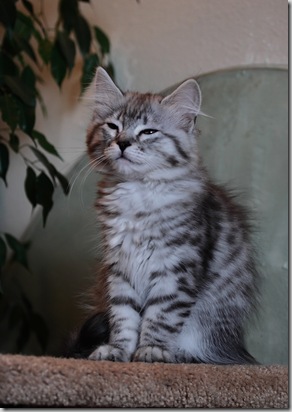 They have dictated our Christmas decorating strategy this year.
My fluffy feathered owl ornament? Back in the ornament box. Our twisty glass ornaments? Not this year.
Going through our Christmas boxes, it seemed like our ornaments were all either thin glass or covered in enticing feathers. Why have we not cultivated a love of sturdy metal ornaments? Or wood? Hmmft.
But when I began decorating my Wardian case, I saw the appeal immediately. Nobody was going to eat my flowers! No shredded leaves and scattered soil!
It's not that they didn't notice it. In fact, Mackerel found it right away.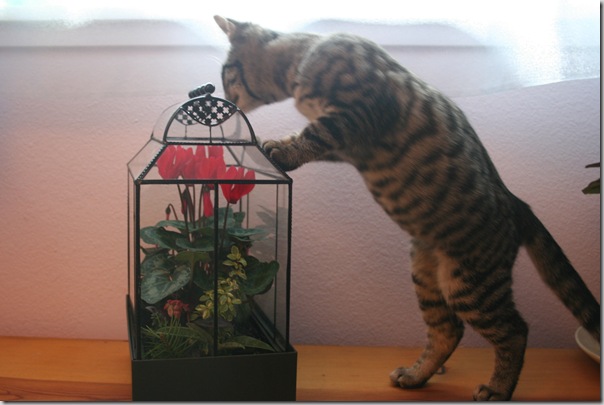 Tamir thought she saw something move under there.
Attempts to add décor to surrounding areas failed utterly. Glitter tastes like tuna, I believe.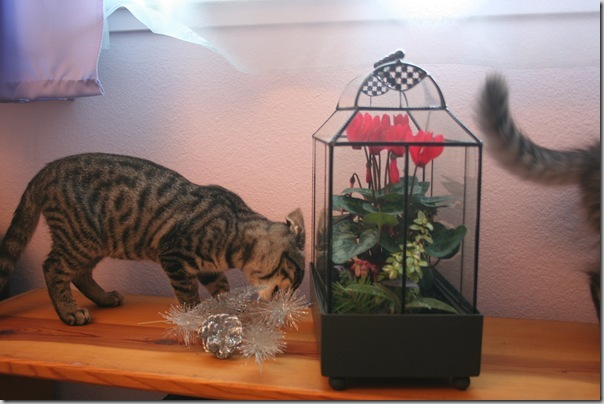 Yet my happy little Cyclamen, and my variegated Fuchsia cutting are rooting away, completely undisturbed.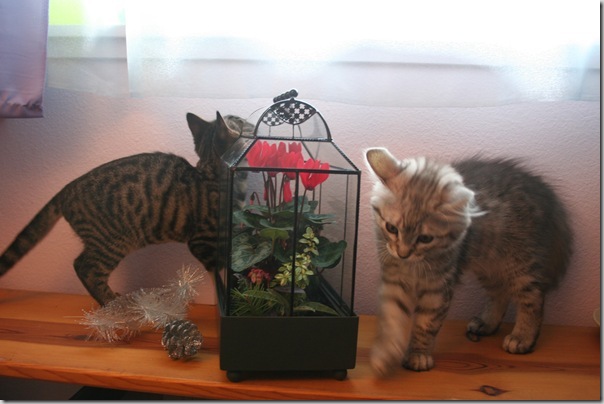 Perhaps there is a Santa.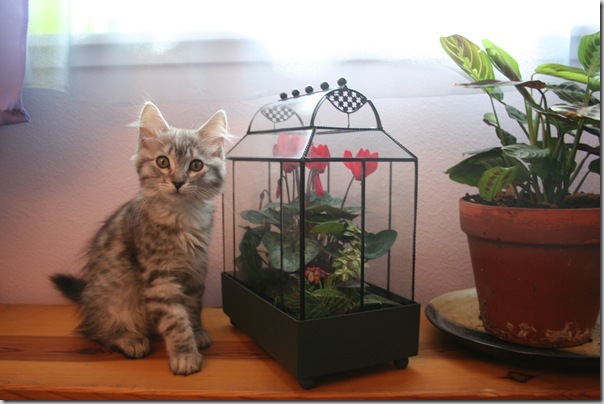 If you're interested in getting your own Wardian case, the one shown here is the Tabletop Barrel Roof Terrarium/ Wardian case, which comes with a little plastic tray so you can plant in it easily. The black metal bottom stays put, while the entire glass part lifts off in one piece for watering and rearranging.
Check out this holiday Wardian showcase. Yours truly contributed a couple of photos: