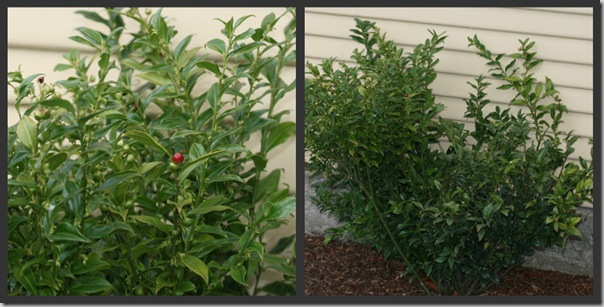 This unassuming little shade shrub is one that people often don't notice at first. There's nothing particularly showy about its graceful arching stems, deep green leaves, or the tiny white flowers that hang from its branches in winter.
But when those small blooms open, people walk around sniffing all the big, showy flowers in the area, wondering where that glorious fragrance is coming from! After the flowers, Fragrant Sweet Box begins creating pretty little red berries which hang prettily off each stem. The red berries soon turn to black, and the shrub creates a gentle show for months on end.
Fragrant Sweet Box is deer resistant, evergreen, gets about 3-6' tall in time (a lot of time, she's a slow grower!), and is one of the few plants that will tolerate deep, dark shade. She doesn't mind a bit of pruning to keep her to size, and all she asks for is reasonably good drainage in winter (what lady likes having soggy feet?) and a bit of summer water. She thrives in USDA Zones 7-9.
I think Sarcococca is the epitome of grace. She's always beautiful and has many fine qualities, yet doesn't thrust herself into the limelight and is above the gaudy displays and fripperies many plants put on to get attention. Really, how many plants bloom in winter? And are fragrant then? And will take the darkest of shade with nary a wishful stretch into the light? Her simple beauty makes all the other plants look good by association.
Grab one for that shady corner where nothing seems to work. She will gently espalier herself against a wall or form a neatly arching shrub, provide some winter fragrance, and get you through the doldrums of very early spring with her cheerful berries.