I'm honored and pleased to be able to share with you the writing of my favorite garden humorist, Dr Leda Horticulture.
Regan Nursery, the finest place to buy bare root roses online, and a gorgeous full-service garden center serving the San Francisco Bay Area, has given us permission to reprint Dr Leda's articles from their rose nursery newsletter. If you have never read her writing, you are in for a treat!
Welcome to the Institute of Rude Awakenings by Dr Leda Horticulture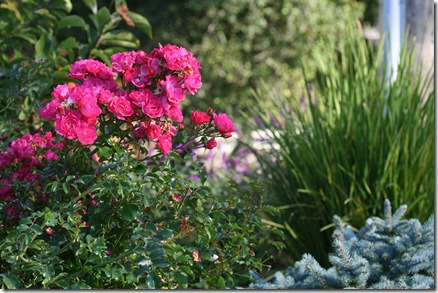 My friend Sheila called a few weeks ago. "I need your help," she said. "My therapist has advised me to take up gardening, as a way to work on my control issues."
Now Sheila, bless her heart (as we southerners say when we're about to be just the teensiest bit judgmental), has raging control issues. An immaculately groomed corporate executive who sits in her plush office all day barking commands, she's grown accustomed to having her way. Her perfectly manicured "lawn and order" yard is regularly intimidated into submission by an aggressive mow-blow-&-go crew. Somehow, I just couldn't picture Sheila on her knees in the dirt, grappling with nature.
"That's interesting," I said skeptically. "I suppose gardening could be a good way to confront control issues. Sort of like trying to herd cats."
"Cats are out of the question," said Sheila. "They're unsanitary and they don't come in colors that go with my decor. I've decided I want roses. If I drop by with some fabric swatches and paint chips, can you make a list of varieties that will be exact matches?"
"Tell me, Sheila," I said. "What on earth makes your therapist think gardening is going to affect your control issues?"
"It's an exercise in experiential therapy," she explained. "When I'm feeling out of control, I become frustrated and depressed. According to my therapist, a garden will be my own little kingdom, a microcosm where I can modify my core beliefs as I begin to feel empowered by meeting my esteem-maintenance needs. In my garden, I control everything."
I stared at the phone like it had lost its mind. "Does your therapist by any chance live in a hermetically sealed spacecraft?" I asked.
"He's tops in the field of rational-emotive experiential therapy," she said. "I pay him $200 an hour."
$200 an hour! Have you ever had the feeling you're in the wrong line of work? Suddenly a vision of a bold new career began to blossom in my brain. I barely followed Sheila's patter about suitable companion plants; I was too distracted by the colorful brochure that was designing itself in my mind.
"Dr. Leda Horticulture's Institute of Rude Awakenings," it would say, followed by a fancy academic crest with the Latin motto "Medius mundis non es" (roughly translated, "You are not the center of the universe").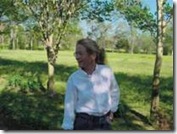 "For a mere $195 per hour (note the competitive price!) the amazing Dr. Leda (insert photograph of me out standing in somebody else's field) will cure your painful obsessions with control and perfectionism."
"Hello?" I heard Sheila say. "Are you still there? I think we have a bad connection. Anyway, I'm going to take a tape measure and determine the exact heights and widths I want each of the rose bushes to be…"
"Courses begin with Control 101," said the brochure. "It may be 'your' garden, but you are not the CEO; you are merely the janitor. Hands-on experiences will be utilized to introduce the First Fundamental Law of Gardening (and life), which is: You just think you're in charge. Students will shatter the illusion of control through a series of therapeutic futilities, such as trying to force everything in a garden to bloom simultaneously for a June 21 st wedding, including roses, Wisteria, tulips, Hellebores, and blue Meconopsis (not provided). Students will also attempt to confine a climbing 'Cecile Brunner' rose to a flimsy 3′ ladder trellis and prevent rain on weekends."
"No orange," Sheila was saying. "I absolutely cannot live with orange."
"The next stage of treatment is Perfectionism 202," the brochure continued. "This series of classes will focus on the Second Fundamental Law of Gardening (and life), which is: Nature abhors perfection. Building on the skills acquired in Control 101, students will develop tolerance, and maybe even affection, for a wide range of inevitable flaws. Assigned reading will include Living with Split-Ends and Leaf-Cutter Bees; Are Roses Without Fragrance a Crime Against Nature?, and We Can't All Reside in Ventura County: How to Make the Most of Your Godforsaken Climate. Students will examine unattractive microbes and other distasteful fauna that lurk in healthy soil, followed by a multi-media presentation on The Fingernails of the Serious Gardener. For extra credit, students may attempt to grow roses in the humid inferno of south Louisiana."
"I don't want anything that's going to die," Sheila was saying. "I don't want to waste time and money on those plants that only live a few months. What do you call them, annuals?" (This is a woman who has her nails done twice a week.)
I turned to the next page of the apocryphal brochure. "According to the Third Fundamental Law of Gardening (and life), Everything is ephemeral. Students will learn to embrace the noble truth of impermanence by attempting to save a graceful 500-year-old registered Live Oak from a Class 5 hurricane…"
Suddenly my reverie was broken by a blood­curdling howl. "Sheila," I gasped. "Are you all right?"
"I'm fine," she said. "That's just Martha Stewart waking up from her nap."
"Excuse me?"
"Martha Stewart, my nine-year-old basset hound. I adopted her from the pound a few months ago."
"You adopted a nine-year-old basset hound?"
"I know, I know," she sighed. "She's blind and incontinent and she drools on the upholstery. But she's my baby, my snookums, the light of my life. Aren't you, Miss Mar-Mar?" I heard a contented moan.
"Sheila?" I said. "Listen to me: Don't move. Stay right where you are. I'll be there in five minutes, with an armful of rose books and liver treats. You're going to have the finest garden this side of Sissinghurst."
"I am?" she said hesitantly. "But I really don't know much about gardening."
"That doesn't matter," I said. "The nuts and bolts are elementary. What makes a truly brilliant gardener is the attitude. And something tells me, you're on the right track."
"Ok, but make it ten minutes," said Sheila. "We have to go for our walkies first, then fix our bowl of chickie-chickie-bird for lunch. Don't we, my Boobalina?"
Vita Sackville-West, move over.
Special thanks to Regan Nursery for allowing us to reprint Dr Leda's wonderful garden writing. Regan Nursery is definitely the place to go if you are looking for quality bare root roses. They carry over 1000 varieties of grade #1 roses each year.
Be sure to stop by their nursery in person if you'll be visiting the San Francisco Bay Area – they have a great selection of Camellias, Hydrangeas, Japanese Maples, as well as their legendary selection of roses and a full array of nursery plants.
[print_link]