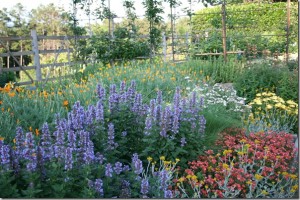 In my
landscape design practice
, it is rare to find a client who does not ask for a low-maintenance garden. However, the way people define low-maintenance varies so wildly that the term has almost lost its meaning.
While the generally accepted definition of a low maintenance plant would be something that you do not need to maintain more than once per year
, you could still put together a planting plan based entirely on plants that fit this definition of low maintenance, and have it be a yard where you have to be outside fussing with something almost constantly. (I've written
more about that here
.) In addition, even plants which fall under that definition vary in how much time and trouble they take. Large grasses like Miscanthus are commonly thought of as low-maintenance, yet each one needs to be trimmed almost to the ground each winter, which involves tying it up, using electric or handheld hedgers to cut it back, filling a quarter of a pickup truck with the detritus from just one grass, then raking up all the little bits that inevitably scatter into the surrounding mulch. Is that low-maintenance? If time is how we're defining the term, I'd prefer planting a perfectly-sized shrub in that spot, since most shrubs would need only 5-15 minutes of gentle shaping once per year and can be ignored for some time once an appropriate form is established.
Yet maybe time isn't the only factor in how we feel about maintenance
, because the definition of low-maintenance seems to differ from person to person. Recently, on a private forum for garden professionals, we had a discussion about low-maintenance landscaping where some of these differences popped up.
Here are some of the definitions of low-maintenance these professionals personally espoused:
[Read more...]