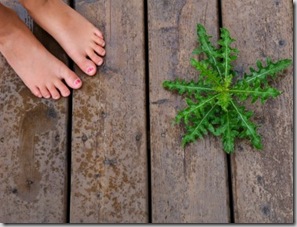 Are you overwhelmed by weeds in your garden, but don't want to use harmful chemicals on your lawn or in your vegetable beds?
Have you tried natural products in the past, only to find they didn't really work?
Do you want to spend time enjoying your garden, rather than always feeling behind on taking care of it?
You're not alone.
I'm a professional landscape gardener and garden coach, and this is by far the biggest problem I see people struggle with.
How do we balance our desire for an organic, natural approach in the garden, with the fact that we simply don't have time to pull every weed by hand or fiddle with expensive organic treatments that often just don't work?
Chemical treatments for weeds are simply not a healthy choice.
They've been linked to cancers, liver damage, and hormonal disruptions, among other issues. Scientists have found that children are even more susceptible to problems from exposure than are adults, because their skin and membranes are thinner, they're still actively growing, and of course kids are smaller, so amounts of residues deemed "harmless" to an adult may not be harmless to them. Add to this the damage caused to birds, frogs and our groundwater, and it's almost enough to make any gardener feel resigned to a weedy garden.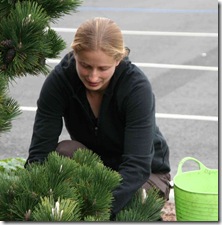 But you can have a lush, weed-free garden without these chemicals. Over the years I've helped hundreds of people gain control over this issue. One client, Carole, was ready to "give it all up" and just stop maintaining her garden at all, because the weeds had become such a nightmare to deal with in her garden beds. She was spending over 15 hours a month just on weeding!
We used only two of the simple preventative techniques I describe in this book, and within two months, her garden went from guilt-producing and out-of-control, to a gorgeous and relaxing place to spend time with her family. We simply interrupted the natural cycles that were allowing weeds to spring up where they weren't wanted.
Once you understand how a few natural processes work, it's a simple matter to stop weeds in their tracks.
But what if I have a really tough situation, like an area filled with invasive, woody weeds?
I have a little-known technique that scientists have discovered to change the soil balance temporarily to make it impossible for plants to grow. This technique doesn't harm the good soil organisms, and is completely safe to wildlife and people.
How about getting rid of weeds in lawns?
I cover a simple system of spring and fall garden care that prevents new weeds from sprouting, and gets rid of the weeds that are already there. You may have discovered how hard it is to get rid of weeds organically when they're already in your lawn, but I've helped numerous people learn the techniques that do just that.
Will this be expensive and take a lot of my time?
Let's be honest here. Right now, you're already spending a ton of time getting rid of weeds in your garden. If you're unlucky, you may also be spending time and money treating pest problems, and replacing plants that are dying due to a few natural principles they don't tell you about at the garden center. Would you rather spend your time and money solving problems as they come up, or would you rather spend that same time up front to prevent problems and help your plants and garden be healthy and vibrant?
But I don't have time to read a whole book!
We're all busy people, and I know you're reading this book because you need a fast solution to your weed problem. That's why I've structured this book for quick reference. If you're short on time, use the reference section on how to get rid of weeds in your specific situation. Then you can go back and get the "how-to" and explanation for the techniques you wish to use.
If you're fed up with pouring carcinogens on your garden, and you want to learn the simple techniques behind successful organic weed control, then this eBook is for you.
Do you want to know:
Which organic techniques work best in which situations, and which organic weed sprays are actually worth the money?
How to spot-treat weeds in lawn or in garden beds, even in organic vegetable beds?
When to declare "lawn bankruptcy" and kill your entire lawn, and when to work with what you have?
How to kill fields of invasive weeds such as blackberry, using an organic technique that manipulates growing conditions in the soil? (Yes, you can still plant safely when you're done!)
In this 60-page eBook, I cover the most effective techniques, the latest organic products, and tell you which methods and products are actually worth your time.
For less than the cost of a bottle of Roundup, you'll get an instant download of the professional tips you need to solve your weed problems the natural way.
Just click the "Add to Cart" button below for a safe and secure checkout using PayPal, the most widely-used payment system online. You don't need an account, and you can pay securely using the most trusted checkout process on the internet.
Guide to Organic Weed Control: $7.95
Remember, there's a 30-day no-hassle guarantee. If for any reason you feel that the techniques in this eBook won't solve your weed problem in a few simple steps, just email me for a 100% refund, no questions asked.
P.S. The techniques and information in this book aren't the run-of-the-mill suggestions you'll get from your local garden center. I've personally tested these products and systems on hundreds of gardens to "weed out" the time-wasters and give you the best, most effective ways of getting rid of weeds naturally.