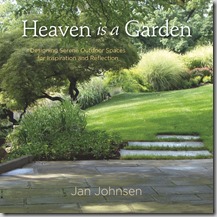 Guest post from Jan Johnsen, author of the new book Heaven is a Garden and my co-contributor over at Garden Design magazine.
Yoga and gardens are a natural fit! Both are very personal endeavors – Yoga practice elevates our sense of wellbeing and makes us more aware of the present moment while gardens encourage us to appreciate the 'now' as we inhale the aroma of flowers or the green atmosphere after a quiet rain. When you put the two together and create an outdoor space where you can practice Yoga in a meditative garden, it is joyful, indeed!
Gardens are a simple way to celebrate our time with Nature in our own individual way. Some of us thrill to a garden filled with flowers, in colorful bloom all summer. Others yearn to be in a quiet, simple space, with rocks and trees sighing in the breeze. Whichever type of environment speaks to you, it can become a Yoga garden where you face the morning sun and breathe in deeply.
Here are a few ideas that you can use to make your outdoor space a serene yoga garden.