We've talked about
why a thick layer of mulch, composty soil, and good watering habits are important if you want to garden more organically
; it's all about giving your plants a foundation of good health so that pest problems will be few and far between.
Today we'll talk specifically about mulch: what it is, what type to use, how to apply it, and why mulching is the single most important thing you can do to improve the health of your plants and reduce maintenance time: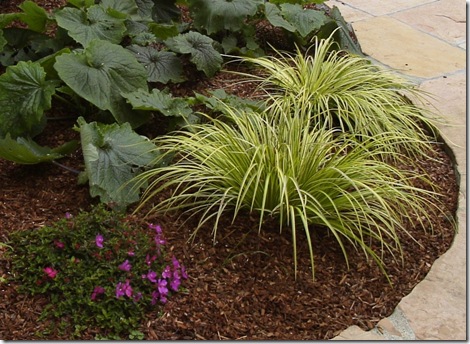 Mulching is when you add a layer of wood chips, chipped bark, shredded leaves, or other material to the top of your soil without mixing it in, so that it will hold down weeds, hold moisture in the soil, and contribute positively to your soil over time.
Why mulching is so over-the-top awesome for your garden:
A 3" thick layer of mulch will reduce the weeds that come up by 75% or more overnight – it is the single best organic weed control out there. Clients who don't have mulch are shocked at the difference after we put down a good layer of wood mulch – it smothers the weed seeds that try to sprout from the soil below.
It helps your soil hold onto moisture so that you needn't water so often.
It also keeps your soil from getting so compacted when you step on it to maintain your garden, and keeps hard rains and hot sun from forming a crust on your soil's surface.
It keeps plants' roots cool in summer and warm in winter.
It helps support the beneficial micro-organisms and worm populations that keep your soil aerated and help change the existing nutrients in your soil into a form your plants can use.
It can help keep some soil-borne bacterial diseases from harming delicate, over-bred plants like many roses.
In some cases, mulch can help with erosion control.
For all these reasons, if you want a low-maintenance garden with happy, healthy plants, mulching is the number-one thing you can do to have an immediate, dramatic impact on the time you spend weeding, and the overall happiness of your plants.
[Read more...]