Gardening marketers are always getting their pants in a bunch over whether enough new people are picking up the torch and continuing gardening, and initiatives aimed at getting young people to garden abound.
Of course, from my own experience I can say that gardening as a hobby evolves over time. As we age, we shouldn't be too eager to foist our own idea of a good time on people who are simply in a different time of their lives. If you don't own your own home, have disposable income, or have much spare time during the day while the sun is still shining, then the type of gardening you do will naturally look a little different during this phase of life – and the advice you'll be interested in will be different as well.
Nobody understands this better than Dee Nash, the author of The 20-30 Something Garden Guide.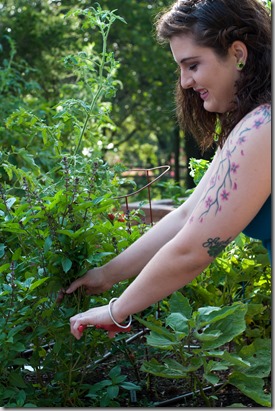 Dee has raised four children, two of whom are 20-30 somethings themselves, and she remembers well the days of working full-time in an office and then coming home and squeezing in a half-hour of gardening in between caring for the kids.
Her new book shares a friendly approach to gardening that is practical for people on a variety of budgets, shares simple and up-to-date information on smart/ eco gardening practices such as avoiding BPA-containing products around your edibles, and generally walks new gardeners through their first few years of gardening.
I met Dee two years ago and loved her laid-back, relaxed spirit around gardening. She's not a perfectionist, not a professional, and the heart of what she is trying to share is that you don't have to be these things either in order to grow your own food, attract wildlife and benefit the earth, and enjoy a hobby that keeps you active, eating healthy foods, and in touch with the seasons and your surroundings.
She says, "I want to help you think more about gardening as a process and not a series of to-do lists. Let's turn the idea of "chores" (even weeding) into a meditation that benefits your entire life and your garden's."
The book has vegetable garden design plans (including some for patios), tips about pest control (it's about supporting the natural cycles in the garden and not killing things like spiders which help keep pests in check), and ideas for deterring garden thieves when gardening in the front yard (try using a visual distraction by mixing obvious edibles like tomatoes and lettuces among ornamentals or edibles which are less obvious, like currents, huckleberries, and other woody plants).

But my favorite element is really just the encouraging tone with which Dee shares a lifetime of gardeners tips and tricks for getting started. While I wouldn't bother getting a book like this for someone who is entirely disinterested in gardening, we all know a few 20-30 somethings who seem to crave that connection with the outdoors, have strong ideas about the environment or healthy eating, and would love some help in making sure that their first efforts were satisfying and successful. This would make a great book to get as a gift for that second-year college student or young graduate who's just gotten their first apartment with a patio.
Photo credit: Photos of Dee's neighbor Kalan O'Dell used with permission of Dee Nash.